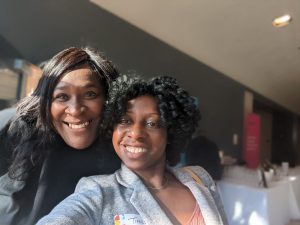 Elissa Russell and Timesha Brooks met at Spelman College as roommates. Despite pursuing different majors, the two shared a similar trajectory: After graduation, they both went on to teach English in Southeast Asia—Elissa in Taiwan, and Timesha in Japan. "We kept seeing each other on Facebook and having loose conversations until finally we sat down together," Elissa explained. It turned out they were considering solutions for the same communities; Elissa focused on job training and Timesha focused on literacy, both seeking to address skills gaps in young adults. In 2019, Elissa launched READI, a workforce training platform that leverages virtual reality to reskill young adults who are unemployed or underemployed. Timesha joined the READI team in 2022, complementing the startup with her expertise in math literacy and the K-12 market.
"I'm going to push this business idea because I know the world needs it."
"I think we were always meant to be on this path," Elissa told us. "We both went to Georgia State University (GSU), both got our master's there, both at the College of Education." It was at GSU where Elissa first met Dr. Isabelle Monlouis, associate director of the H.J. Russell Center for Entrepreneurship, a Course & Program grantee, and an advisor for VentureWell's E-Team Program.
Dr. Monlouis began coaching READI herself, and the startup began to gain traction. It was among the winning teams of the 2022 Verizon Forward for Good Challenge, receiving dedicated entrepreneurship training from VentureWell staff at the Clinton Foundation offices in New York City. READI was then selected to participate in Propel, the second stage of the E-Team Program.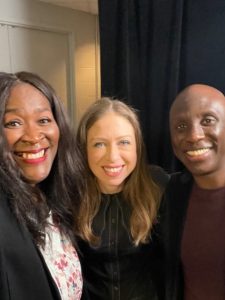 "Working with VentureWell has been incredible because I've learned so much about a completely different side of entrepreneurship," Timesha explained. "A lot of us who just go out there and start a business and offer our services don't even realize the different things that you have to do to really provide these services and to get investments and funders and people to believe in your products and service. It's been a roller coaster for me personally, but an awesome experience."
In March 2023, the READI team was invited to speak at the Clinton Global Initiative University (CGI U) annual meeting plenary, moderated by Dr. Chelsea Clinton, vice chair of the Clinton Foundation. They got the opportunity to show off their product, too, offering a demo of Occupational Safety and Health Administration (OSHA) training for attendees to experience in the green room. "It has been because of organizations like VentureWell and their partnerships with CGI U that's allowed us to grow," said Elissa. Timesha agrees: "VentureWell has been awesome in exposing us to different aspects of entrepreneurship, especially for a person like me, who's coming into this as an independent consultant in math."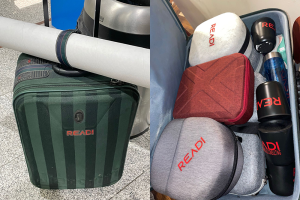 For two educators entering the innovation and entrepreneurship space, Elissa and Timesha are rapidly gaining traction. They won the Audience Choice prize at the 2023 OPENminds Innovator Showcase (their luggage for the trip pictured below), proving that READI has the potential to speak to a multitude of people. "I'm going to push this business idea because I know the world needs it, and I know that it is a viable business and service," Elissa said.
Looking to the future, the READI team is actively seeking early adopter contracts. They're also thinking ahead in terms of business development, planning to raise capital to renovate an RV as a mobile training unit so that under-resourced schools can access their tools. "The logistics of setting up a classroom that has wifi capacity, or even managing the headsets, is taxing for a school district," Elissa told us. "But if we have our van, you can flip down your little seat, take your live class, do your simulation, then go home. That is ideal."
Hear from Elissa and Timesha as they discuss their journey as entrepreneurs and how participating in our E-Team Program accelerated the growth of their startup:
About the E-Team Program
Through the E-Team Program, VentureWell has trained over 500 student teams and more than 1,500 student innovators. The teams have raised over $600 million in follow-on funding and have launched 300+ ventures since taking part in our program.
Learn more about VentureWell's E-Team Program, which supports student-led science- and engineering-based teams from across the nation in bringing their high-impact innovations out of the lab and into the market.