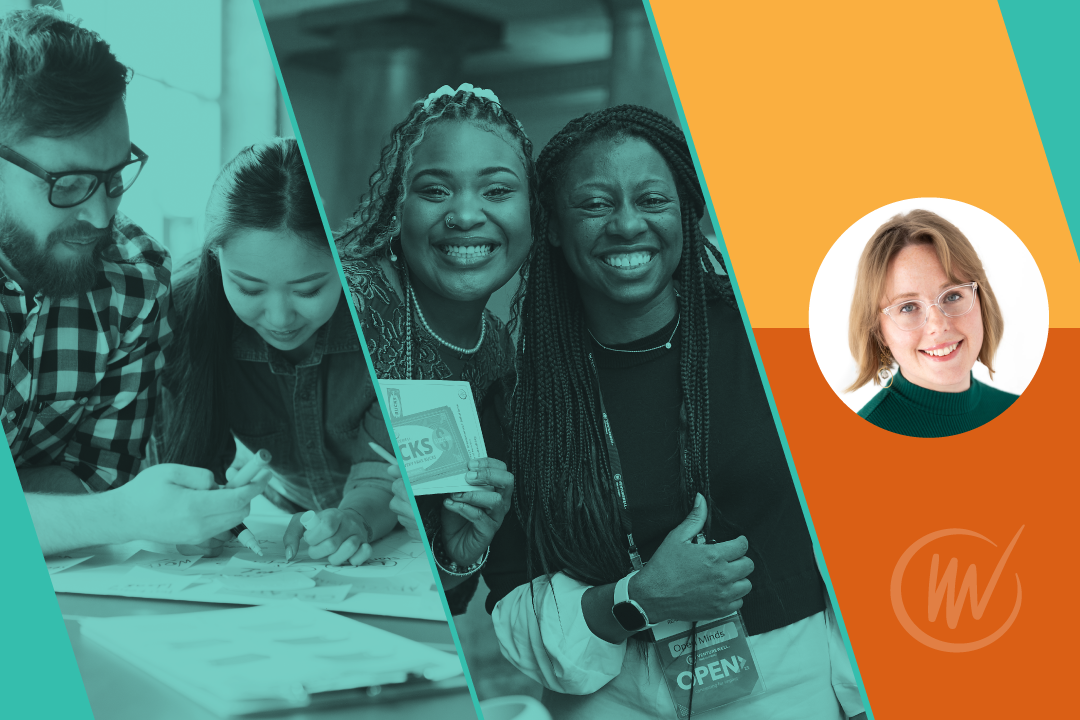 Welcome to Sarah Says, a series by VentureWell Program Officer Sarah Wharmby. Sarah will address commonly asked questions raised in our E-Team Program workshops, Pioneer and Propel. Check out more Sarah Says articles on finding the right mentor, determining your approach to customer discovery, and exploring your path after graduation.
As a student innovator or entrepreneur, finding time in between classes, work, and social obligations to advance your big idea can be an ongoing challenge. This is why it's so important to leverage the time you have available—whether that be a few hours on the weekend or during school break periods. Pursuing opportunities like research, training programs, internships, and mentoring are all crucial to support your journey as an entrepreneur and further your innovation. It's all about time management!
As the founder of Car Seat Companion, Angel Teagle knows what it's like to have a packed schedule. With classes at Elizabeth City State University and Cadet Summer Training through the Reserve Officer Training Corps, he budgeted time to participate in our E-Team Program as well as the Better Futures competition, which is led by the HBCU Founders Initiative. There, he presented his innovation: a Bluetooth-enabled pad that fits underneath a child in a car, that, when activated, sends an alert to a parent or guardian via smartphone to notify them that a child is still in their car seat.
I work with many early-stage innovators like Angel who are juggling multiple personal responsibilities in addition to their efforts building a company. Depending on your schedule, you may have more time to spare than you think! The following are a few areas I recommend to look into when deciding how best to support your innovation and entrepreneurship (I&E) journey.
Explore the entrepreneurship center at your institution.
The best place to start is always the entrepreneurship center on your campus. Staff will know exactly what opportunities are available to you as a student innovator, no matter where you are on your journey. They should be able to match you with options that are a good fit for you.
Ask whether they run pitch competitions. These tend to be short-term opportunities that can last one to three days in order to allow for easy participation for students. Often there are cash prizes involved—as well as mentorship!—which can be a great way to meet other like-minded founders on your campus.
Be sure to continue connecting with the professors you meet through your exploration. They can even become potential mentors.
Not all colleges and universities have an entrepreneurship center. If this is the case at your school, try reaching out to your STEM-focused departments, including biological and biomedical sciences, computer and information sciences, engineering and engineering technologies, mathematics and statistics, and physical sciences and science technologies. Business departments should also have opportunities for you to explore.
Apply for an on-campus internship.
Internships can open the door to more than just work experiences, particularly if they are offered on campus. It can mean a convenient commute, credits toward your degree, and mentorship.
Start with the career services office or the equivalent department at your school. Ask about any on-campus opportunities (both funded and for-credit) specifically reserved for current students.
This is also a great way to meet other potential teammates for your startup. As an intern, you will be connected with a wider variety of students from different backgrounds and disciplines. Put yourself out there! You never know what creativity can spark until you meet other innovators.
Take advantage of your lab space.
If you haven't already, look into what lab resources are available to you as a student. Start with your STEM departments or professors for specific guidance on this.
Some faculty receive funding where they pay students to complete research in their lab. Work like this usually takes place over breaks in the semester, and it can provide another avenue for mentorship.
You can work on further developing your innovation in your institution's lab space. Just make sure you check in with your school's technology transfer office to understand their IP policy beforehand. Each institution has a different policy in regards to using resources, and it never hurts to ask.
Sign up for free online entrepreneurship courses.
You can pick up a variety of useful skills through several online resources—and many are completely free!
Coursera is an excellent resource to start browsing for ideas. Try edX, too, which is a platform featuring I&E courses from more than 250 institutions. The Michelson Institute for Intellectual Property (Michelson IP) is a free, openly licensed IP education toolkit that covers the fundamentals of patents, copyrights, and trademarks.
Created by Invent Together and Qualcomm, The Inventor's Patent Academy is another free course that will walk you through the patent system and provide tools for patenting your own invention.
Look into national or international training programs.
There's no better time to travel than when you're a student. Keep in mind that some programs offer sponsorships or stipends to fund your trip, too.
Try to focus your search on programs that will allow you to travel to where your potential customers and key stakeholders are. This will allow you to engage in customer discovery firsthand.
Travel will allow you to expand your network beyond your local community. You don't want to restrict yourself to a small group of contacts, especially when you're just starting out as an innovator.
Spend spring break at OPEN.
Every year, VentureWell hosts our OPEN conference, which brings together faculty, administrators, staff, and students from across the STEM fields to share their experiences in advancing I&E.
Early-stage innovators who attend receive a unique networking opportunity—not only will you get to meet leading industry experts in I&E, but you will also have the chance to explore a variety of different workshops and activities to give you a broader perspective on entrepreneurship.
Follow thought leaders in the I&E space for the latest industry news.
Keeping an eye on what leading experts are saying is a great way to stay on top of cutting-edge technology, not to mention emerging opportunities.
This is just a starting point as you consider all the opportunities available to you as a student innovator. I'd encourage you to explore the Future Founders list of resources for ideas on where to apply for bootcamps, incubators, and accelerator programs.
---
Sarah Wharmby supports VentureWell's early-stage entrepreneurship programs, providing training for innovators in the Pioneer and Propel stages of the VentureWell Accelerator program. Sarah has managed educational programs in both the nonprofit and higher education sectors; she has worked closely with social enterprises and social entrepreneurs, as well as student founders.
The VentureWell Accelerator offers a wide range of programs to further your innovation. Applications are open for the upcoming Winter 2024 cohort of the E-Team Program. The deadline to apply is Wednesday, October 4.
About the E-Team Program
Through the E-Team Program, we have trained over 500 student teams and more than 1,500 student innovators. Our teams have raised $600+ in follow-on funding and have launched 300+ ventures since taking part in our program.