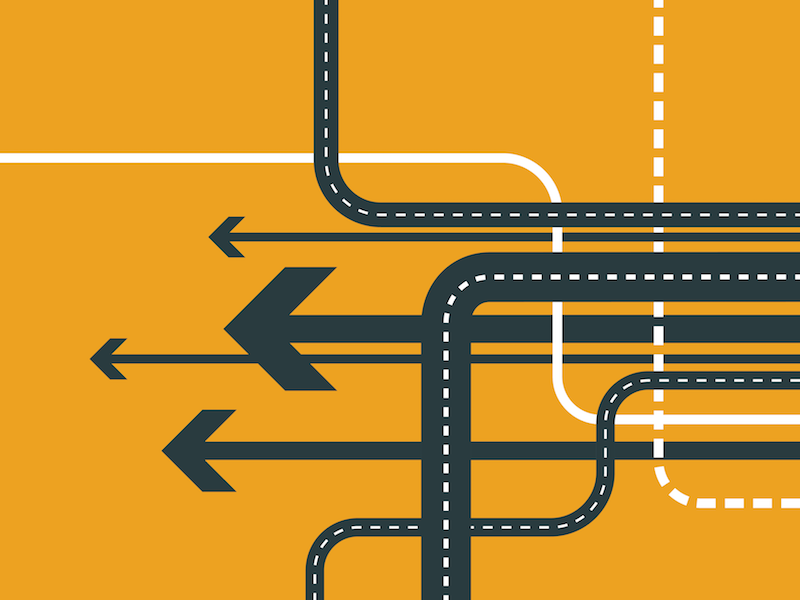 Innovators in science & technology have the potential to solve the world's most difficult problems with their inventions. Entrepreneurship is an effective – yet challenging – pathway for early stage innovators to deliver innovative solutions. Unfortunately, studies often show that many startups don't make it to the two-year mark.
Early stage science and technology innovators don't always have to start a new venture to make a social impact. We interviewed several VentureWell program participants who pivoted from startups to other careers, using their skills, talents, and experiences to contribute to the I&E ecosystem and address 21st century problems.
Pratik Patel: From founder to employee
Members of Pratik Patel's family suffer from Type 2 diabetes, which partly inspired him to co-found Glyscend Incorporated in 2014, a startup treating the disease. The project grew from his work as a Master of Science in Engineering student at Johns Hopkins University. The company participated in VentureWell's E-Team Grant Program in 2014.
"If I'm going to spend all my time and countless number of hours every day on a job, it might as well be for something big," he says. "I just can't get excited for something that I truly don't care about."
But when his startup hit a funding gap, Patel began to explore more stable options. He landed a strategic innovation analyst position at BD Medical, an international medical technology company, where he's a core member of a six-person team responsible for influencing growth strategy. "Even two years ago, I would have been completely against joining a large company," Patel says.
Now, Patel feels like he's making a bigger impact than he would have at his startup, and he's acquiring new skills along the way.
"I can get a new concept through the initial stages and if it does go through a formal R&D process, the scale—just because BD has such a massive reach—the scale is what really excites me," he says.
Patel says there are many similarities between getting a startup funded and pitching a concept at BD. "Instead of going after a venture capitalist or angels, you have people within the company who are going to make similar decisions to invest in your project," he says. "The entrepreneurial mindset helped me build up enough resilience and grit. There's an art to figuring out people's concerns and addressing them."

Advice for students: "The biggest action that students can take is to speak with people with completely different backgrounds or people who have careers that you don't think you're going to pursue. You're going to be surprised. For example, I recently had to take a finance course. I would have never have taken that course in college. But now I see how understanding finance and income statements is critical to a successful project."
Carolina Barreto: Advising other startups
From Nicaragua, Carolina Barreto has always had water and food scarcity on her mind. "I got inspired to study agricultural engineering because Nicaragua was going through a starvation crisis when the coffee prices dropped drastically in the late 90's," she says. "I thought food production was the solution and specialized in irrigation."
She quickly turned her attention to solar energy to power pumps for irrigation, creating her startup Solar Drip Irrigation while acquiring her master's and doctorate at UMASS Lowell. Barreto participated in a VentureWell program in 2009.
"It was sad and disappointing," Barreto says. "You've dedicated so much time and energy, but you still have a drive to make a difference, to contribute to your sector."
That drive resulted in a new position for Barreto as the Beyond the Grid, Power Africa advisor for Tetra Tech, a worldwide consulting firm working on energy issues, from utility scale work to rural electrification. Every week, she advises and supports dozens of startups in Kenya who are trying to answer a pressing social challenge: how to provide rural electrification through solar technologies.
"It's very rewarding," she says. "It's like your own startup, but on steroids. Kenya is so exciting. It's the lab of Africa."
Barreto's personal experience allows her to help other startups keenly navigate challenges and pitfalls. "I hear about their operational issues and I know how to solve those," she says. "I help with their distribution networks—all of the things that I used to do in my own startup."
At the same time, Barreto has an advantage when she's introducing a startup to policymakers and stakeholders. "As an innovator myself, I can better explain to government, donors, NGOs, and other stakeholders the needs of startups, [so they can] provide an ecosystem that would allow them to succeed," she says. "It's exciting to be able to contribute that way."

Advice for students: "Be able to look at the big picture. If your startup is over for many reasons, ask, 'What is it I'm taking with me as a human being, as a scientist, and as a contributor to society?'"
Sara Beaini: Making a positive change
After nearly five years running SolWorks Innovation, Sara Beaini and her co-founders knew it was time to pull the plug. The startup, which had materialized during a "Design for Sustainable Communities" class at UC Berkeley, was dedicated to creating a low-cost solar water heater for developing countries. Beaini participated in a VentureWell program in 2008.
"We recognized it was time for a transition," she says. "Our mentors and advisors told us, 'Fail fast, fail early.' If it's not going to work out, you move on and pivot. We learned a lot from it, and it was time to put it to rest."
What didn't rest was Beaini's commitment to impacting positive societal change. Beaini, who is from Lebanon and experienced energy scarcity, is personally drawn to creating a better standard of life for people through technology. "My professional mission has been to work in a field where I can effectively impact sustainable resource management," she says.
Now, Beaini is applying her drive, passion, and knowledge as an engineer and scientist at the Electric Power Research Institute (EPRI), a nonprofit research agency working for safe, affordable, and reliable electric power. "What I'm doing now is what I wanted to do," she says. "The startup was not planned. The theme of my work is the Energy-Water Nexus, and that's very in line with what I was working towards."
She says the entrepreneurial mindset she developed at her startup have been invaluable throughout her career.
"The projects that I'm working on [at EPRI] are kind of like a startup," she says. "You're taking it from conception to completion. The entrepreneurial training helps build the skills you'll need to apply in the workplace. It's a lot about the people skills and how are you going to communicate, whether for proposals or pitching ideas. You want to get funding? You still have to convince someone. How are you going to make that idea persuasive and validate your claims? The communication component is so crucial."
Advice for students: "Recognize that the skills acquired through education, projects, and experiences can be used as an asset for finding the fulfilling work that you want to do. For me, that's having a positive impact on society."
It's true that the startup path is an enticing one, but what happens if you don't retain funding, or your test pilots sputter, or your interest wanes? These three innovators have continued innovating—reinventing their career paths with the same entrepreneurial mindset and resilience they developed as program participants. They all agreed that their post-startup success was due, in part, to staying flexible, nimble, and open minded about their careers—while also holding true to their personal commitments to make a social impact.  
VentureWell's E-Team Grant Program includes training through our early-stage innovator training program. The training provides peer networking, expert coaching, national recognition, and hands-on workshops to move your innovation forward. Learn more about the program and application deadlines here.