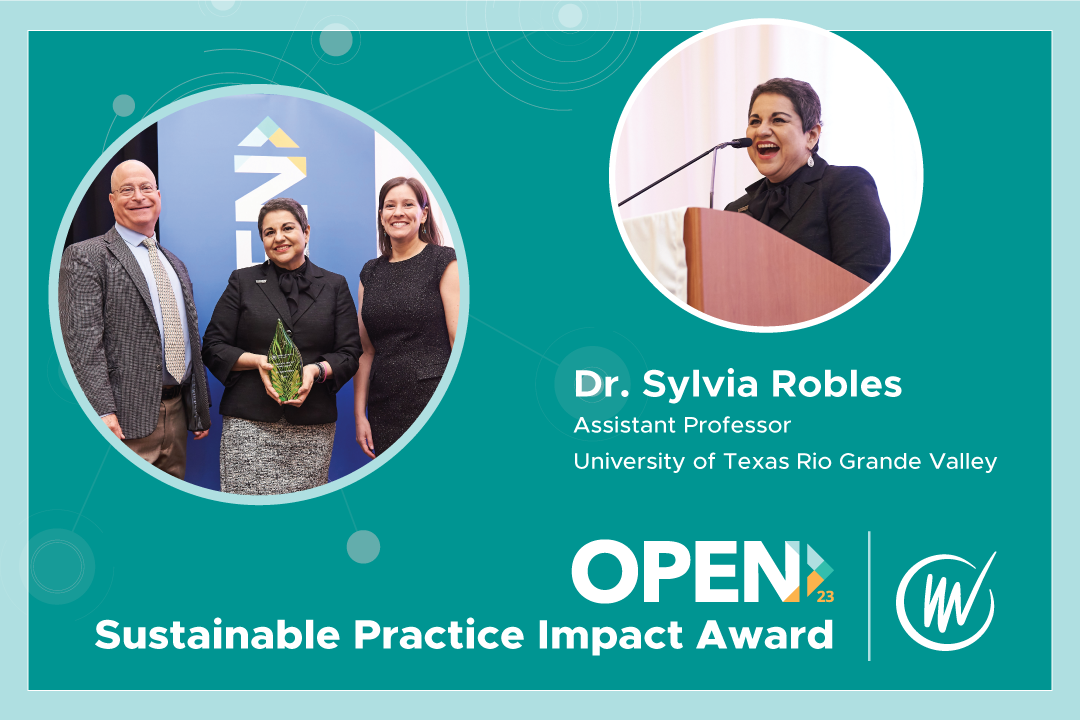 We're proud to celebrate the winner of our 2023 Sustainable Practice Impact Award: Dr. Sylvia Robles, Assistant Professor of Practice at the University of Texas Rio Grande Valley's (UTRGV) Robert C. Vackar College of Business and Entrepreneurship (RCVCOBE). The award, presented in partnership with The Lemelson Foundation, honors individuals, companies, or institutions that have made an exceptional contribution toward developing clean technologies, implementing sustainable practices in their businesses, or providing sustainability-focused educational opportunities to university students.
"Our 2023 awardee is a visionary entrepreneur, educator, researcher, and advocate of Humane-Innovation-Sustainable-based Entrepreneurship and Community Engagement. She empowers her students and local entrepreneurs through her Adopt a Startup at University of Texas Rio Grande Valley Program to develop sustainable businesses," said Cindy Cooper, Senior Program Officer at The Lemelson Foundation, who bestowed the award on Dr. Robles.
Sylvia received a Fall 2020 Course & Program grant, which helped support the expansion of her existing Adopt a Startup program and Collaboration Model. In collaboration with the UTRGV College of Engineering and Computer Science (CECS) and in partnership with UTRGV's Entrepreneurship and Commercialization Center (ECC) and the eBridge Center for Business and Commercialization, the Adopt a Startup model empowers students and entrepreneurs from underrepresented backgrounds in their pursuit of entrepreneurship. They receive training and support in creating solutions for local businesses, often with sustainability in mind. One team recently developed a device that can mass-harvest mesquite beans—a boon for a bean company in the Rio Grande Valley, which can now use the superfood as a natural sweetener for more products.
Sylvia's reach is vast. She's since gone on to launch Adopt a Startup in Torreon, Mexico, signing agreements with three counties through Universidad Iberoamericana to assist entrepreneurs with patents, utility patents, and trademarks filing and expenses. Through their inventions, these founders are solving complex problems the local community faces today.
We're not the only ones who have noticed Sylvia's incredible efforts. She received the 2022 UTRGV Faculty Excellence Award in Sustainability Education and the 2022 UTRGV RCVCOBE Faculty Excellence Award for Service—Public Engagement, which honors exemplary efforts made by faculty to promote sustainability in their work. She's also been selected to speak at a number of conferences around the globe.
We sat down with Sylvia to talk about her passion for sustainability, her approach to incubating the bright ideas of early-stage innovators, and her goals for the future of Adopt a Startup.
How did you "find" sustainability? Where did it all start?
My grandma taught me how to knit at an early age, and I learned to pick more sustainable materials to design my doll's clothing and create furniture using natural materials (like mattresses for the cradles). She hosted the whole family in her house every Sunday, preparing food—delicious plant-based gorditas—with limited resources for unlimited attendees. My mom was also a visionary—she had a boutique startup, and I grew up learning that if I wanted new clothing, I had to prove I needed it and could afford it.
My conscious journey with sustainability started at age 17 in Newfoundland, Canada, during my international student exchange program. My Newfie dad wasn't working in construction for a few months because the government banned cutting trees or fishing different species, yet my family was still financially covered. In Mexico, that level of support was nonexistent. There, I couldn't breathe the air because it was so polluted, and I couldn't consume food and water due to contamination. When the government did nothing, I started a campaign with my high school classmates to collect resources to hand out in the poorest neighborhoods. I learned then that we needed to take care of the environment impacting the social and economic spheres because—at least in my hometown—nobody understood food scarcity, contamination, or waste separation.
Can you tell us more about your professional journey with sustainability and how you connected with it?
My formal academic sustainability journey started in 2017. I'd just participated in UTRGV's International Center for Sustainability Across Curriculum conference, networking with other faculty with similar goals. My course syllabi were certified by the Association for the Advancement of Sustainability in Higher Education (AASHE). In 2020, I took the Certificate to Teach Sustainable Development Goals (SDGs) with the International Council for Small Business and the United Nations. Later, I presented at the ICSB Teaching SDGs webinar. The same year, my journey with VentureWell started when I participated in the "Infusing Sustainability into the Curriculum" workshop. Through my Community of Practice sessions, I learned so much from faculty nationwide. I've also attended the OPEN conference every year since I joined the Course & Program grantees, which was very helpful.
In Spring 2020, my colleague Yemin Sánchez (Lecturer, UTRGV) and I published a chapter in Beyond the Frontier: Innovations in First Year Composition, Volume 3, about education for sustainable development and community-engaged scholarship. I was also published in the Journal of the International Council for Small Business for my Adopt a Startup Model: An Example of Education for Sustainable, Humane Entrepreneurship.
All of this has really helped me expand my knowledge across UTRGV to create opportunities for other faculty and students, which is powered by the Office for Sustainability.
What do you tell your students about the importance of sustainability? How do you convey that to them?
I noticed that my students learned more from real-life learning experiences, so I started networking with local incubators and assisting the underserved population in developing their sustainable business models with support from my class. Students study the practices of these entrepreneurs and develop new strategies to solve crucial sustainability issues. During the third week of every semester, I also created the Week for Sustainability, where I invite different speakers who share their sustainability perspectives from other disciplines.
My students must also address the three pillars of sustainability and SDGs in their projects. Many of them learn for the first time that sustainability is related to social, economic, and environmental implications. They become agents of change by questioning their sustainability actions in their daily activities. It is surprising to see how the students apply what they learn and transform others' lives. They come to realize that it's not enough to be profitable—they need to be socially responsible for paying fair salaries while creating new jobs and improving the well-being of others.
What are some of the barriers that you experienced in your career, and how did you overcome them?
A lot of people have told me no throughout my career. People thought that my first startup and the design of my project model were crazy, and nobody initially believed in them. I've also had to work harder as a Hispanic woman and someone from a business background—not STEM. So I relied on my faith. No matter how dark the sky is, I always think the best is yet to come. I have been blessed with a family of warriors who have supported me through every challenge, and I have accessed many opportunities by educating myself in different fields. I've met incredible mentors and colleagues who share different perspectives and have supported me so much.
My extroverted personality and passion for serving have also guided me to establish long-lasting professional and personal relationships. The challenging times have prepared me to find a creative solution and not accept a "no" as a response.
What inspires you about the work your students are doing? What are the issues that you see drive and inspire them?
I'm so proud of them. I have a lot of students who don't have a business background, so I'm always trying to get them into business development courses. All of my courses include a service learning component. They craft a sustainable business plan/model, but it's based on primary research—they get off the campus, test their hypotheses and assumptions, and interview potential customers. Through the Collaboration Model with CECS, I'm asking my business students to adopt engineering projects and expose them to a new world, which is not easy. I see them working hard to learn a lot of information, and this is what it's all about: helping the ones who don't have access to the tools they need to become entrepreneurs. I've been told to concentrate my efforts on supporting more elevated companies—that the underserved don't need my students or me. My doctoral research proved that students could help innovators by developing critical, design, and future thinking in the classroom and applying these skills in real-life ventures.
How has VentureWell played a role in the growth of your work?
VentureWell has been part of my work since the beginning. First, when I started partnering with Dr. Noe Vargas Hernandez (Assistant Professor at UTRGV), who has a makerspace thanks to our Course & Program grant. We've been transferring our skills and collaborating. Imagine what our engineering and business students learn from our experience.
I officially joined VentureWell in 2020 when Dr. Lance Nail, RCVCOBE Dean, motivated me to apply for a Faculty grant. You're sending a powerful message by supporting minorities in higher education—that our impact is being felt and that we should stay active and keep participating in building an entrepreneurial ecosystem. That's worth it to me.
Where do you see your work in the future?
I see myself helping other faculty around the nation and the world. I hope more faculty will join Dr. Vargas, Dr. Rampersad, and me in our efforts—it's only us right now collaborating with our engineering, agricultural, and business students. However, I ambition to take our High Impact Sustainable Transdisciplinary Model to the next level. I want to see Adopt a Startup replicated and continue helping other faculty, students, and entrepreneurs to craft their entrepreneurial efforts. I want to see our students continue being exposed internationally by adopting international companies and competing and presenting globally. I want to foster the local entrepreneurial ecosystem by networking and opening opportunities to the underserved. To spread the magic, I'll soon facilitate a training about Infusing Sustainability into the Classroom Across Disciplines as part of the Teaching and Research Integration in the Classroom and Community (TRICC) Speaker Series at UTRGV. That's my dream.