You can't see it, but a shadowy presence looms over your startup. It makes the hair on the back of your neck stand up. Is it a ghost? In a sense, yes. It's the spectre of team conflict.
With years of experience coaching hundreds of startups at VentureWell, many innovators have approached me as if they'd seen a ghost: they are scared, embarrassed, and nervous that they are overreacting to tension within the team. It is scary to confront conflict within a team dynamic. Understandably, there's a lot of fear that confrontation will harm the team. In reality, team tension has likely already cast a dark shadow over morale and performance. It's better to address the issue sooner than later so that you can learn from the challenges and move on that much stronger.
For the brave teams who want to stay in the realm of healthy, living startups, it is time to put those troublesome spirits to rest. Here are three steps to recognize, address, and reconcile team conflict.
Step 1: Get past "There's no such thing as ghosts"
The desire to deny the eerie presence of conflict is quite powerful for most of us; we just want everything to be fine. As noted entrepreneurship researcher Noam Wasserman states in The Founders' Dilemmas, entrepreneurs tend to be even more conflict-averse because they may have common biases, such as passion for the idea, and a drive to move forward rather than a desire to reflect strategically.
For many startup founders, conflict simmers just out of sight in our blind spots. That's why it's important for the whole team to acknowledge that something doesn't feel right and explore the root of the problem.
Step 2: Start ghost hunting
Your ghost-hunting expedition can start with exploratory conversations. Rather than look for a problem team member, try to find a trail of evidence that points to this uneasy sense of conflict.   
The key to these conversations is inquiry and observation. As a team lead, you might ask your teammates in 1:1 meetings about problems they're noticing in the group, and then hold a group meeting. As a teammate, talk with your team lead, or go to an outside advisor to explore your thoughts. Inquiry can lead to a constructive conversation and subsequent action plan that can put the issue to rest.
Word of caution: Make sure you go beyond just your teammates. If you talk with just a couple teammates, you could end up creating more bad vibes. Engage your team lead early to avoid the feeling that you're going behind their back. If engaging your team lead is a key part of the problem, consider getting an outside mediator, like a team mentor or advisor.  
Step 3: Who ya gonna call? Ghostbusters!
Remember how the Ghostbusters did their best when they worked together? It's important for teams to collectively and constructively define what actions or systems are needed to cast away those restless spirits.
Once it's time to discuss as a team, things can become a nail-biter – a normal response in difficult conversations.  Start with ground rules to ensure everyone feels safe and heard. Some ground rules may be:
keep it constructive

use "I" statements

one voice at a time

refrain from blame or name-calling

make requests to find solutions
The next step is for people to propose suggestions to remedy the underlying problems and come to a decision on dealing with the ghosts of team conflict. Setting clear expectations for dialogue enables people to be honest and compassionate with each other, see alternative perspectives, and continue to solve the problem together.
Now, instead of hiding under the blankets waiting for team conflict to go away on its own, you can shine a light on it, describe it, and come up with a plan to banish that negative energy so that your team can come away from the experience even stronger. And, to help you ghost-proof your team from conflict, I've put together a five-step plan to get you started.
Early-stage innovators: discover ways to manage projects, detect risk, and communicate more effectively. Learn more about our early-stage innovator programs, the E-Team Grant Program and ASPIRE. 
About the author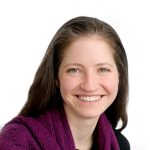 Janine Elliott is a curriculum designer and facilitator for various training programs hosted by VentureWell. She has a passion for supporting faculty, investors, and institutions that help student entrepreneurs on their path to commercialization. Since working as a coach to hundreds of E-Team grantees and as a former co-founder of a cleantech materials startup, Janine is familiar with best (and worst) practices for science-based innovators in regulated industries, such as energy, healthcare, chemicals, and agriculture. She earned an MBA with an emphasis in Sustainable Enterprise from Dominican University of California and holds a BA of Environmental Studies from Colby College.