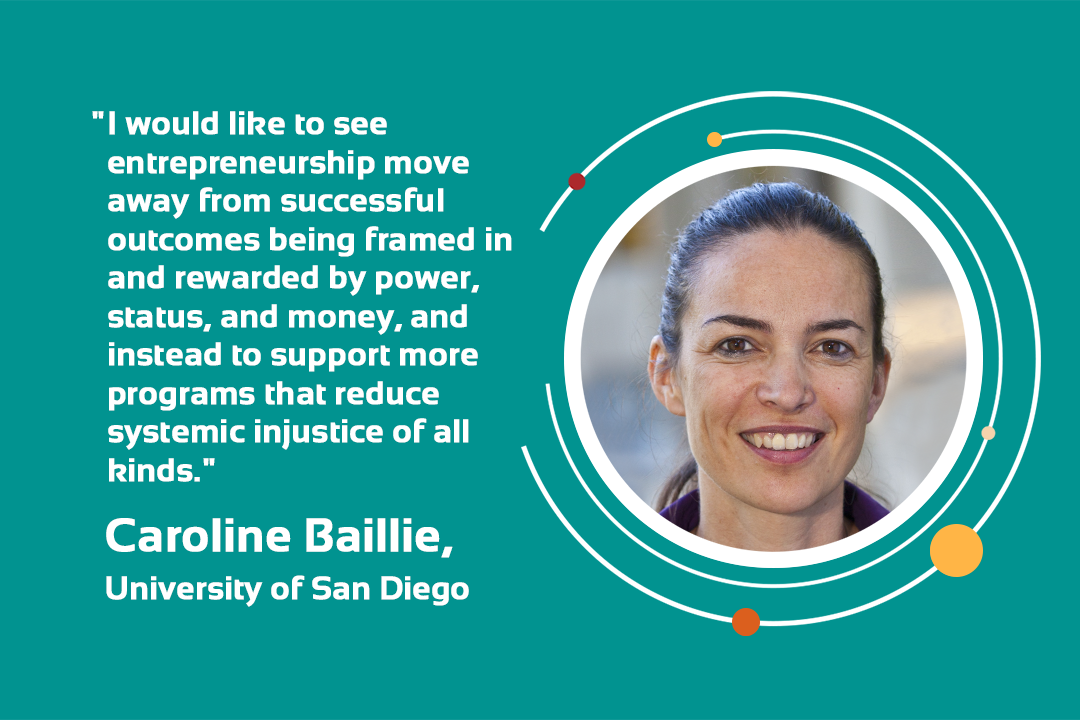 Our Faculty Spotlight series highlights educators within the VentureWell network who are doing transformative work—faculty members who are catalyzing change in higher education and inspiring students to impact the world through invention. This month's spotlight is Dr. Caroline Baillie, Professor of Praxis in Engineering and Social Justice at the University of San Diego. Dr. Baillie is dedicated to incorporating creative and culturally-diverse modes of thinking, collaborating, and innovating into sustainable design and materials engineering curriculum. In the Spring of 2020, she received a Faculty Grant to develop a new course that tasked students with designing waste innovation solutions for the social and ecological challenges of discarded trash in California's Tijuana Estuary canyons.
How did you become interested in teaching entrepreneurship?
I have been curious about curiosity forever. I became a materials engineer but realized I was being told how the world was instead of being given tools to find out anything new. So, I completed a PhD but again, I found that methods were fixed about what was acceptable to do in order to gain my doctorate. Since then, I have journeyed through disciplines, cultures, and geographies constantly searching for creative ideas and alternative solutions to intangible problems.
I decided I wanted to share my knowledge about materials engineering with communities that would not normally have access to it — marginalized groups which didn't have access to industrial or academic knowledge. I launched Waste for Life, a non-profit organization that supports communities to collect and transform recyclables into usable products. The communities themselves become the entrepreneurs — learning how to access waste, design products and sell them, and make enough income to share amongst their co-workers.
What is your favorite thing about teaching?
I love sharing knowledge, ways of thinking and being, and co-creating with others. I follow a pedagogical framing called 'phenomenography' in which the learner and the facilitator of that learning are entwined in a process of mutual discovery.
Where would you like to see the field of entrepreneurship in five years?
I would like to see more creativity and innovation in how we address large intangible problems like climate change, public health, and poverty reduction. I would love entrepreneurship to focus on connections and curiosity within, without, and between different knowledge systems and values, and to support those who do not fit inside anybody's boxes. I would also like to see entrepreneurship move away from successful outcomes being framed in and rewarded by power, status, and money, and instead to support more programs that reduce systemic injustice of all kinds.
How have you pivoted your courses or teaching style during the pandemic?
Through my VentureWell-funded project, I have been able to support my students to work across borders to support the development of waste recycling community businesses in Tijuana. I've facilitated mixed teams of college and high school students to design their own new school building for zero net energy, despite never meeting one another. I've also run a remote, nature-based STEAM program for school children where they co-create a play about the impact of people on nature. Finding new ways to keep people connected has become ever more important and a great way to practice creative thinking!
What books on entrepreneurship and innovation have you been reading lately, and how have they been insightful to you?
I have been reading Ecotopia — a brilliant novel written by Ernest Callenbach in 1975, which demonstrates the kind of innovative thinking I admire. 'Ecotopia' is a new country created when part of the West coast of the US secedes and becomes its own nation. The citizens of Ecotopia live by their own rules — socially, economically and environmentally. It is incredible to see such brilliant ideas for reducing negative environmental impact and for developing cooperation between people.
What's your most useful classroom activity or assignment?
I love to sit in a circle with my classes — it seems so simple yet it does miraculous things to the atmosphere of the class. We are all equal. We sit across from one another and acknowledge the wisdom, values, and experience of all present. This not only has the effect of enhancing students' confidence and engagement, it also means that they begin to understand that all knowledge systems should be treated with respect, not just the one they have learned so far.
VentureWell Faculty Grants provide up to $30,000 to help fund and support faculty with innovative ideas to create new or transform existing courses and programs to help students develop novel, STEM-based inventions and gain the necessary entrepreneurial skills needed to bring these ideas to market.