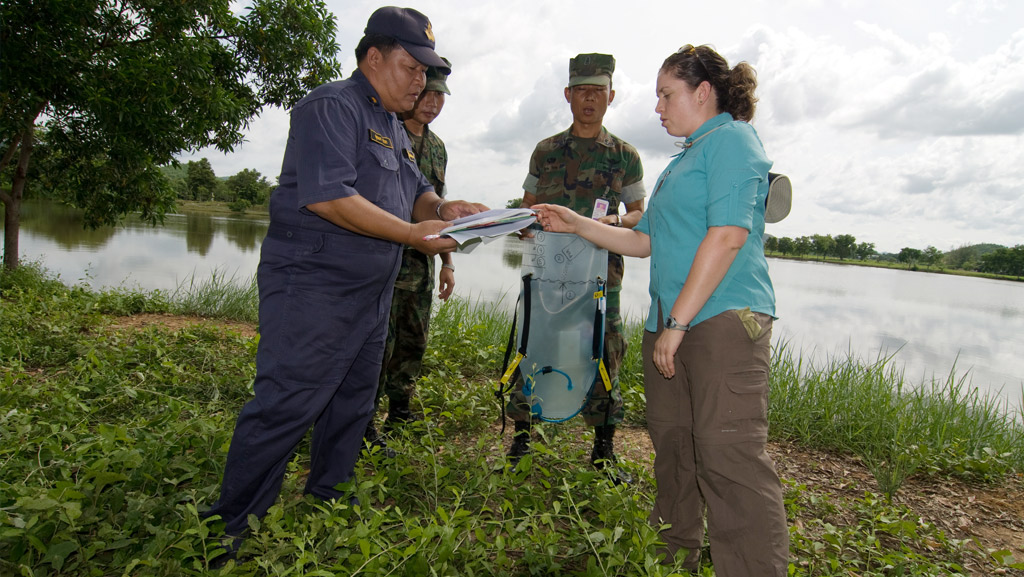 Water is one of the most essential life-giving resources on the planet. Yet access to water is not equal. According to the United Nations Water initiative, 2.2 billion people — that's 29% of the world's population — did not have access to safe drinking water in 2017. The impacts of climate change, industrial and agricultural water usage, and ineffective water systems are only exacerbating water inequity. Another chilling statistic emerged from a report from the 2030 Water Resources Group: by 2030, 700 million people could be displaced from their homes due to water scarcity. By creating innovative products that better provide, treat, and maintain access to water, water hardware startups advance water technology and fortify global water resilience.
Early-stage ventures in the water systems sector face unique challenges in their work. E-Team program alum Tricia Compas-Markman knows this journey well: prior to joining VentureWell as a Program Officer, Compas-Markman served as the CEO of DayOne Response, a company that designed and manufactured a 2.5-gallon portable water purification device — essentially a water treatment plant in a backpack, that allowed families to collect, treat, transport, and store water. In honor of World Water Day 2021, we're highlighting common obstacles that water hardware startups face, and sharing Compas-Markman's advice in overcoming these challenges.
navigating the tides of regulatory approvals, technology validation, and entrepreneurship
For entrepreneurs working in the water hardware sector, the journey to success requires a careful balance of a number of urgent priorities. Hardware startups must successfully validate their technology, create viable prototypes, and develop comprehensive supply chains, in addition to securing complicated regulatory approvals, and of course, building a sustainable business. The path from school project to successful company can be significantly longer in the water hardware sector than what the student initially expected.
For those primarily with STEM backgrounds, it may be hard to know where to turn for help. Compas-Markman suggests tapping into existing support systems: universities are incredible resource-hubs for students building water hardware startups. Beyond just the lab, universities can provide support across all aspects of the venture development process. Technology transfer offices can provide guidance through the patent process and help untangle complicated compliance regulations, and entrepreneurship courses can introduce STEM-focused students to foundational business development concepts and connect them to potential mentors and collaborators. Networking across the university system is also important — Compas-Markman was able to connect and partner with the U.S. Navy through an alum her professor introduced her to.
strengthening business fundamentals and networking to prepare for investment
Funding can be a serious challenge: hardware startups often need to secure funding sooner and for longer than other ventures to keep them afloat during the long regulatory approval processes. However, while startups in other sectors can join incubator programs tailored specifically for their industry, there are few incubation or investment opportunities that focus specifically on the water sector.
When seeking funding, water hardware startups need to present a strong fundamental business plan that articulates how their solution can meet the needs of their customers. Compas-Markman was awarded an E-Team grant from VentureWell and participated in its early-stage innovator program in 2009, and cites her experience as vital to the development of DayOne Response and her own business acumen. Programs like E-Teams provide STEM-focused students with the opportunity to test out the core business plan, and engage in customer discovery with actual industry players to identify possible customers, and refine the business's value proposition. This helps focus and streamline a venture's pitch, so they can hone in on exactly who to approach when it's time to secure funding.
Compas-Markman encouraged water hardware startups to develop relationships with mentors across university and entrepreneurial ecosystems, particularly with those who can offer new skills, experiences, and connections. These mentors can help startups find new opportunities for growth and funding. Once a team is ready to seek investment, Compas-Markman recommended they emphasize the different impacts of water-tech innovation through data insights.
"One thing that I love about water-tech is that the social impact factor is inherently built in," she said. "I think there's really good ways to capture the metrics, whether a company is monitoring water, distributing it, or treating it. It's important to frame your metrics to show that there is a social and environmental impact, as well as opportunity for financial savings and growth."
weathering the impacts of unpredictable sales cycles on business expansion plans
It can be particularly difficult to scale the manufacturing of water hardware startups. Sales cycles can be hard to anticipate, especially for companies who work primarily with humanitarian aid organizations that generally only purchase products and services in response to emergencies. Finding the financing and storage for inventory can also be challenging without consistent and reliable customer demand. The ups and downs of customer needs can create missed opportunities when supply chain partners aren't able to meet the intensified pacing of a sudden surge in demand.
Compas-Markman emphasized the importance of thinking creatively about inventory challenges and communicating across the entire customer-business-supply pipeline. Hardware startups need to take the time to understand the needs of their customers, the flexibility of their supply chains, and the capacity of their investment partners. She suggested tracking and analyzing existing data and industry insights to anticipate and plan for cycles of high customer need and the inverse. This can also be done with others: hardware companies, particularly in niche fields like water, should work to develop relationships with other companies in the sector. These collaborations can help early-stage entrepreneurs identify mutual challenges and devise solutions together by building on shared, collective knowledge.
Compas-Markman also suggested water hardware startups consider diversifying their customer base as a tool of resilience. She recommended looking into multiple revenue streams and creative ways of reaching customers directly and forging partnerships with industry stakeholders, NGOs, and distributors who can expand market access internationally. However, she also warns that though diversification can help ventures mitigate the volatility of irregular sales cycles, water hardware startups should only diversify as long as the team can stay focused on the core business strategy. If a venture is spread too thin, it can actually end up putting even more stress on the manufacturing and sales pipelines, potentially leading to sloppy mistakes.
"I have so much passion for water hardware startups. I think the E-Teams program gives them the opportunity to really pause and consider the value of their potential venture, and to uncover the depths of developing and leading a STEM startup," said Compas-Markman. "As an engineering student who had never taken a business class, it was really the VentureWell program that introduced me to all the other necessary elements of launching a STEM venture."
The E-Team program supports dedicated science- and engineering-based student teams from across the nation in bringing their high-impact innovation out of the lab and into the market.
What does it take to get from idea to impact? Our new case study about DayOne Response offers a deep dive into Compas-Markman's entrepreneurship journey, highlighting the nuanced experience, lessons learned, and major development milestones.