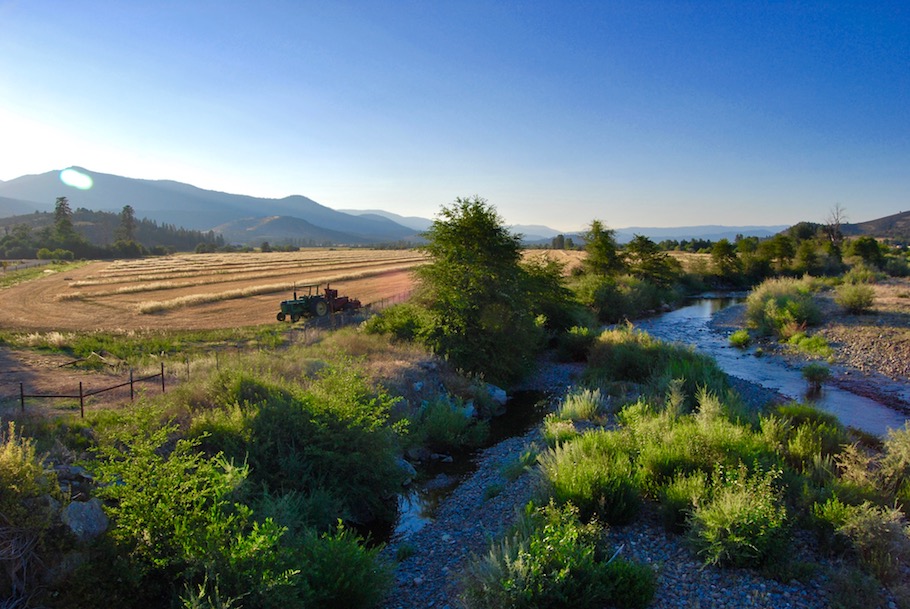 Groundwater is a critical resource for agricultural, industrial, municipal, and environmental uses. According to a recent report on groundwater usage:
Approximately one-fifth of total water use in the United States comes from groundwater, extracted at an estimated rate of 227,000 acre-feet per day. Of this, about 70 percent is used for irrigated agriculture.
As a result of the increased demand for this precious natural resource, there is a growing need for groundwater management, which includes limits on well drilling and pumping.  Limited access to groundwater has driven many growers in agricultural communities to create informal trading systems – with oversight from regional natural resource regulatory agencies – to access much-needed water resources. Participating in the system often involves striking deals with a loose network of friends and neighbors, posting on bulletin boards, participating in auctions, or placing online ads. Once buyers and sellers find one another, they negotiate prices and water rights quantities, and obtain approval from water managers at the appropriate regulatory agencies.
While the process may seem straightforward, there are many costly and time-consuming issues associated with a decentralized water trading system. For starters, transaction costs and other fees can be quite high – especially during times of increased water scarcity. This prohibits many smaller growers and water users from participating in the market. Buyers who are fortunate enough to find a trader willing to sell water rights at an affordable price still need to go through the arduous process of determining if their transaction meets the complex water trading rules and regulations. Given the ad hoc nature of many transactions, it's no surprise that some are not approved by water regulatory agencies. Understandably, many growers and water users with limited resources ultimately give up on the system.
Fortunately, complex water challenges like this present inventive and entrepreneurial opportunities for early-stage innovators. Take Mammoth Trading, a National Science Foundation (NSF) I-Corps™ participant that developed the first electronic clearing house – or smart market – for trading water resources in the world. In honor of World Water Day, we spoke with Mammoth Trading co-founder and president, Richael Young, about how her company's innovation is making water trading accessible and equitable for more growers, how a water market encourages water conservation, and the role early-stage entrepreneurship training programs like I-Corps play in transforming an idea into a sustainable business that solves problems.
Opportunity for a Smart Water Market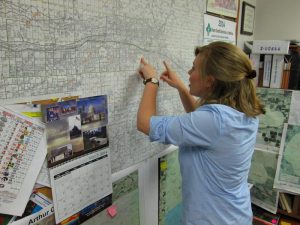 While informal water trading systems were developed in response to a critical need, many unforeseen obstacles in the process came to the surface. During her studies in environmental engineering and agricultural economics at the University of Illinois at Urbana-Champaign, Young became the entrepreneurial lead on a NSF I-Corps award that eventually led to starting Mammoth Trading. "Our research team was looking at ways we could centralize trading activity and automate regulatory compliance," said Young. "We were essentially developing the first smart water market in the world."
When developing the smart water market, Mammoth Trading looked at every aspect of the informal system to see how their innovation could improve the process. For instance, the company's system provides a centralized hub for trading activity, eliminating the time and effort spent in finding interested traders.
Twin Platte Natural Resources District (TPNRD) in western Nebraska was the first area to adopt Mammoth Trading's smart water market. According to Ann Dimmitt, Integrated Management Plan Manager of TPNRD, "Mammoth Trading has taken the old-fashioned way of trading water with paper and pencil and upgraded it with algorithms and built-in calculations to develop a user-friendly trading platform. What would have taken hours to wade through all the rules and regulations can now be entered into the Mammoth Trading platform and computed quickly with precision."
Opportunity to Encourage Water Conservation
While Mammoth Trading has made water trading more equitable and accessible for small-scale growers and water users, their innovation also has the potential to encourage greater conservation efforts among water market participants.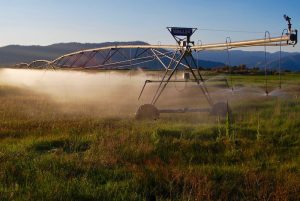 Young explains, "A water market can create new revenue streams for water users that previously didn't exist. When water users can make money by saving water and selling it on a market, there's a much stronger incentive for them to invest in conservation technologies and practices." 
Recent research provides evidence to the impact a water market can have on conservation and overall environmental stability. In a Penn Wharton article, smart markets for water help facilitate transfers to get water where it is most needed. For instance, transfers can reduce the economic effects of droughts by shifting water to activities and places where a lack of water will cost the most or have the most harmful impact on a region.
"I believe that economic growth and natural resource conservation can complement one another," said Young. "In fact, as the demand for water increases, conservation and markets will play a key role in keeping up with the growing need."
Maximizing Opportunities through Entrepreneurship Training
Young and her team went into the I-Corps program thinking they were years away from being market-ready. However, they quickly realized they were in a situation many early-stage innovators only dream of: Mammoth Trading had a bigger market than they imagined – and the market was more than ready to start working with the company right away.
After the team spent time meeting with potential customers and water managers to learn how they might use their smart water market model, the people they met with were ready to participate in or implement the system. "We essentially had customers before we had a formal company," said Young.  "We rushed to incorporate before I even defended my thesis. It was surreal."
During the I-Corps program, the team soon understood why they felt pessimistic about their future, and how they needed to shift their mindset and focus. "We complicated things. We underestimated the importance of relationship building and overestimated the importance of our technology," said Young. "I-Corps taught us that we had to spend more time thinking about customer pain points, legal frameworks, and regulations much more than algorithms and web interfaces."
VentureWell faculty grantee and I-Corps national faculty member, Jed Taylor, worked with Mammoth Trading when they were a team at the University of Illinois at Urbana-Champaign. He now sits on the company's advisory board. Taylor reiterated the idea that early-stage innovators don't need to overthink their invention in order for it to be truly effective. "Mammoth Trading is a good example of a startup that went out there and identified a problem that needed to be solved and used innovation and entrepreneurship to fix it. That's a good reminder for future innovators. Don't fall in love with your invention. That may blind you to actually solving the problem or creating a sustainable business."
Cultivating a Bright Future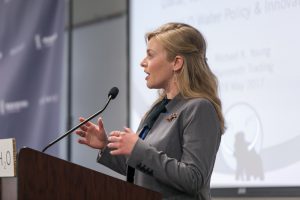 Now based in Denver, Colorado, the team is well-positioned to explore new avenues for their business. "We are excited by what's on the horizon," said Young. "We're scaling smart water market solutions into other states, and developing new tools for growers to help them better understand and manage their water." 
Young is also an emerging thought leader in the water management and trading sector. She recently collaborated on a report with the Environmental Defense Fund called Groundwater Trading as a Tool for Implementing California's Sustainable Groundwater Management Act, and was a finalist in the Imagine H2O and Milken Institute's Water Policy + Innovation Summit.
Young is optimistic about the potential for water markets to help achieve near- and long-term conservation goals. "We need to be looking at smart, cost-effective ways to better manage our water resources," said Young. "Water markets are powerful tools that reward conservation, reduce drought risk, and help communities shift water to where and when it's needed most. With changing economic and climate conditions, we need this flexibility now more than ever."
World Water Day takes place every year on March 22. The 2018 theme was Nature for Water, which explored how we can use nature to overcome the water challenges of the 21st century.
Read more about NSF I-Corps here.