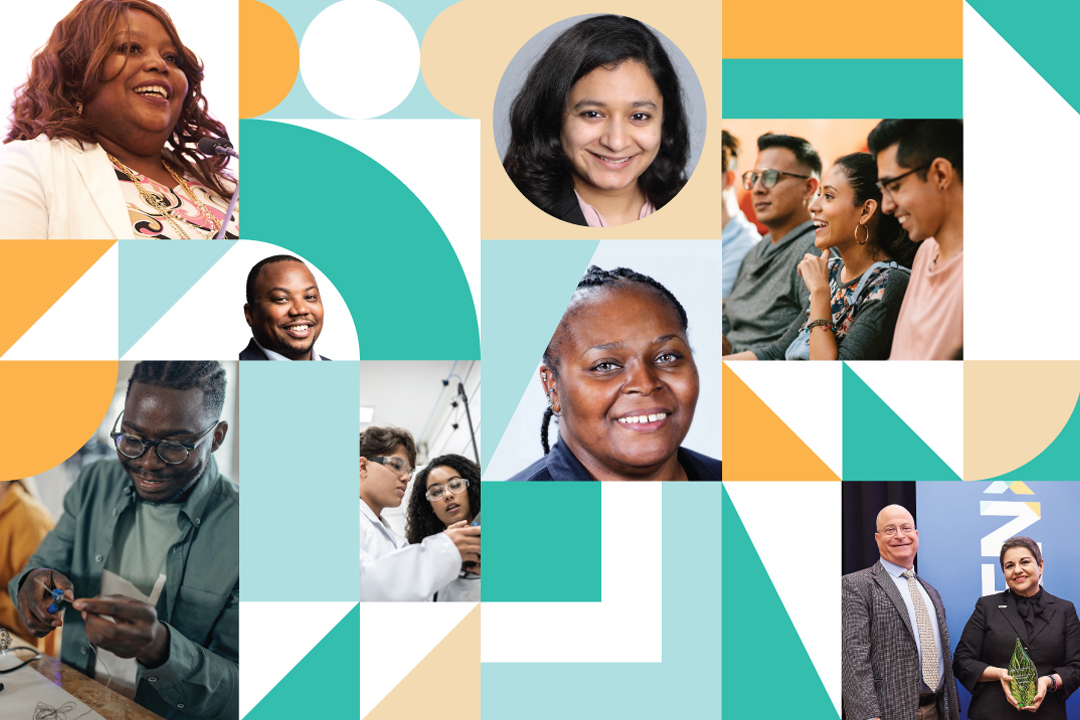 July 20, 2023
In a time when historic inequities are on the rise across the nation, we face a great many challenges in continuing to create inclusive opportunities. The Supreme Court of the United States (SCOTUS) just ruled against affirmative action in higher education, which will—by the estimation of many experts—unfavorably impact the number of students who identify as Black, Indigenous, and/or People of Color (BIPOC). For our nation to reach its full potential, we must engage and cultivate our talent without barriers. Our national competitiveness is inextricably linked to the intentional engagement and participation of diverse populations in our society. Innovation in science and technology is based on accessible education, and this decision, in combination with other persisting inequities, threaten this foundation and will ultimately hold us back.
In addition to the SCOTUS ruling, there is further evidence of the erosion of public commitments to equity and opportunity in developing well trained innovators and emerging entrepreneurs: Texas lawmakers approved a ban on programs that promote diversity, equity, and inclusion (DEI) at publicly funded colleges and universities. West Virginia University relocated from the town of Montgomery due to low enrollment, forcing out many longtime small businesses and threatening the economic stability of the rural community. In the wake of collapses of both Silicon Valley Bank and Signature Bank, minority-owned businesses will disproportionately face discrimination as "risky" investments.
While there has been rapid growth in the number of STEM graduates matriculating at U.S. colleges and universities—even before these new obstacles to equity—diversity gaps are not closing. The Pew Research Center reported that Black and Hispanic adults are less likely to earn degrees in STEM compared with other fields, which directly affects diversity in the workforce. Hispanic employees make up only 8% of the STEM workforce (out of 17% across all occupations), while Black employees comprise just 9% (out of 11% across all occupations).
In February 2023, President Biden ordered a White House Steering Committee on Equity to remove systematic barriers to government services and programs. We stand with these crucial efforts to advance equity on the federal level, as well as with the dissenting justices to the recent ruling by SCOTUS. We further reaffirm our commitment to implementing policies and procedures that uplift and empower more diverse voices in the broader innovation & entrepreneurship (I&E) ecosystem. To achieve excellence in I&E—and to ensure what we create is equitable—it is absolutely critical that we invite those with diverse lived experiences and underrepresented backgrounds to the table.
Beginning in 2020, and continuing in 2021 and 2022, we shared our commitments, progress, and lessons learned in advancing racial equity in science and technology I&E. You can continue to expect us to report on our progress annually, and we value the accountability these public statements engender. Through the programs we build and refine and the training workshops and strategies we implement internally, VentureWell continues to take an active and ongoing role in the advancement of equity and inclusivity in innovation and entrepreneurship.
An Update on Our Work at VentureWell and Our Most Recent Developments
Elevating equity and inclusion across our programmatic work
This year saw the expansion and development of new VentureWell programs, frameworks, and partnerships that center historically marginalized innovators and institutions in science and technology I&E.
We moved the threshold for our early-stage innovator programs to create a more accessible entry point for students who haven't been exposed to entrepreneurship programs or networks on their campus. We launched Access, a pilot supported by The Lemelson Foundation and Qualcomm; this initial offering provided students with free, asynchronous entrepreneurship training modules and live mentorship from VentureWell staff, giving some participants their first experience engaging with entrepreneurship concepts.
We continue to prioritize establishing demographically diverse innovator cohorts in our E-Team Program. This year, 36% of student E-Team ventures have founding team members who identify as Black, Latinx, or Indigenous; across participating teams 74% identify as Black, Latinx, Indigenous, or Asian and 64% identify as women. We exceed benchmarks of other Small Business Innovation Research and Small Business Technology Transfer awardees, where 11% are women-led and 8% are minority-led.
Our partnerships are strengthening, too. This winter we joined forces with Greentown Labs and Browning the Green Space to develop and lead the curriculum for ACCEL (Advancing Climatetech and Clean Energy Leaders Program), a new program which accelerates BIPOC-led startups that are developing solutions to the climate crisis.
Offered for the second time, the Innovator Stipend Program Sponsored by Qualcomm continues to reduce financial barriers faced by student innovators—like funding for prototyping, equipment, and legal support. In the coming months, we will publish a white paper outlining the outcomes of the program and launch the Qualcomm Inventor Series, featuring video, blog, and social campaigns highlighting stipend recipients.
Our Early-Stage Innovator team has integrated learnings from the National Equity Project's Designing and Facilitating Meetings for Equity course, providing our staff with thoughtful and intentional tools for creating space for effective collaboration that adapts to any given group dynamic.
In his newly created role, Terik Tidwell, Director of Inclusive Innovation, leads VentureWell's efforts in creating a cohesive body of equity-centered programmatic work through the lens of a learning organization. As the Interim Director of Innovation Ecosystems, he is developing a focus on technical assistance at emerging research institutions and Minority-Serving Institutions (MSIs). This work will be bolstered by our newly created Inclusive Innovation working group, which aims to help VentureWell staff create offerings that remove systemic barriers for participants.
OPEN 2023, our annual convening, offered three equity-focused pre-conference workshops: Inclusive Innovation: A Forum for Entrepreneurial Ecosystem Leaders, during which participants explored how to embed inclusive innovation into strategy, programs, and policies; the Innovation Futures Fellowship workshop, where VentureWell Course & Program grantees delved into the Universal Design for Learning educational framework and equity-centered design as tools for fostering belonging in higher education settings; and the Reimagining STEM I&E by Centering DEI workshop, which gathered STEM I&E DEI experts from underrepresented groups to design a new vision for STEM I&E that will be welcoming, comfortable, engaging, safe, and inspiring for all.
We updated our Course & Program Grant proposal guidelines to require all applicants to detail how they will use funding to increase access to I&E opportunities and broaden the participation of traditionally underrepresented, underestimated, and emerging groups. We awarded grants to an increasing number of MSIs, and we are working to build an infrastructure to more accurately track our engagement with MSIs and students from groups underrepresented in science & technology entrepreneurship. To further mitigate bias in the grant selection process, we are providing training for our reviewers and building out our selection pool to ensure a more diverse representation of participants.
Our commitment to the Historically Black Colleges and Universities (HBCU) Innovation and Entrepreneurship Collaborative continues. We had the privilege of sponsoring and participating in programming during 2022 National HBCU Week and the AAAS HBCU Making and Innovation Showcase held in the Washington, D.C., area, which focused on advancing Black excellence in higher education. National HBCU Week is planned under the leadership of the White House Initiative on HBCUs and with input from the President's Board of Advisors on HBCUs.
In our federally funded commercialization work, we have made our request for proposals processes more open and accessible through the Rapid Acceleration of Diagnostics (RADx®) initiative. This is an active effort to reach more diverse suppliers including veterans, women, and small business owners. Our approach to strategic vendor management—led by VentureWell Vendor Manager Dr. OKina Alford—includes a supplier outreach strategy that engages with a wider pool of qualified candidates and prioritizes small businesses that are women- and minority-owned.
Targeting areas of improvement in our internal policies
Looking inward at our internal organizational policies, we are making a conscious effort to support and train our staff to foster a more equitable workplace. VentureWell currently employs staff in 29 states, 71% of whom identify as women and 35% of whom identify as BIPOC. Across director-level leadership, 47% identify as BIPOC and 80% identify as women; at our executive team level, 38% identify as BIPOC and 62% identify as women.
We dedicated an entire day to exploring DEI principles at our 2022 in-person All-Staff Convening, led by featured guest Dr. Marybeth Gasman—an author, professor, and leading scholar on Historically Black Colleges and Universities—investigating how to create programs and opportunities that foster innovation at MSIs, and learning best practices for forging equitable partnerships with these institutions.
VentureWell staff participated in anti-bias trainings focused on equitable hiring practices, trans allyship, and how the LGBTQIA+ community can support racial equity in the workplace. We are building on the momentum of these learning opportunities to ensure VentureWell is a place where all staff feel a sense of belonging.
We have completed a full review and revision of our employee handbook to update and improve policies that center equity and ensure inclusive language. New policies—like including pay ranges in all job postings and considering lived experience in place of strict degree requirements—have been instituted to solidify our commitment to compensating staff equitably and fairly.
As we progress in our ongoing efforts to advance racial equity and foster inclusive innovation across the industry, we invite you to read and share the following resources from our own work and that of our partners.
Resources and Further Reading