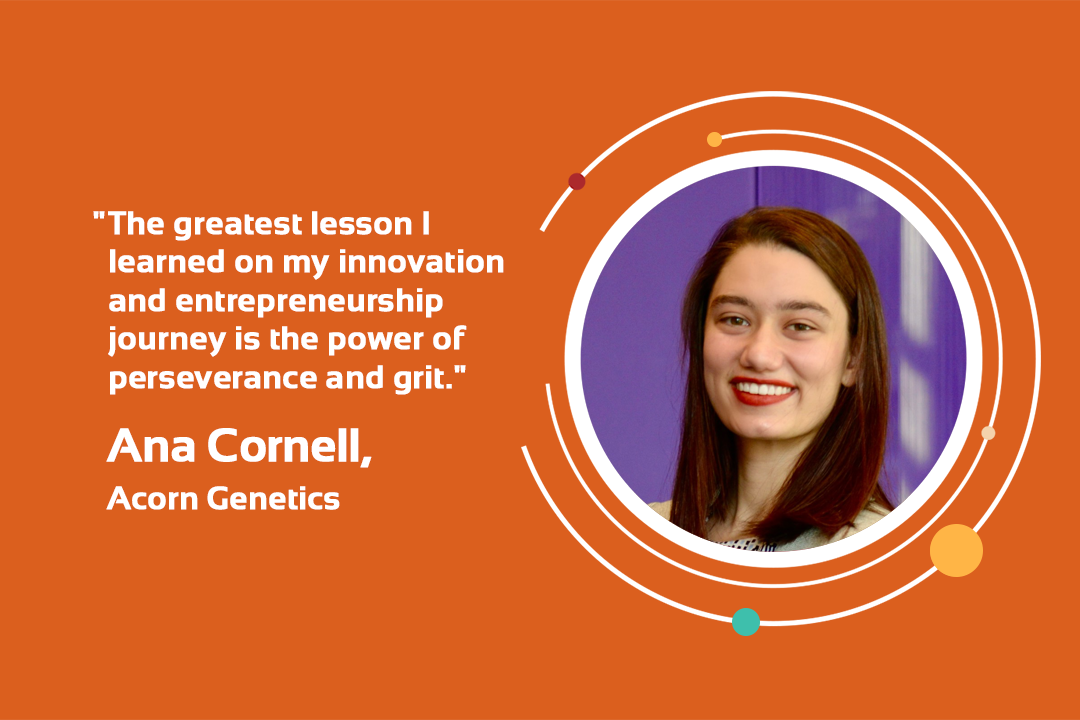 An innovator's journey from idea to market can be challenging and complicated—but also rewarding. Through our Innovator Spotlights, we explore how inventor-entrepreneurs in our network have evolved since they started their journey.
Our latest spotlight is with Ana Cornell, founder of E-Team Acorn Genetics. Though genetic testing is invaluable for early detection of genetic-based diseases, the only available options require expensive and time-intensive medical visits or private testing that risks individual data privacy and security. Acorn Genetics is developing a low-cost, at-home DNA testing kit that enables users to privately test for genetic conditions without any data privacy concerns.
What challenge did you seek to solve with your innovation and why?
When I was 16, my dad was diagnosed with a genetically linked condition. At 18, I asked my doctor for a genetic test, and she informed me it would cost over $7,000, since insurance doesn't cover DNA screening. When looking at commercial direct-to-consumer companies, I saw that the costly nature of existing sequencers forced businesses to sell user information to make a profit.
After failing to find a private and affordable test, I skipped testing altogether. After starting my undergrad at Northwestern, I sketched out a design for a new, affordable, fully automated sequencer. For months I added more to the design, until finally, I decided that I needed to bring this into existence.
I built the AcornLab because I—and millions of others—need this technology, and no one else is developing it.
What have you learned along your innovation and entrepreneurship journey?
I learned the power of perseverance and grit.
Despite my background in biomedical engineering, in the early stages at Acorn Genetics, technical tasks were handled by my co-founder. The development of our microPCR machine was experiencing significant delays and went through redesign after redesign. My co-founder remained adamant through the process that this latest design would work, so I stepped back, promising not to micromanage, and instead focused on customer discovery, forming key partnerships, and securing funding.
After six months of failed prototypes, my co-founder announced they were leaving. They had secured a position in a lab and decided to pursue their Ph.D. Overnight, I became a solo founder. I had to rapidly get up to speed on the technical details, maintain the progress made with fundraising and securing our first pre-orders, and deal with the heartbreak of losing my co-founder and close friend.
The first three months were brutal. I restructured the team, brought on key hires, and kept morale high. I ended up raising $125K in non-dilutive funding, had our first 53 clinics sign on to our launch, and examined the microPCR design. After three days of research, looking through the lab notebook, and talking to my advisors, I created a new design. I spent the next three months in the lab executing the vision with two of my engineers, and our latest accuracy results were within 5% of the error rate found in the industry standard.
Tell us how you've integrated environmentally responsible practices into your innovation or process.
We plan to use clean ways to manufacture and ship our product. We use recycled woods or metals for the exterior casing, and our product is reusable. Acorn is addressing resource use and waste by offering rental machines to create fewer products and save resources, and avoiding the use of mailing materials. By building the machine with recycled or more sustainable materials (aka not petroleum-produced plastics) and making green choices with our shipping materials, single-use materials, and waste disposal, we can reduce our environmental impact.
How has support from VentureWell impacted your innovation and venture?
VentureWell gave us the funding we needed, along with extremely valuable feedback and insight into ways to approach identifying an early beachhead market. The experience of working with others in person to go ahead and iterate on our product-market fit allowed us to quickly scrap what doesn't work, and rapidly develop our strengths. The customer discovery interviews we did as a part of the E-Team program introduced us to our next customer and helped strengthen our understanding of the value of our technology. ASPIRE gave us the knowledge and foresight about how to approach investing and raising capital, as well as introducing us to key advisors and mentors.
What's next for you?
We are currently raising $500K as a convertible note, and working toward a $2.5M seed round at the end of next year. We have to complete our benchtop trials with results coming out over the next couple of weeks, and we have three pilot sites picked out for the launch of our sequencer.
Today, we are starting with clinic testing, but we hope to soon make this device accessible to the average American looking to sequence their DNA in the privacy of their own home. One day, we plan to be a staple in the American home, there to sequence a sick child's saliva for the flu, expecting parents for key genetic markers linked to carrier statuses, or aging adults looking to better understand their health risks.
---
The E-Team Program and ASPIRE, part of the VentureWell Accelerator, support dedicated science- and engineering-based student teams from across the nation in bringing their high-impact innovation out of the lab and into the market.
Ana Cornell is one of 19 early-stage student innovators who was selected to receive a stipend from the Innovator Stipend Program, sponsored by Qualcomm. The program offers financial support to student innovators from underrepresented groups who are pursuing the development of their innovation or working to secure a patent for their product while enrolled full-time in school. Learn more about the program and meet all of the recipients here.