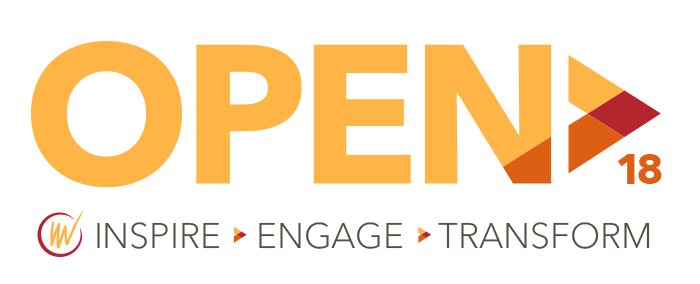 Lead the conversation around innovation & entrepreneurship by preparing a session for OPEN 2018. Our sessions are highly interactive and full of relevant content and practical tools that participants can apply in their own work. We invite you to help shape the future of science and technology innovation and entrepreneurship next March by proposing a session today.
Our OPEN conference gathers together engaged faculty, administrators, global innovators and university students from across disciplines to network, share stories, start new collaborations and learn emerging best practices in technology entrepreneurship education.
Session presenters, facilitators, and moderators receive a 25% discount off our standard registration fee.
Key Dates
Proposal Deadline Extended:
Monday, October 9, 2017
Notification:
Monday, November 20, 2017
Session Descriptions
We are seeking diverse ideas and perspectives for conference sessions in 4 topical categories (or tracks) and in 5 interactive format types. Break-out sessions are 75 minutes in length.
Formats
OPEN Minis are quick, dynamic, 6-minute presentations that are gathered into themed clusters of 4 Minis in a single 75-minute breakout. We're evolving this format somewhat this year. As in the past, each Open Mini follows the Ignite style (20 slides that automatically advance every 20 seconds). After all 4 Minis in the breakout are presented, each presenter will host 2 20-minute Q&As on their topic. Each Open Mini has 1 presenter.
OPEN Exchanges are facilitated conversations among all participants centered on a particular theme or purpose. If you want to lead a discussion around nifty ideas, unique approaches, challenges faced, etc., select this format. Open Exchanges have 1-2 facilitators.
Workshops are immersive learning sessions that emphasize learning-by-doing. Participants can expect to leave with tools, plans, or products they can immediately use back home. Workshops may have up to 4 facilitators.
Panels at OPEN might look like a traditional panel session, but in practice are different. We expect panelists to present different perspectives on the specified topic and, together with a skillful moderator to facilitate discussion and synthesis. This is not for serial presentations showcasing your work — consider proposing an OPEN Mini for that — but for sharing and discussing experiences and insights. Panels may have up to 4 panelists plus 1 moderator.
Posters allow student or faculty presenters to discuss their projects with interested colleagues during the 90-minute Poster Session and Reception on Friday evening. Posters may have up to 2 presenters.
Tracks
We are looking for sessions that will catalyze learning and collaboration across I&E ecosystems within the following 4 topical tracks.
Building Innovation & Entrepreneurship on Campus
This track focuses on topics that are key building blocks for institutions or individuals that are in the early growth stages of developing innovation and entrepreneurship on their campus. From curricular and co-curricular models and extra-curricular program design, to classroom exercises and games to teach creativity and innovation, to assessment approaches, this track is for topics that can catalyze the transformation of I&E in higher ed.
Novel Approaches – Nifty Ideas
This track focuses on nifty ideas and novel approaches in all things innovation and entrepreneurship. We've found that the OPEN Exchange format often works best for sessions in this topical track. Whether it is cool tools for assessment, nifty assignments or classroom exercises, novel techniques for building and connecting the ecosystem off-campus, or new approaches to institutionalizing I&E on campus, this track is for new and nifty ideas that even the most seasoned I&E educator can utilize.
The Innovator Experience
This track puts the focus on the experiences and perspectives of students, inventors, and innovators. Topics in this track can include best practices for training early stage innovators, navigating tech transfer, building and deploying investment and capital for early stage innovators, ways to mitigate failure and more. We give special consideration to proposals that are led by students or feature students as panelists or co-presenters.
Global Innovation & Entrepreneurship
This track focuses on topics related to building thriving I&E ecosystems in emerging economies. From increasing capacity for I&E at the national level, to supporting innovators in emerging economies, to building a national innovation pipeline and fostering government, university, and industry support of innovation ecosystems, this track is for topics that can transform I&E around the world.
How to Apply
All proposal materials must be submitted through VentureWell's online tool. Deadline for submissions is 11:59 pm Eastern Time on October 9, 2017. To start, you'll need to have a VentureWell account. Creating an account is easy, and anyone can do it. To access an existing account or to create a new one, go here. Then log in, find the Call for Proposals link and complete the steps!
Please submit a 1-2 page pdf that includes the following:
Proposed session title.

Make it provocative and compelling!

Additional session facilitators/presenters

(if you know)

Preferred track
Preferred format type:

mini, exchange, workshop, panel, or poster. (Or if you do not have a preference, please say so and we'll choose what we think will work best for your session).

A short, two sentence abstract of your session
A detailed description of your proposed session. Include the purpose and what you hope attendees will get from the session. Please try to limit your description to 150 words.
Applicants will be notified of the status of their proposal by November 22, 2017.
For questions about content or the program please contact: conf@venturewell.org. For questions about the submission process, please contact: grants@venturewell.org.