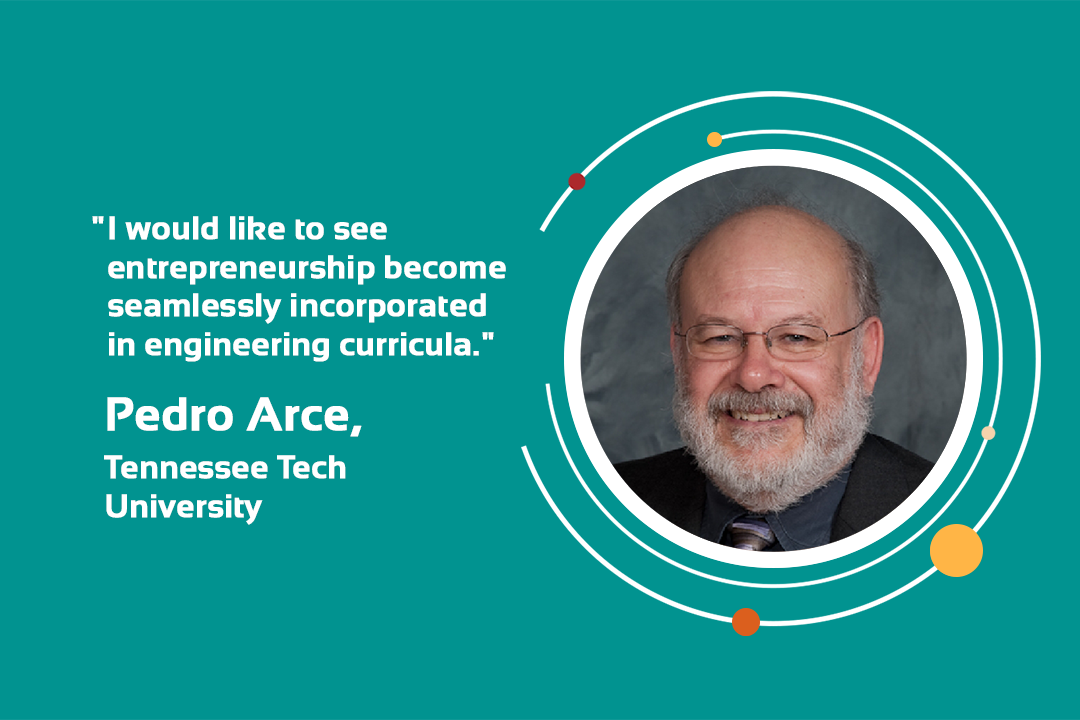 Our Faculty Spotlight series highlights educators within the VentureWell network who are doing transformative work—faculty members who are catalyzing change in higher education and inspiring students to impact the world through invention. This month's spotlight is Dr. Pedro Arce, Professor in the Chemical Engineering department at Tennessee Tech University (TTU). Dr. Arce is dedicated to helping engineering students develop holistic, creative skill sets by merging the principles of socially-driven entrepreneurship into engineering curriculum. In the Spring of 2020, he received a Faculty Grant to design two new courses that tasked chemical engineering students with developing innovative, nature-inspired solutions to societal challenges.
how did you become interested in teaching entrepreneurship?
When I was a graduate student at Purdue University, I learned that the transfer of technology to the market was a very important aspect of innovation and can help society. For example, Professor Alan Michaels from North Carolina State University was a speaker at one of the seminars offered during my tenure at Purdue. He spoke about the importance of intellectual property. He was instrumental in motivating students to learn and practice principles of entrepreneurship. Another source of constant inspiration is my colleague at TTU, Dr. Robby Sanders, a former member of a biotechnology startup company, who creates and drives programs related to this important area in his field.
(Editor's note: Read our report on key strategies to support the development of intellectual property in university ecosystems.)
what is your favorite thing about teaching?
Working with students. They are the most innovative and exciting sources of ideas. I have had the privilege of working with students at all levels, from K-16 as well as graduate and postdoctoral students, in more than 180 projects that have led to presentations, patents, papers and even new businesses. Learning from my students and integrating new teaching strategies has been instrumental in my own efforts to enhance the learning environments that I facilitate. Such symbiotic efforts, for example, have led to the development of the High-Performance Learning Environment (Hi-PeLE), Coaching Style Model of Instruction, and the Renaissance Foundry Model.
where would you like to see the field of entrepreneurship in five years?
I would like to see entrepreneurship become seamlessly incorporated in engineering curricula. I would also like to see the development of multiple options like certificates or minor programs that enable students to continue learning and implementing principles of entrepreneurship in their field. Some universities (such as Purdue University, my alma mater) have very efficient innovation parks where student ideas are tested out before launching as a business or a company; this should be available in other engineering educational institutions as well.
what are the challenges you're tackling in your work today?
With a group of colleagues (Drs. Arce-Trigatti, Jorgensen, and Sanders), we have formed the Renaissance Foundry Research Group to tackle two key challenges: first, we would like to develop a more "holistic style" engineering professional where both technical and societally relevant principles are integrated into their skillset. Secondly, we focus on the development of educational platforms that lead to educators with the skills needed to graduate engineering professionals with holistic mindsets. Our focus has been on developing, implementing and testing an innovation-driven learning platform, the Renaissance Foundry Model.
what books on entrepreneurship and innovation have you been reading lately, and how have they been insightful to you?
I have been reading The Innovator's Prescription: A Disruptive Solution for Health Care by Professor Clayton M. Christensen and books from the late Professor Peter Drucker on leadership and managing for business organizations, like The Effective Executive. My favorite book on innovation-driven learning through collaboration is Group Genius by Professor Keith Sawyer from University of North Carolina. These books have been an effective bridge for me to connect concepts related to innovation, business leadership, and entrepreneurship, and have offered guidance on how to help students become more aware of the possibilities brought by the intersections of these areas.
what's your most useful classroom activity or assignment?
My favorite classroom activity in chemical engineering is the development of a prototype of innovative technology (PIT). This activity is guided by the implementation of the Renaissance Foundry Model. The Foundry is driven by two paradigms, the Knowledge Acquisition Paradigm and the Knowledge Transfer Paradigm, that work iteratively to foster student engagement and learning. The activity is divided into six steps that begin with the student identifying a challenge relevant to the course content and leads to the development of the PIT which addresses this challenge. Throughout the semester, students creatively engage in entrepreneurial concepts as they collaboratively develop the PIT and design their marketing plan.
VentureWell Faculty Grants provide up to $30,000 to help fund and support faculty with innovative ideas to create new or transform existing courses and programs to help students develop novel, STEM-based inventions and gain the necessary entrepreneurial skills needed to bring these ideas to market.