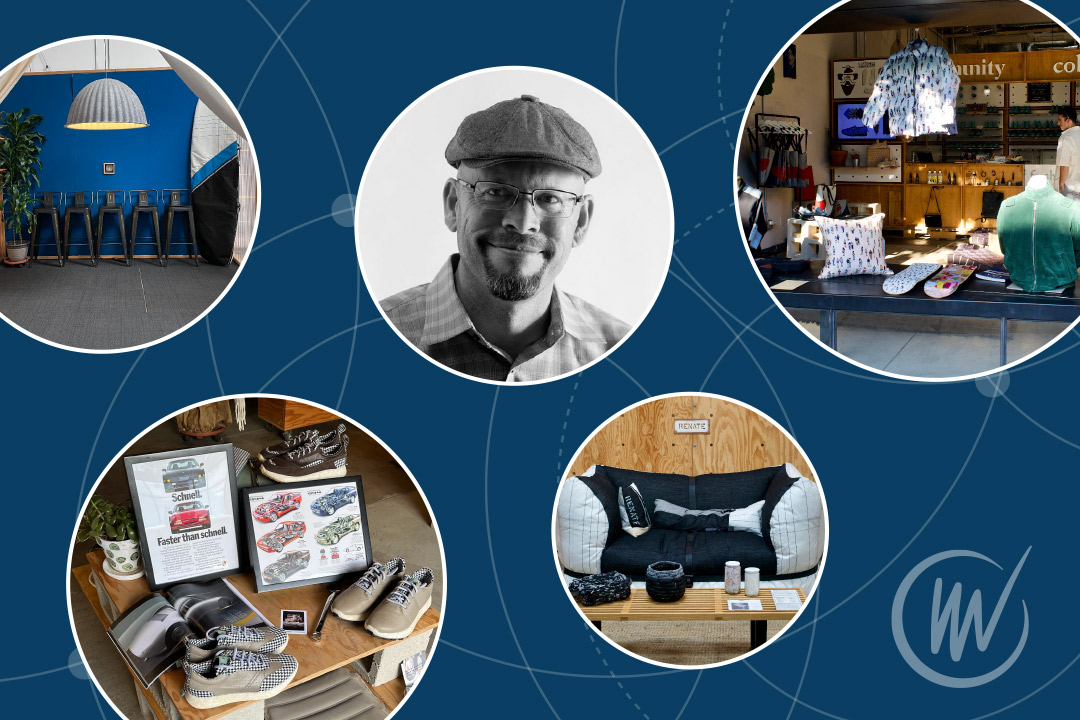 Course & Program grantee Mateo Neri offers advice for faculty seeking ways to integrate sustainable principles into their courses.

As a design entrepreneur specializing in apparel and accessories, Mateo Neri knows firsthand how unsustainable the fashion industry has become. The issues weave together in a uniquely ugly knit: low-cost synthetic materials that don't degrade and can't be easily recycled, supply chains that rely on fuel-intensive shipping, local economies undercut by overseas factories that pay low wages and compromise on work conditions. In short, says Neri, "Fast fashion—mass-producing clothing that quickly becomes outdated—is destroying the planet." So, in 2020, as an adjunct professor of entrepreneurship and sustainability at ArtCenter College of Design located in Pasadena, California, Neri developed a course that encourages his students to find a better way.
Titled "EcoMadeinLA: Introduction to Circular Entrepreneurship" and supported by a $30,000 Course & Program Grant from VentureWell, the course challenges students to design their own textile-based products—shoes, bags, clothing, even furniture—using unwanted materials destined for the landfill, what the fashion industry refers to as deadstock. (Los Angeles alone generates some 75,000 tons of textile waste each year, Neri notes.) Perhaps even more consequential, students then get a real-world introduction to the manufacturing process by collaborating with local factories to bring their designs to life. "Even in the professional world, a lot of designers will never get a chance to go to a manufacturing plant, often because it's in China," Neri says. "They're sending off their designs and getting back their samples, so they really don't know what it's like."
Experiencing firsthand the full life cycle of a product sample was eye-opening for ArtCenter student Preston Sanchez, whose sweatshirts—made from upcycled denim and corduroy deadstock—were one of several student projects highlighted in a recent Women's Wear Daily article about Neri's course. "The most important takeaways from this class are the importance of ethical manufacturing as well as the importance of sustainability," Sanchez says. "Not just that the end result is designed and stylish and sustainable, but that the entire process has sustainability in mind."
Since its launch, more than a dozen students have taken Neri's two-term course, designing and manufacturing items as wide-ranging as shoes made from upcycled leather-car-seat upholstery, a surfboard bag made in part from fabric fashioned from recycled water bottles, and a couch made from deadstock airbag fabric. "Obviously, I'm fortunate being here in LA, because there's just so much of this material," Neri says. "But I think it's doable in other places."

Toward that end, here are Neri's suggestions for sustainable design educators interested in replicating his idea.
Expose design students to manufacturing so they better understand the process.
For the first term of Neri's course, students spent four weeks working with a local Los Angeles shoe company—COMUNITYmade—where they experienced firsthand the design and manufacturing process. That exposure helped the students understand how shoes are made and how they need to think about their own designs.
Neri had formed partnerships with local factories to make his own products, which during the COVID-19 pandemic included medical gowns and other protective apparel. These relationships allowed him to introduce students to the manufacturers, many of whom welcomed the opportunity to work with the young designers.
Faculty may be reluctant to share with students their professional connections, out of concern it might jeopardize a relationship, Neri notes. But he encourages them to take that chance, because those relationships are a key to the course. "They make the rest possible."
Set parameters for student projects that encourage sustainable thinking.
Students in Neri's class are required to produce a product sample, or multiple samples, that could be sold in the marketplace, and they must use locally sourced deadstock material.
The requirement teaches that sustainability is determined not just by the material itself, but by its life cycle. "You can have a super sustainable material that's made in Asia, but if it's in Europe and you ship it here, you lose the sustainable impact," Neri explains.
Neri suggests that educators might explore what materials their own local manufacturers are using, and whether their leftovers and waste could be upcycled or reused.
Allow students to decide what they want to design, and then let them learn by doing.
Rather than have all the students solve the same design problem, Neri allows students to choose what product they want to make. The fashion industry is all about allowing customers to experience a product, he says, so his approach is to have his students make samples and market-test them as soon as possible.
Providing choice in projects allows the students to work on something they are passionate about, Neri says. He encourages a similar independence when it comes to the problems the students encounter over the course of the project. "I'm there to guide them and advise them, but I let them figure it out," he says.
The two-term class meets once a week. In the classroom (or off-campus during COVID) Neri covers business skills, such as creating a bill of materials and developing a multi-year financial plan. Later, when the projects are underway, he uses that weekly time to meet with students to review their progress.
Celebrate the students' accomplishments with a showcase of their finished works.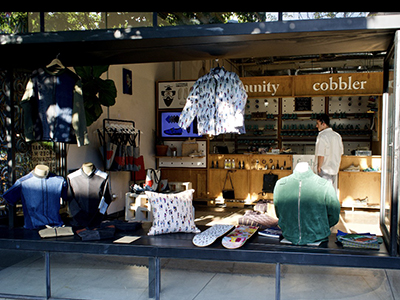 At the end of the class, Neri had the students show their finished projects at a pop-up store in the LA arts district. The event attracted local and national press, and made a big impression on the students.
One of Neri's students, who was studying transportation design, came out of the class thinking that he may now pursue fashion design. Another hopes to spin off a company based on his tote bags and is now doing an internship at one of the partner factories.
Students have expressed interest in continuing to take the class, perhaps as an independent study. Others are exploring applying to VentureWell's E-Team Grant Program to gain more business skills.
But don't take our word for it—watch Neri's students explain the impact of the EcoMadeinLA course.
Anna Joy Lee, Matt Zihang Zheng, and Preston Sanchez—three of Neri's promising students—shared their design process and how the course has changed the way they think about sustainability, as well as their career. Here's what they had to say!
Anna Joy Lee
Bags made from upcycled air bag material, 100% recycled plastic water bottles, and more
"I worked with a local manufacturer [who] was able to help me understand the dynamics of constructing a bag," Lee said of the experience. "It was a great opportunity."
Matt Zihang Zheng
Shoes made from automotive interior waste
"It started off with me restoring my own car. I ended up with a lot of wasted automotive upholstery," Zheng explained. After speaking with a local shoe store owner, he honed his focus for the project. "It has been a great journey to learn about sustainability."
Preston Sanchez
Upcycled sweatshirts made entirely from tarnished and otherwise discarded jeans
Sanchez cited ethical manufacturing and sustainability as the biggest takeaways from the class. "Not just that the end result is stylish, […] but the entire process is sustainable." He further explained that VentureWell's funding "allowed me to create."
---
Curious to know more about our Course & Program Grants, which offer up to $30,000 in funding to faculty and staff? Learn more.