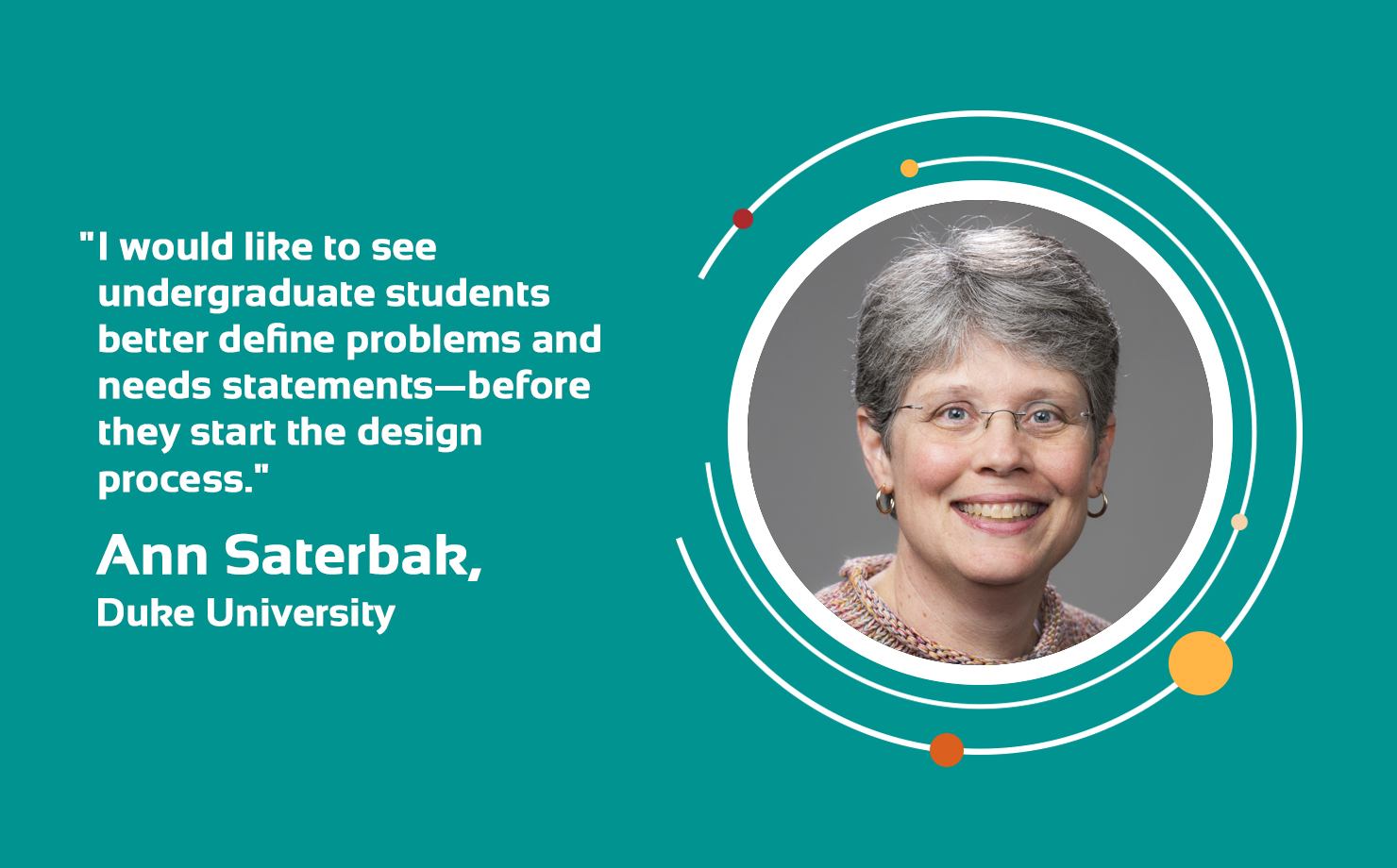 We continue our series highlighting educators within the VentureWell network who are doing good work—faculty members who are catalyzing change in higher education and inspiring students to impact the world through invention. This month's faculty spotlight is Ann Saterbak, Professor in the Practice of Bioengineering Education in the Department of Biomedical Engineering at Duke University. Saterbak is an active member of the VentureWell community. She's served as a Principal Investigator for teams participating in the E-Team Grant Program. She received a Faculty Grant for a new project to develop spaces and products to support the design of clinically critical biomedical devices for Uganda. She will discuss her project during the OPEN 2020 conference in March.
How did you get interested in teaching entrepreneurship?
My interest in entrepreneurship grew out of my interest in teaching first-year engineering design. In my class, we work on client-based projects with members of the community. Sometimes, even the "successful" solutions have little commercial value, but other times, there is real potential. When you hold an engineered device in your hand and realize that it could benefit a larger community, you realize that entrepreneurship needs to be part of the academic picture.
What is your favorite thing about teaching?
I love to mentor students on design projects when they are really committed to solving the problem. When students become invested, my job becomes helping them stay on track and connecting them with resources and people so that they can solve their challenge. When students complete and deliver a solution, the students' joy and pride in their work is unbeatable!
Where would you like to see the field of entrepreneurship in five years?
I would like to see undergraduate students working to better define problems and needs statements—before they start the design process. I want them to make sure that important problems are being tackled. I would also like to see engineering students to collaborate with students who have interest in business and entrepreneurship earlier in a project. I find that engineering students "get a solution" then go looking for someone "to help them with the entrepreneurship stuff." If we could build teams at the outset of solving a problem that included a diverse mix of students, that would be ideal.
What are the challenges you're tackling in your work today?
I teach first-year engineering design at Duke University. Students come in with very different backgrounds in engineering and making. One of my challenges is to form and mentor teams in which all students can both learn and contribute. I have to make sure that students who have less prior making experience don't do less iterative prototyping for the team.
What's your most useful classroom activity or assignment?
I have really embraced the flipped classroom model for teaching engineering design. With the support from a National Science Foundation grant, I was able to flip the first-year engineering design classroom and complete assessment that showed that student teams were more successful completing the difficult steps of the design process when they watched the lecture content as videos before class and then completed those steps in class with support instructors. So, my best classroom activity is to let student teams work—and support them through the process.
Read Saterbak's paper about the impact of flipped classrooms in the International Journal of Engineering Education.
---
VentureWell Faculty Grants provide up to $30,000 to help fund and support faculty with innovative ideas to create new or transform existing courses and programs to help students develop novel, STEM-based inventions and gain the necessary entrepreneurial skills needed to bring these ideas to market.