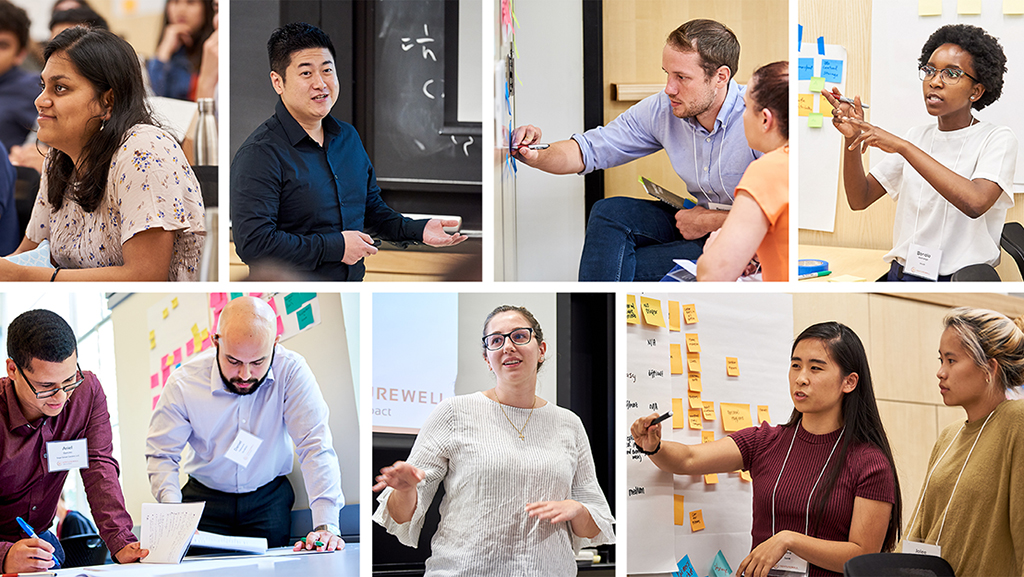 VentureWell strives to increase access and remove barriers for emerging science and technology innovators and entrepreneurs to bring forth their ideas to address the world's greatest problems. We believe that diversity in patent awards is a critical component to advancing equity in innovation and entrepreneurship.
The United States Patent and Trademark Office (USPTO) 2018 SUCCESS Act study and report found that women and minorities are significantly underrepresented as inventors named on U.S.-granted patents. The National Council for Expanding American Innovation (NCEAI) includes leaders from industry, higher ed, and government and is leading the development of a national strategy to increase the participation of underrepresented groups in innovation.
The US Patent and Trademark Office and the Council recently sought input from the public to help develop a National Strategy for Expanding American Innovation to close what is known as the 'patent gap'. VentureWell submitted a public comment focused on recommendations for ways the Federal government can strengthen the innovation ecosystem to cultivate a diverse pipeline of inventors, innovators, and entrepreneurs driven to solve the world's biggest challenges and create lasting impact. Read our full comment below, or download it here. Read other public comments—including comments by our funding partners Qualcomm and The Lemelson Foundation—to the NCEAI here.
February 22, 2021
VentureWell's Submission to the United States Patent and Trademark Office [Docket No. PTO–P–2020–0057] Request for Comments on the National Strategy for Expanding American Innovation
General
The pathway from invention to product commercialization involves an interconnected ecosystem that fosters discoveries in science and technology (S&T), develops those discoveries into useful products, and commercializes those products into thriving businesses. The Federal government should make it a top priority to strengthen the innovation ecosystem and to increase dedicated resources towards the discovery and commercialization of inventions in order to ensure that the U.S. maintains and expands its economic vitality, its global scientific leadership, and its strategic entrepreneurial advantages. Successful implementation of this effort will require:
●  strengthening university-based systems to comprehensively support student innovators and faculty members to develop, understand, and protect intellectual property (IP)
●  improved and equitable data, measurement, and transparency efforts in alignment with ​current Executive Orders and other Federal priorities
●  expanding the capacity, scope of, and access to successful entrepreneurial support programs and models, both Federal and non-federal
●  pursuing activities that build healthy, inclusive entrepreneurship ecosystems with cross-sectoral partners and in regional hubs of innovation around the country
●  taking clear, intentional, and measurable action towards advancing equity, through a discrete focus on populations historically and currently subordinated and disenfranchised within the American S&T ecosystem
●  demystifying and democratizing invention by developing and refining tools to understand and measure venture development along multiple dimensions
Advances in scientific and technological innovations—and, critically, the ability to efficiently transform breakthroughs into scalable businesses—have contributed enormously to American economic leadership over the past century. VentureWell's mission, which is to cultivate a diverse pipeline of inventors, innovators, and entrepreneurs driven to solve the world's biggest challenges and create lasting impact, aims to support and promote these advances through the expansion of opportunities for emerging inventors. For 25 years1​ ​, we've directly supported or trained thousands of S&T innovators at hundreds of universities. We've helped to bring groundbreaking technological advancements to millions of people in more than 90 countries and in fields including biomedicine, healthcare, sustainable energy and materials, and other sectors critical to people and the planet. To date, our work has resulted in thousands of scalable ventures that have attracted nearly a billion dollars in additional investment.
VentureWell's visionary founding benefactor Jerome Lemelson recognized both the transformative social potential of innovation and entrepreneurship (I&E) and the personal challenges of the entrepreneurship journey. According to Lemelson, if you support innovators—offer training, create safe and brave spaces in which to take risk, provide mentors and resources—they will learn deeply, become increasingly confident in their inventive abilities, and many will succeed at bringing transformative ideas into the world. ​Since our founding in 1995, VentureWell remains inspired and guided by these principles. Yet it also bears noting that in the past 25 years, the I&E landscape has changed considerably —both in positive ways such as the increased uptake of I&E pedagogy and curriculum across many institutions of higher education, and in many new and challenging ways. ​Today, humanity is facing unprecedented and pernicious threats, including climate change, industrial pollution, economic disparities, systemic racism, and a global pandemic. To address these challenges, VentureWell will continue to leverage our expertise and expand our reach to ​include an intentional focus on building a future that is significantly more equitable and more sustainable.
Patent Diversity
Research has repeatedly found that owning a patent helps inventors and entrepreneurs to attract capital, turn their inventions into businesses, and create jobs. Yet "Who Becomes an Inventor in America?", ​a recent study2​ ​in the ​Quarterly Journal of Economics​ showed that Black inventors file for patents at one third the rate of white inventors and Hispanic inventors file for patents at less than half the rate of Black inventors. Similar patent disparities exist for female inventors, who in 2019 accounted for just 22 percent of U.S. patents, and for the less affluent, as families in the top 1 percent of income are 10 times more likely to produce patent holders than families in the lower 50%. VentureWell has collaborated with partners including Qualcomm and Invent Together to elevate conversations on the current patent gap in America and the ways in which it limits equity and inclusion in innovation. As Jennifer Gottwald of the Wisconsin Alumni Research Foundation (WARF) said in a fall 2020 patent diversity event3​ ​, ​one important first step is quantifying the scope of the gaps, a process which is now underway at many university technology transfer offices.
There are also significant opportunities4​ ​with regard to developing, understanding, and protecting intellectual property (IP) within the higher education I&E ecosystem, including:
●  Creating capacity for intentional IP educational opportunities such as curricular enhancements, one-to-one teaching opportunities, and cross-discipline team work
●  Increasing equitable access to IP literacy among student entrepreneurs to better protect their ideas, garner interest from potential investors, and build credentials.
●  Establishing institution-level goals, resources, communications, and transparency efforts for ecosystem stakeholders with regard to IP
Such measurement and transparency efforts should align with President Biden's January 20, 2021 Executive Order On Advancing Racial Equity and Support for Underserved Communities Through the Federal Government5​ ​which states that "Equal opportunity is the bedrock of American democracy, and our diversity is one of our country's greatest strengths. But…[e]ntrenched disparities in our laws and public policies, and in our public and private institutions, have often denied that equal opportunity to individuals and communities." The USPTO should align its actions with this Order, in particular with regard to Section 9 which details establishing an "Equitable Data Working Group". As stated in this section, "Many Federal datasets are not disaggregated by race, ethnicity, gender, disability, income, veteran status, or other key demographic variables. This lack of data has cascading effects and impedes efforts to measure and advance equity." Proactive, forward-looking efforts such as these could enhance the capture of information that could help to further democratize the patenting process.
Creating Innovators—Helping To Prepare People To Obtain the Skills and Develop the Interests Necessary To Become Innovators, Problem Solvers, and Entrepreneurs
Early-Stage Innovator Support
It's challenging for early-stage innovators to turn their great ideas into sustainable ventures on their own. That's why it is critical to focus program support on the novice innovator—whether she's a student inventor learning how to form a company around her device, an academic researcher transitioning a discovery from lab to market, or an entrepreneur in an emerging economy who hopes to develop an idea that could improve their community's quality of life. Having identified both the trajectory and the common missteps of early-stage ventures, we must collectively provide these innovators with targeted assistance at the moments in which they need it most.
An efficient and scalable way to do this is by expanding the capacity, scope of, and access to successful entrepreneurial support programs and models. This will require leadership and coordination at the highest levels of the Federal government through developing and nurturing pathways to entrepreneurship, providing innovators with the resources, tools, and connections they need to successfully advance inventions from lab to market, building commercialization pathways through increased resources to help innovators develop viable business models and form companies, and increasing promising S&T innovators' access to financing and capital6​ ​.
A necessary step towards​ broadening, developing, and nurturing the pipeline of entrepreneurial S&T talent is to increase access to federally backed entrepreneurship programs—such as NSF's Innovation Corps (I-Corps)7​ ​. I-Corps, a partnership of NSF and VentureWell which launched in 2011, engages participants to move ideas out of the lab and towards the marketplace through a rigorous customer discovery process, which involves engaging with 100 potential customers, partners, and competitors in just 10 weeks. This process allows participants to gather input on potential applications and viable market paths for their innovations, which in turn enables participants to clearly assess whether or not commercialization appears viable. To date, I-Corps has supported over 1,500 teams from over 230 universities, resulting in more than 600 startups formed and more than $210 million secured in private investment. The I-Corps model has also begun to spread to other agencies, including the National Institutes of Health (NIH), Department of Agriculture (USDA), and Department of Energy (DOE). Another model for catalyzing positive change in entrepreneurial ecosystems includes jumpstarting collaboration between university research labs and industry. NSF's​ ​Industry–University Cooperative Research Centers8​ ​(IUCRC) program facilitates close partnerships between the U.S. government, industry, and academic teams that fast-track scientific research with commercial potential that otherwise would remain unexplored. Expanding the impact of these models can be accomplished by broadening support across agencies, enabling promising practices to be disseminated across the network of program offerings, and connecting emerging high-potential innovators with new forms of support such as Innovation Fellowships and more avenues for access to early-stage capital.
There is also merit in scaling successful non-federal programs that focus on advancing the first steps of promising innovators and inventors. Such programs should provide scaffolded support for teams of emerging entrepreneurs through staged grants, training, one-on-one coaching, peer networking, and investment readiness to provide additional skills and opportunities to progress and succeed as founders of emergent STEM ventures. ​According to VentureWell's ​recent study9​ ​of individuals who received grants and stepwise training through our Entrepreneur Team (E-Team) program1​0​, the positive impacts of a pragmatic, learning-by-doing approach are many. Specifically, the study found that this model breeds confidence and imparts skills that stay with innovators regardless of whether they continue to develop their venture or choose a different career path. Further, participants reported they had continued to pursue entrepreneurship, are satisfied with their careers, and remain actively engaged in the I&E community.
I&E Support Systems
In parallel with providing the necessary resources, support, and programming for early-stage innovators, it is imperative to pursue activities that build healthy, inclusive entrepreneurship ecosystems. Success among innovators is far more likely when coupled with a supportive, diverse network of believers, backers, mentors, and peers​ from across sectors – including higher education, philanthropy, industry, and community-based organizations. Federal agencies and stakeholders should engage these actors in activities such as revising accreditation requirements for S&T higher education programs, and identifying and engaging leaders such as deans of graduate studies, program directors, and heads of corporate social responsibility initiatives to create accountability with regard to both the supply (education) and demand (workforce) components of the S&T ecosystem; and to advocate for the use of novel forms of capital and financing to support early-stage investment.
When feasible, non-federal actors should also support the development of courses and programs that increase student engagement and participation in I&E. VentureWell has had the opportunity to award more than $12 million to faculty members at US-based colleges and universities1​1​, support that has allowed campus ecosystems to flourish. A recent retrospective ​assessment1​2​ of ​VentureWell's faculty grant program found these investments have had a pronounced positive impact, creating invention seedbeds in hundreds of learning environments across the country that have benefitted faculty, students, and university ecosystems as a whole. Over 80 percent of the courses launched with VentureWell faculty grants between 2006 and 2016 are still being offered – and many of these grants have had substantial, longitudinal impacts. ​Federal and non-federal actors must collectively expand the scope of these types of opportunities with a particular focus on enabling all interested students to have more equitable access pathways to innovation.
More broadly, professional development opportunities, resources, programs, and convenings can support faculty members to incorporate invention education concepts into their instruction. These network gatherings have a pronounced impact on the quality of I&E instruction by encouraging the sharing of best practices, opening channels of collaboration between institutions, and introducing faculty and other stakeholders to communities of similar thinkers and doers.
III. Practicing Innovation—Harnessing Skills and Interests to the Act of Innovation
Successfully ​identifying, engaging, and supporting talented innovators will never be fully manifested if we do not eliminate the systemic barriers that limit and exclude the participation of people from underrepresented groups while simultaneously amplifying the voices and ideas of those from dominant groups. In the United States today, the majority of S&T innovators and entrepreneurs identify as white men from economically privileged backgrounds. While these innovators have brought plentiful talent and ideas to the world, solving today's complex problems requires diverse perspectives and focused efforts to increase access and broaden the participation of traditionally underrepresented, underestimated, and underresourced groups, specifically those who identify as Black, Latinx, and Indigenous, women from all backgrounds, individuals who identify as coming from low-income backgrounds, and others who are marginalized due to racism, sexism, or classism.
There are significant opportunities1​3​ for research and higher education stakeholders including university-based entrepreneurship centers and programs, faculty, and administrators to take discrete actions toward increase equity and inclusion in their programs:
●  Conduct Authentic Outreach​: ​Authentic outreach creates a personal connection that makes early-stage innovators feel validated, safe, and confident that they are entering a welcoming space. Program directors and peer leaders need to show up consistently, seek and meet underrepresented students where they are, over-invite them to events, and understand that many students may be more attracted to a program that also emphasizes social or community impact.
●  Create Inclusive Spaces​: All early-stage entrepreneurs seek physical and psychological spaces where they feel safe and validated. Creating safe and brave spaces starts with acknowledging that entrepreneurship spaces have typically been white and male-dominated, which has excluded and silenced people from underrepresented groups.
●  Build Confidence​: Confidence is a potent accelerator. When program leaders demonstrate empathy and create an atmosphere of psychological safety, such concerns can be minimized and student confidence can be raised.
●  Engage More Faculty As Mentors​: Engaging greater numbers of faculty (and peer/near peer) mentors with diverse skill sets and perspectives is key to student innovators' success. In comparison with their white peers, students of color placed particular emphasis on the value of having a mentor or role model whose background and identities were similar to their own.
●  Validate Multiple Pathways to Success​: Early-stage innovators thrive when their diverse motivations and individualized measures of success are honored and validated. Higher education leaders must evolve and broaden the language they use to describe their programs and resources and be willing to unlearn previous assumptions about who represents and drives innovation.
●  Develop a Holistic Organizational Approach​: Entities that are committed to equity and inclusion must signal their commitments in both word and in deed. Key operational areas include hiring and staff development, the design of inclusive programming and physical spaces, and tracking and transparently reporting on metrics.
The successes of the program models described in Section II are encouraging. But it is imperative to recognize that access to training and resources still varies dramatically based on geography, race/ethnicity, socio-economic status, and other demographic identifiers, and there remain persistent, glaring gaps in the S&T lab-to-market pathway. There is a clear and outstanding need for more comprehensive, coordinated national initiatives to prepare S&T innovators, clear pathways to commercialization, and provide equitable access to capital.
IV. Realizing Innovation—Reaping the Personal and Societal Benefits of Innovation

Supporting the progress of entrepreneurs and strengthening the ecosystem of entrepreneurship educators, mentors, and funders is imperative in order to ensure that promising discoveries have the best chance of becoming a reality. For innovators who are on a journey to transform their bold ideas into high-impact solutions, public and private sector leaders must play the role of partner and guide, supporting innovators to blaze new trails and take on inevitable roadblocks, in service of fostering the conditions that will allow their ventures to launch and scale.
Further, it is important to​ demystify and democratize invention by developing and refining tools to understand the innovation process and to measure it consistently and along multiple dimensions. Tools such as the Venture Development Framework1​4​, a tool VentureWell uses to assess S&T venture development at the very earliest stages of commercialization, has provided meaningful guidance and validation to innovators along their lab to market pathways. Expansion in use of these kinds of tools can provide further meaningful insight into how to better support innovators from across diverse backgrounds and lived experiences, and can improve accountability of support organizations.
Additionally, it is important for innovation ecosystem actors to support and elevate strategies that close gaps along the venture development pathway, including at technology transfer offices (TTOs). For example, while TTOs may strive to be gender agnostic in helping faculty protect, patent, and commercialize discoveries, studies1​5​ have found that female innovators take advantage of the services at far lower rates than their male counterparts, particularly in areas such as invention disclosure and patenting. Heather Metcalf, chief research officer of the Association for Women in Science (AWIS), notes that the factors driving this engagement gap echo the broader systemic challenges women face in the sciences, as well as stereotypical thinking about the identifying qualities of the "typical" entrepreneur1​6​. Leveraging the inclusion strategies previously described and creating goals and accountability for measuring and sharing progress within this context is both achievable and urgent.
In order to maintain American economic strength and advance the United States towards global leadership in S&T innovation and entrepreneurship, significant attention and investments are needed in the areas of leadership and coordination, supplying and preparing talent, building commercialization pathways, increasing access to financing and capital, and mobilizing non-federal partners. Federal agencies and actors should advocate for new and enhanced programming and policies, better interagency coordination, and a transparent national agenda related to S&T innovation, entrepreneurship, and commercialization. Closing critical gaps in the lab-to-market pipeline will ensure that America retains and fosters promising talent, ideas, and capital across the S&T entrepreneurial ecosystem—and continues to lead the world in reaping the ensuing individual-level, societal, and financial benefits at home.