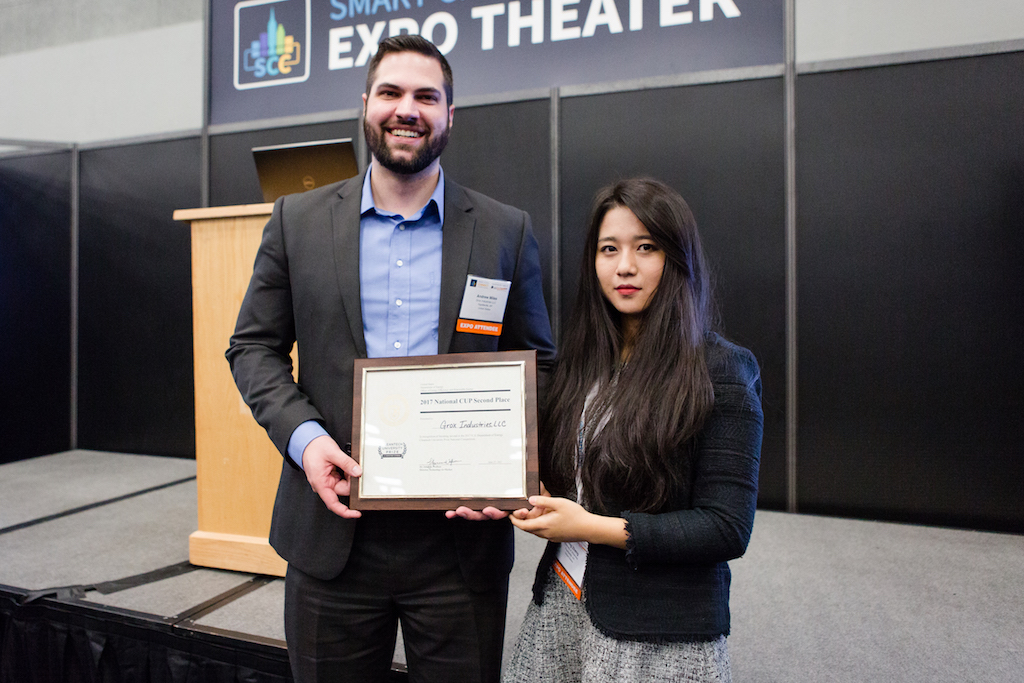 At universities across the nation, early-stage innovators are discovering new solutions to our energy challenges. However, turning a game-changing technology into a commercial product requires more than time in a lab. The U.S. Department of Energy's (DOE) Cleantech University Prize (Cleantech UP) business plan competitions provide aspiring student inventor-entrepreneurs with the mentorship, business development skills, market exposure, and investor and industry feedback to transform their clean energy ideas into viable, impactful businesses.
We recently spoke with the second-place winners of DOE's 2017 Cleantech UP National Competition, Grox Industries. The startup is developing a solution to improve the energy efficiency of windows. The team shared ways their innovative nanomaterial-based glass coating can help reduce energy demands, and how the Cleantech UP National Competition helped the team get closer to achieving their business goals.
The Need for High-Performing Windows
Americans spend over $17 billion each year on heating and cooling. It's unlikely that amount will shrink in the near future. Energy rates continue to rise an average of 4% each year. Poorly insulated windows adds to higher heating and cooling expenses. An average home loses up to 30% of its heating and cooling energy through air leaks around windows – wasting energy and money, and negatively impacting the environment.  An increase of carbon dioxide released into the atmosphere occurs when fossil fuels are burned to heat and cool buildings. That's why sufficient insulation, to maintain temperatures over longer periods of time without having to "refuel," is critical to helping protect the environment.
In the search for better performing building materials, glass has become a popular and versatile building material, due in part to its constantly improving thermal performance. Enhanced performance is achieved through the use of passive low-E, or low emissivity. Low emissivity refers to a surface condition that emits low levels of radiant thermal (heat) energy. Low-E coating minimizes the amount of ultraviolet and infrared light that can pass through glass without compromising the amount of visible light that is transmitted.

In a recent profile by the University of Arkansas, Grox Industries' CEO Andrew Miles noted: "There are more pressures and incentives in the glass coating industry…toward greater energy efficiency. But the low-emissivity window market has not seen a major breakthrough in 30 years. We believe our product will change that."
Saving Energy, Money, and the Environment
Compared to other coatings on the market, Grox Industries' product, Helios, absorbs more damaging ultraviolet light, and reduces energy loss by 50%. Even more impressive, the chemical composition of their product is adjustable, allowing the company to customize the coating for different environments, climates, and altitudes.
By making windows more efficient, the company aims to save consumers up to 70% on their heating and cooling costs. Reduced energy needs also lower the demand for a fossil fuel-generated energy supply, thereby making a building more environmentally friendly.
In addition to contributing to lower energy demands, Grox Industries is making a conscious effort to build sustainable practices into their product development. Miles and his co-founders source materials with sustainable supply chains and developed partnerships with environmentally-conscious manufacturers. "We've adopted a B-Corp-inspired mindset in thinking about the sustainable life cycle of our product," said Miles. "We're constantly examining how our product development process can be improved with the environment in mind."
Empowered by DOE's Cleantech UP
The Grox team was formed over a year ago in the New Venture Development Program, part of the graduate program at the University of Arkansas. The team was encouraged to compete in nationwide business competitions last spring. They competed in a total of five competitions, including Cleantech UP.
"The Cleantech UP competition provided opportunities to generate valuable industry contacts and customers, and build inroads to new funding sources," said Miles. "We wouldn't have been exposed to those opportunities if we just kept working in the lab."
Building a network with other innovators was another benefit to participating in DOE's Cleantech UP competition. "It was great to meet people who are at the forefront of their industry, bringing new technologies to market," he added. "That was incredibly motivating and inspiring. It's helpful to realize that we're not alone in our efforts."
Over the next few years, the team will focus on growing revenue and expanding their market. "The Cleantech UP mentors opened our eyes to always seek other energy-related opportunities," said Miles. "I think that advice will prove to be very valuable to our long-term success."
Miles also learned a great deal from his startup experience. His biggest takeaway: Don't be afraid to fail. "There's a misconception that, if you fail as an entrepreneur, you're going to lose everything. If you have the mindset and the drive to be an entrepreneur, chances are you'll be able to get a comparable paying job if the startup doesn't work out."

Learn more about DOE's 2017 Cleantech UP National Competition's finalists and winning teams.