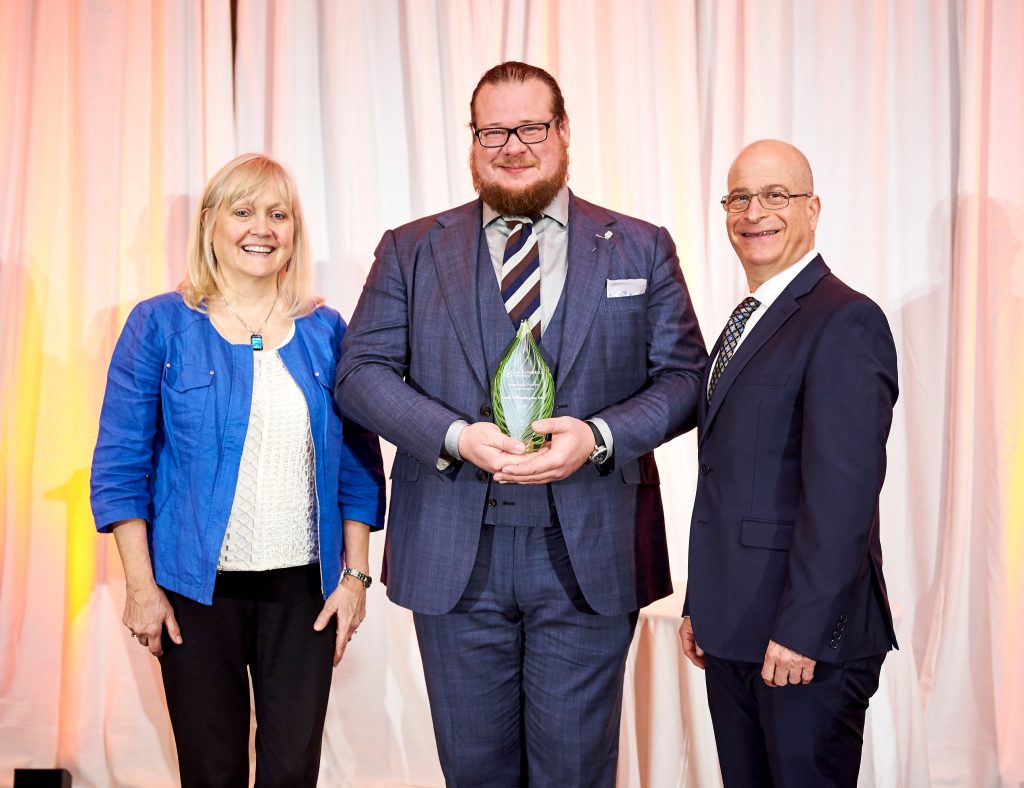 Chicago-based company Hazel Technologies received the 2019 VentureWell Sustainable Practice Impact Award. This award honors individuals, companies, or institutions that develop clean technologies, implement sustainable practices, or provide exceptional educational opportunities to university students. Carol Dahl, executive director at The Lemelson Foundation, presented the award to Hazel Technologies' CEO and co-founder, Aidan Mouat on March 30 in Washington D.C. during the VentureWell annual OPEN conference.
Hazel Technologies is being honored for its innovation that helps reduce food waste and improve efficiency in the agricultural supply chain. The company produces small packets with 1-methylcyclopropene (1-MPC), a compound that blocks the effects of ethylene and allows a grower or shipper to control the ripening and spoilage process of produce.
The company, currently at 14 employees, has partnered with more than 100 produce shippers, including melon grower DFI Marketing, which began deploying the sachets on its exports after a 30-day field test showed a 49 percent increase in marketable product. Hazel Technologies is also partnering with Latin American growers and has begun looking at markets in Europe and South Africa.

The team formed at Northwestern University and participated in the VentureWell E-Team grant program in 2016. The company received a $600,000 development grant from the U.S. Department of Agriculture's (USDA) SBIR program, allowing them to further explore applications for its technology to preserve shelf life and reduce food waste. The company also secured a 3.25MM Series A investment round in February 2018 led by food and agtech VC S2G Ventures. VentureWell also invested in Hazel Technologies in 2017 as part of an $800K round led by Rhapsody Venture Partners. According to Mouat, "One of the major challenges in early-stage entrepreneurship is finding development resources to reach critical value-building milestones. VentureWell financial and training resources for early entrepreneurs is a critical contribution to the maintenance of the early-stage ecosystem."
"Leveraging breakthrough technology, Hazel Technologies has created a way to reduce the many negative effects of agricultural food waste," said VentureWell president Phil Weilerstein. "Food production uses a substantial amount of energy and water so the dramatic reductions in waste and spoilage that Hazel's products enable have a big impact on the environment. The improvements in efficiency and control of ripening enable distributors to increase revenue because the produce arrives to retailers in great condition and more of the food actually reaches end-consumers."
The award ceremony is a highlight of the VentureWell OPEN conference, an annual gathering of students, faculty, business leaders, and investors to discuss the rapidly evolving field of technology entrepreneurship education. Read a highlight of the OPEN 2019 conference here.
Learn more about Hazel Technologies' innovation and mission here.