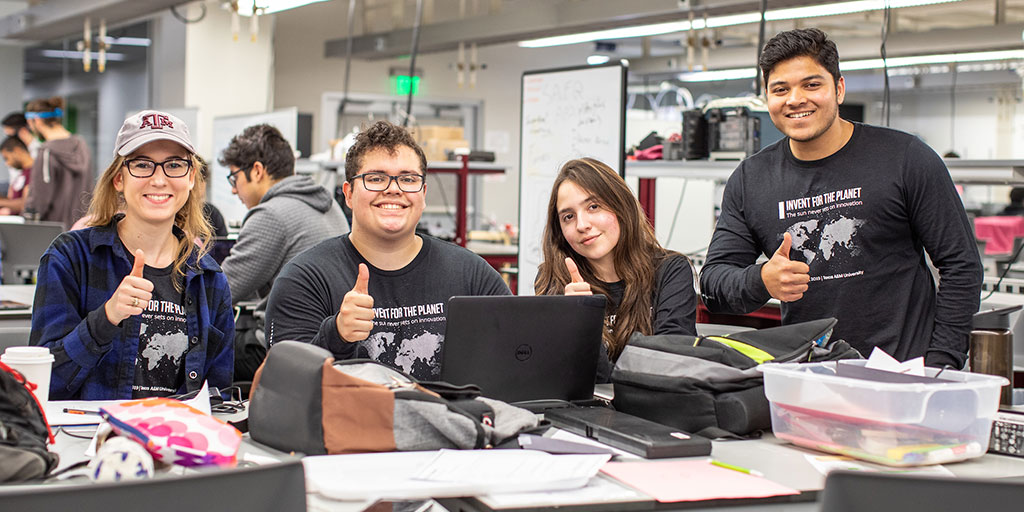 In 2017, Alejandra Hernandez, an engineering student at Texas A&M University (TAMU), never expected a 48-hour intensive design experience could bring out skills that would play a role in landing a competitive internship at Tesla. In fact, after day one of participating in Aggies Invent, the College of Engineering's extracurricular intensive design experience, she wanted to skip day two.
"It was overwhelming," she remembers. "An engineering competition in a foreign language, relying on complete strangers can intimidate any international student." She also had doubts about how to contribute to the team given her lack of experience with the theme of that particular Aggies Invent: create and develop solutions to common problems in STEM K-12 education.
Despite her anxiety, Alejandra soldiered on. She recalls, "I changed my attitude. I told myself that it was just a weekend program. I will survive." With a new can-do mindset, Hernandez assumed the role as team mediator—a skillset she didn't know she possessed. "I kept the argumentative team focused and calm in order to make the most of our intense discussions." Through synergistic efforts, the team reached the finish line—and took first place. The team, Pattern Picasso, developed a board game with interlocking pieces designed to practice numeric relations and develop strategic thinking.
Hernandez views her participation in the intensive design experience as a critical stepping stone in her career. The first-place win led her and the team to participate in the National Science Foundation's I-Corps program, which provided more in-depth startup-related training. After the program, she leveraged her newfound skills and confidence into landing a coveted internship with Tesla. "Due to my lack of prior industry work experience, I focused the hiring manager's attention to what I had learned from Aggies Invent and I-Corps to demonstrate a competitive skillset."
Tesla extended Hernandez's internship from 4 to 8 months. "Thanks to experiences such as Aggies Invent, I knew how to be a reliable team member," she said. "In addition to my technical know-how, the internship heavily relied on my creative thinking, problem solving, and communications skills." After successfully completing the Tesla internship, Hernandez accepted a senior business analyst position at Dell.
Intensive Design Experience: Teaching Intrapreneurial and Entrepreneurial Skills
Hernandez's story illustrates the fact that more companies are seeking intrapreneurial and entrepreneurial skills from engineering graduates entering the workforce. While technical skills are baseline, the ability to apply these skills in a business environment has become a key differentiator among successful job applicants. To address this need, universities are integrating intrapreneurial and entrepreneurial skill development into curricular and extra curricular innovation activities.
Rodney Boehm, Director of Engineering Entrepreneurship and an Artie McFerrin '65 Associate Professor of Practice in the Texas A&M University College of Engineering, is one such educator providing opportunities for students to gain these skills through an intensive design experience. He explains the rationale behind the Aggies Invent program as "a way to help students develop an entrepreneurial mindset through experiential learning of the engineering design process. Our intensive design experience is a concentrated period of time where students focus on designing, building, and selling a solution to a real-world problem that has been provided by an industry or agency partner." (Editor's note: Watch Boehm's TedX TAMU talk for more background about the origins and structure of the Aggies Invent program.) 
Intensive design experiences give students a taste for what's expected in the workforce—as an employee or an entrepreneur. "Engineering students must be technically competent as well as possess skills in communication, evaluating designs, working on teams, and solving undefined problems," said Boehm. Such programs also encourage students to explore turning their ideas into a science and tech venture. "We push our students to create the best design possible, and we support the top-performing teams to use their designs as a jumpstart for forming startups," said Boehm. 
Working with a VentureWell resource grant, Boehm and his colleagues at Texas A&M also engaged a global community in developing a worldwide competition called Invent for the Planet to expand access to this kind of transformative experience. 
Key Elements to Designing an Impactful Intensive Design Experience
Boehm identified several key elements that make Aggies Invent an impactful intensive design experience. Here's a checklist for educators looking to start a program or improve an existing one.
Blend educational goals with real-life experience: Boehm recommends designing intensive design programs that blend core engineering curriculum with skill development that industry seeks in new hires. This can include asking students to design, build, and sell a solution to a problem with a multidisciplinary team under great time constraints—something they will have to do on the job or in their own startup.
Provide industry engagement opportunities: These types of programs allow students to engage face-to-face with potential employers in ways they can't in other job search opportunities on campus. Consider it a 48-hour job interview.
Make continuous improvement a core component to an intensive design experience: For instance, through a research collaboration with the education department at Texas A&M, Boehm and his colleagues study what makes a successful Aggies Invent team. Through video recording analysis of team interactions and post-program surveys, they are better able to identify when teams begin to fall apart and why, and develop and provide interventions to get teams back on track.
Seek support from the broader innovation and entrepreneurship community: Boehm found it useful to consult with thought leaders in innovation and entrepreneurship education, such as VentureWell, to gather best practices in curriculum design and post-program support. Boehm also received a VentureWell Faculty Grant to fund an addition to the existing Aggies Invent program, where a post-program component can be implemented to help student teams commercialize their inventions.
Innovation and entrepreneurship education is best learned through doing. An intensive design experience simulates a high-performance team situation to show students what it takes to succeed in the workforce—as an employee or entrepreneur.