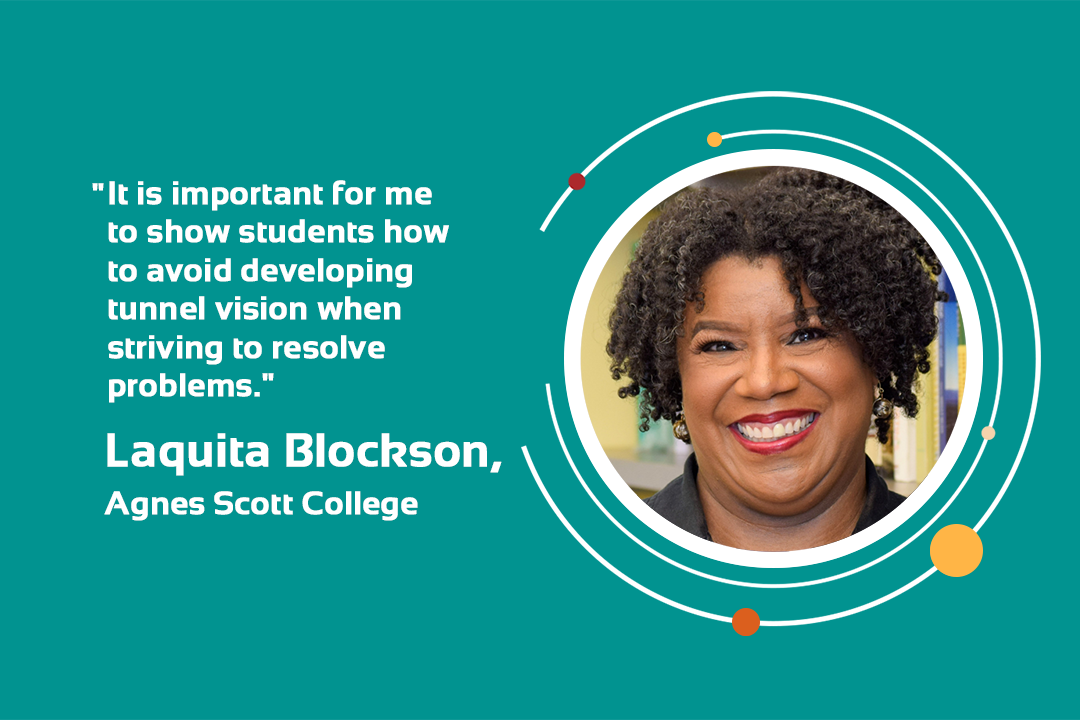 Our Faculty Spotlight series highlights educators within the VentureWell network who are doing good work—faculty members who are catalyzing change in higher education and inspiring students to impact the world through invention. This month's spotlight is Laquita Blockson, Director of Social Innovation at Agnes Scott College. Dr. Blockson teaches students the importance of interdisciplinary approaches in entrepreneurial ventures, with a focus on under-resourced communities. In the spring, she received a Faculty Grant to expand a course on human-centered design to incorporate environmental sustainability and climate change as core themes.
how did you become interested in teaching entrepreneurship?
My interest in teaching entrepreneurship stems from my industry experience in corporate real estate and urban economic development. This influenced me to pursue a Ph.D. in Business (in Strategy, Environment and Organizations, specifically) in the mid-1990s, through which I was able to study entrepreneurship tangentially. Around 2005, I made the natural progression from teaching Strategic Management and Business & Society courses to teaching various Entrepreneurship courses when I became a co-investigator of a Ewing Marion Kauffman Foundation-funded study of African-American Women Entrepreneurs in male-dominated industries. Teaching entrepreneurship courses enables me to help students understand how the performance of individual venture founders/owners contribute to the economic and socioeconomic vitality of communities and cities.
what is your favorite thing about teaching?
I love witnessing the "light bulb" moments! When students make a concrete connection between the theories and concepts they study and how such theories and concepts help them make sense of their professional and/or personal experiences, that brings a smile to my face.
where would you like to see the field of entrepreneurship in five years?
I would like to see the field of entrepreneurship increase its acceptance of well-conducted qualitative research, particularly those studies that use an interpretivist—versus a positivist—lens. Sometimes, we scholars get stuck in collecting multiple quantitative data points that we ultimately lose context. This is particularly key within entrepreneurship, where it is beneficial to privilege, understand and value the lived experiences of venture creators from various social strata. We have to be careful to not analyze and interpret statistical data in a vacuum or we may inadvertently draw improper or incomplete conclusions.
what are the challenges you're tackling in your work today?
It is important for me to show students how to avoid developing tunnel vision when striving to resolve problems. The breakthroughs they seek may come from insight derived from a discipline wholly different from their own. As the Founding Faculty Director of Agnes Scott College's Social Innovation Master of Arts program, I offer opportunities for graduate students from a variety of professional backgrounds to gain the knowledge, skills and tools to approach innovation through an interdisciplinary lens.
how have you pivoted your courses or teaching style during the pandemic?
Due to the pandemic, most of my courses are offered currently in a remote synchronous format. Shifting from an in-class instructional setting to an online one required me to reconsider how to deliver experiential exercises when students are forced to collaborate remotely. One such example is the Human-centered Design and Implementation course that I team-teach with my colleague, Dr. Carlee Bishop, who directs our campus' Technology Management and Leadership Master of Science program. Thanks in part to VentureWell and its Sustainability Design faculty grant, when Dr. Bishop and I teach this design thinking course during the Spring 2021 semester, we will provide each student a prototyping kit, which provides an "at home" capability for prototyping experimentation. This enables us to offer our students a hands-on polytechnic learning activity while simultaneously accounting for COVID-19-related restrictions that limit students' access to campus and/or maker-spaces.
what books on entrepreneurship and innovation have you been reading lately, and how have they been insightful to you?
Three books on my "read again over the holiday break" list are Design Thinking for the Greater Good: Innovation in the Social Sector by Jeanne Liedtka, Randy Salzman and Daisy Azer, How Change Happens: Why Some Social Movements Succeed While Others Don't by Leslie R. Crutchfield, and Black Faces in White Places by Randal D. Pinkett and Jeffrey A. Robinson. Each book discusses the role of innovation and entrepreneurship—directly or tangentially—from different contexts. As our nation continues to deal with the problems of healthcare access, economic disparities, climate change, and racial injustice, it is now more crucial than ever for us to demonstrate the importance of creating social value and human value when we launch ventures that offer economic value and scientific value. Our students demand this of us and we must be equipped and willing to show them how such otherwise intractable problems may be resolved by adopting and exercising an entrepreneurial mindset.
what's your most useful classroom activity or assignment?
During the second week of my introductory entrepreneurship courses (at both the undergraduate and graduate levels), I conduct a team exercise to convey the importance of creativity. I first show my students the "Pure Imagination" scene from the 1971 film Willy Wonka and the Chocolate Factory; by having my students listen intently to the lyrics, so that they are prepared better to think beyond normal convention during the exercise. I then provide each student team a common household item—a clothespin, a pill bottle, a cotton t-shirt, for example—and instruct each team to think of alternative uses for their assigned item. Once the teams have crafted an exhaustive list of how their item can be repurposed, I encourage them to contemplate how to deconstruct and reconstruct each item to make it more user-friendly.
I find this exercise particularly useful because many of my students are not business or engineering majors, so by inspiring them with a film that they have likely seen, and by using items with which they are intimately familiar, they are able to better internalize the connection between creativity and entrepreneurial opportunity recognition.
Looking for more classroom exercises? Check out these resources.
faculty online learning series
5 virtual classroom exercises to keep students engaged
online education: tips and resources for innovation and entrepreneurship educators
---
Our Faculty Grants provide up to $30,000 to support the development of programs and classes aimed at helping students hone the skills needed to create novel STEM-based inventions and bring their ideas to market.
---