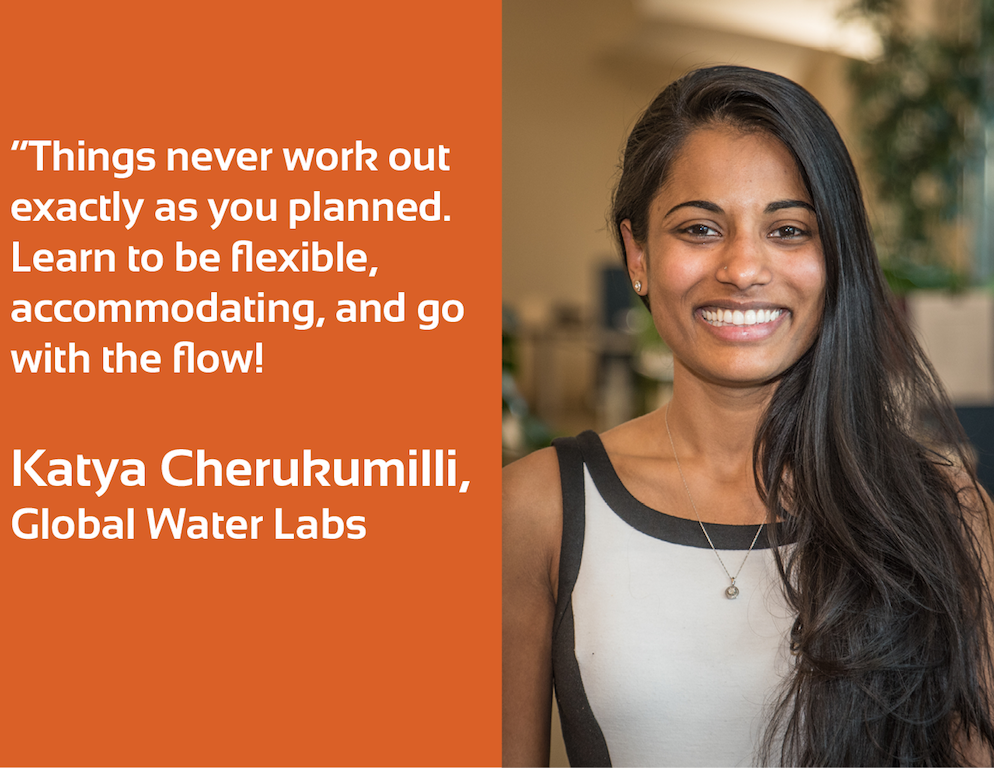 An innovator's journey from idea to market can be challenging and complicated – but also rewarding. Our Innovator Spotlight series explores how inventor-entrepreneurs in our network have evolved since they started their journey. Our goal is to share key learnings and best practices with early-stage science and technology inventors embarking on a path of innovation and entrepreneurship.
Our third Innovator Spotlight is Katya Cherukumilli, Founder and CEO of Global Water Labs. Cherukumilli is an E-Team grantee and third place winner of the 2018 OPEN Minds Showcase. Global Water Labs is a nonprofit startup developing a scalable and affordable fluoride removable technology to help reduce the risk of people contracting irreversible diseases as a result of consuming excess naturally-occurring fluoride in groundwater.
What was the inspiration behind your innovation?
Early on in my PhD, my advisor told me to pick a problem that affects 10 million or more people. After conducting an initial review of emerging drinking water contaminants and visiting rural field sites in Kenya and India, I focused my doctoral research on remediating excess naturally-occurring fluoride in groundwater. This topic stood out to me because I was surprised to find that fluoride was the root cause of a global health crisis affecting 200 million people. Considering the fact fluoride is often added to drinking water supplies in the U.S. at low concentrations to prevent dental caries, fluoride's negative impacts on health at higher concentrations challenged my assumptions.
More specifically, prolonged exposure to high-fluoride concentrations can cause, anemia, irreversible bone deformities in children, and mottled dental enamel. This geographically widespread problem also has cultural relevance to me because one third of the total population at risk live in India, where I was born and lived for part of my childhood.
How has your mission evolved?
The initial plan for Global Water Labs was to lead technology transfer and water delivery efforts. However, after gaining insights from the VentureWell E-Team program, we shifted our strategy to provide technical expertise to pilot and scale up the technology in collaboration with existing field implementation partners and water providers. At each pilot location, we will partner with local NGOs that can take ownership of water sale and delivery, as well as the customer service components of the overall effort.
One of the main things that VentureWell helped me recognize is that the business model has to be really different for the R&D pilot phase and the scale up and commercialization and expansion phases of technology. In a sense, I pivoted in terms of how I was approaching the fundraising for the initial pilot phase and thinking about who the different donors and funding agencies would be for the scale up phase.
Knowing what you know now, what would you have done differently?
I would have started the nonprofit earlier in my technical discovery journey so that there would be more time to pilot the technology in the field and begin fundraising. Similarly, developing field partners early on could have put us on a faster track for implementation and technology transfer with regards to making headway on this pressing global health crisis.
Throughout your journey, what's been your most valuable skill?
Being a strong communicator and presenter has really helped me through this technology development, fundraising, partnership building, and social entrepreneurship journey. Being able to get others excited and inspired to care about your mission and goals is important for networking and developing partners. In particular, communicating science and technical topics to the general public is a valuable skill to make meaningful progress and impacts in the real world.
What advice do you have for other student inventors?
Things never work out exactly as you planned. Learn to be flexible, accommodating, and go with the flow! Unexpected outcomes can lead to a lot of stress, but it is better to embrace uncertainty and view each new turn in the road as a creative challenge to overcome.
For instance, the places where you plan to pilot your technology, the customers you plan to serve, the partners you plan to work with, and the funding or revenue streams you plan to obtain are often in flux, especially during the early stages of technology transfer and company growth.
I've learned that the technology development and research components are not the most challenging or time consuming parts of invention journey. The implementation of your product is equally (if not more) difficult!
What's next for you?
Currently, we are looking to pilot the SAFR technology in the field, starting with the East African Rift Valley. For this initial proof of concept, we are collaborating with local NGOs in Kenya including the Human Needs Project and Nasio Trust. We are also fundraising to eventually scale up and expand our low-cost water treatment technology to other resource-constrained regions including Tanzania, Ethiopia, and India.
Watch Katya Cherukumilli Discuss the Benefits of the E-Team Program