We were thrilled to come together for our annual OPEN conference in Alexandria, Virginia, this past March 2023 with hundreds of innovation and entrepreneurship (I&E) faculty, staff, administrators, funders, and student innovators from across the U.S. With more than 120 featured speakers across three days, the conference was packed with highly immersive sessions including OPEN Workshops, which focused on learning by doing, and OPEN Foundations, which featured panelists who shared introductory content for those new to the field of I&E. Participants left with a product, tool, or approach they could immediately implement in their current work—as well as new connections forged by colleagues in their industry.
OPEN attendees were asked to rate their experience at each breakout session, ranging from extremely valuable to extremely engaging. These five sessions rose to the top of the list, with participants rating the overall quality of content as "above average" and reporting coming away with at least 10 new connections to add to their professional network. Presenters also described having a positive experience, and reported feeling well prepared and supported by VentureWell staff throughout the process. "The implicit network effect of VentureWell's ecosystem has been so amazing for us," said Iain Kerr of Montclair State University, who presented at OPEN 2023. "We meet people here, then we engage in a conversation, and then that leads to a collaboration—and it keeps expanding."
Breakout sessions are a unique and exciting opportunity for thought leaders in higher education to dig deep into topics ranging from student engagement to cutting-edge programs and practices, and to develop the partnerships and resources necessary to build a thriving I&E ecosystem. Consider the following while preparing a proposal for OPEN 2024—submissions are open through October 31!
Adopt and Adapt: Nifty Assignments in Entrepreneurship Education
Led by Michael Lehman of Lehigh University
During this fast-paced session, Michael Lehman of Lehigh University presented classroom activities developed through years of engagement with VentureWell, including an "IP Field Trip." His students were challenged to embark on a 30-minute trip to identify two patents, two trademarks, two copyrights, and two trade secrets—a quest that encouraged a deeper understanding of intellectual property.
Attendees were given the opportunity to share their own impactful education tools, too, like the "AI Disco Ball" developed by Dale McCauley, assistant director of InnovationX at Oregon State University. Drawing on the the six phases of the IDEO human-centered design process, students explored ideation by generating other ways of marketing a single product through AI, which resulted in the development of a disco ball planter.
Carrie White, executive director of the WVU Morris L. Hayhurst LaunchLab at West Virginia University, tackled the topic of product development. Her students were given a redesign activity to determine how customers are affected by that process; participants were challenged to think about whether users benefit from redesigns and how.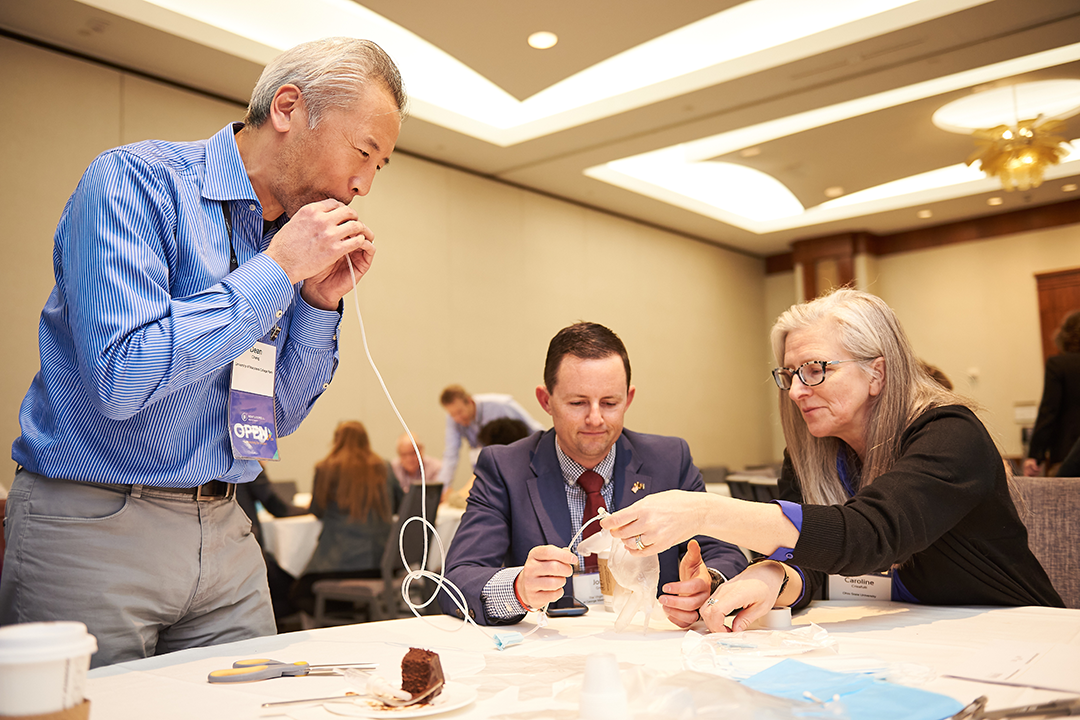 ---
An Unlikely Teaching Experiment Led to Our Most Successful Course Ever: A 100% Asynchronous I&E Course That's 100% Experiential Learning
Led by Dean Chang and Brooke Smith of the University of Maryland
Opening the session with "BrainSpin," a brainstorming exercise (available here), attendees had 30 seconds to develop ideas based on each simple sketch. Then participants were encouraged to work together by applying the "yes, and…" method, building upon the ideas of others to refine and expand the potential of the sketches as products.

The goal was to develop an asynchronous class that scaled experiential learning without compromising the learning. Presented by Dean Chang, chief innovation officer at the University of Maryland, and Brooke Smith, assistant program director of the Academy for Innovation & Entrepreneurship at the University of Maryland, the session used short activities to keep students engaged and encourage them to work together, minimizing Zoom fatigue and building excitement for each module.
---
E-Team Founding Stories: Fireside Conversation with Student Entrepreneurs
Led by Izzy Santa of Qualcomm and Sarah Wharmby of VentureWell
Joined by Qualcomm Senior Director of Government Affairs Izzy Santa and VentureWell Program Officer Sarah Wharmby, alumni from our E-Team Program came together to discuss the impact of their innovations. These founders dug into their personal journey as early-stage entrepreneurs, revealing some of their biggest challenges and what the future holds for their venture. Featured speakers included:
Check out the discussion:
---
F*ck Ideas: How To Innovate After the Failure of Ideation—A Workshop and Discussion on a New Approach to Engaged I&E
Led by Jason Frasca and Iain Kerr of Montclair State University, Soyoung Kang of the University of Washington, Jose Lugo and Mari Luz Zapata Ramos of the University of Puerto Rico, and Khanjan Mehta of Lehigh University
In a two-part workshop session, faculty panelists gathered to discuss the practices that fail to advance I&E ecosystems in higher education—and why. The session combined a panel discussion and a hands-on workshop activity that introduced a more effective method of fostering engagement on campus, including lessons learned from interdisciplinary I&E hubs like the MIX Lab at Montclair State University and the Mountaintop Initiative at Lehigh University.
Two of the presenters, Jason Frasca and Iain Kerr of Montclair State University, have been attending OPEN since 2015. In this session, which was an expansion of the Screw Ideas session from OPEN 2022, they investigated new practices and trends in I&E, particularly surrounding the hot topic of sustainability, and how to break out of the "developmental mindset." Jason explained: "We see big organizations profiting off of this moment of sustainability, but they aren't participating in any way. We need to step outside and address these major humanitarian questions."
Ian agreed, adding, "I think we should start speculating about trends that aren't just in technology or what the next big thing is, but really revolutionary, paradigm-changing trends that flip the first-world capitalism model."
---
Leading Campus Innovation with LEGO® SERIOUS PLAY®
Led by Perry Lee, Jack Oppenheim, Helen Wang, and Garret Westlake of Virginia Commonwealth University
LEGO® SERIOUS PLAY®, introduced by representatives from the Virginia Commonwealth University da Vinci Center, uses LEGO bricks as a means of cross-disciplinary collaboration in the classroom. During a structured process, attendees were first tasked with building a tower—which could easily be replicated in other settings—then asked to modify it to have at least a 45-degree angle. This activity was further expanded to include building representations of personal and professional journeys, what I&E looks like at their institutions, and how utilizing this activity may advance I&E in their own work.
This activity was created in order to enable cross-disciplinary collaboration and foster human-centered design, encouraging practice and mastery while removing barriers to connect diverse innovators. Through the activity, participants worked together to advance new ideas and support their work through data-driven decisions and experimentation. This was a useful tool for faculty, who were able to teach lessons that were grounded in curiosity and expressed through real-world applications and impact.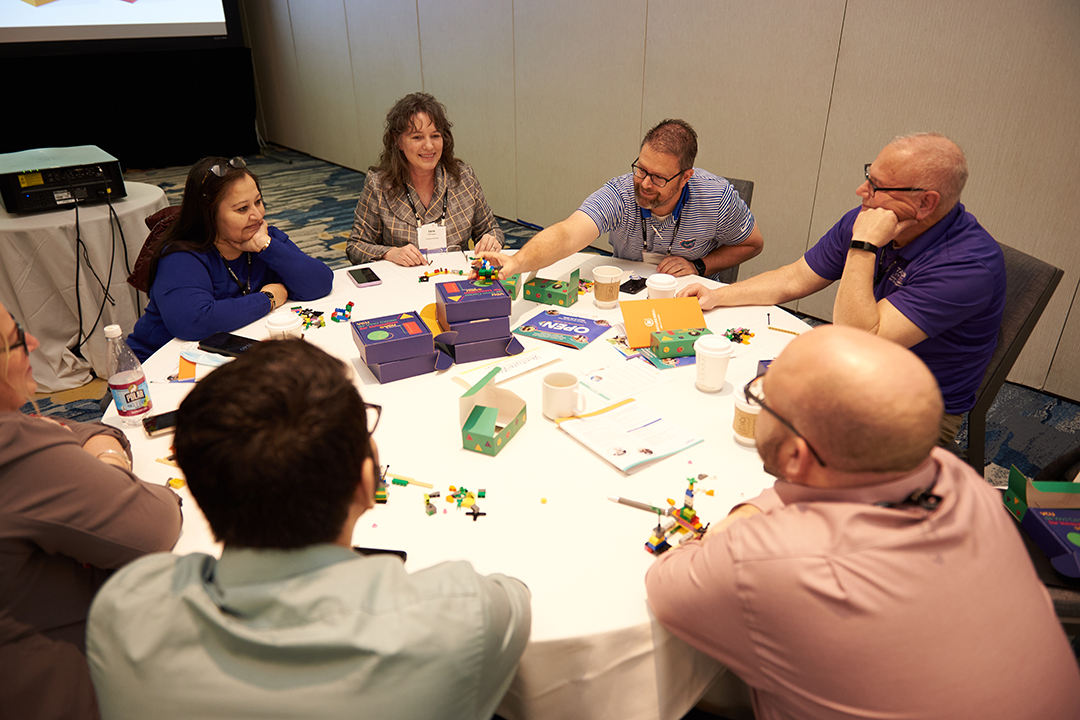 ---
Interested in attending OPEN 2024? Registration is now available. Register early and save! Learn more.