Big ideas start small.
There was one lesson in high school that stuck with Haley Noelle. She was taking AP Biology when she learned about "spider goats," or genetically modified goats that produce spider silk proteins in their milk. "I remember sitting there and thinking: 'Scientists, why? Why are we making spider goats?'" It was a thought that inspired Haley to investigate further, which is when she discovered all the benefits of spider silk: it's biodegradable, anti-microbial, hypoallergenic, and supportive of cell proliferation.
When studying cell biology at the University of California, Davis (UC Davis), Noelle continued to think about the unique properties and advantages of spider silk. "I knew I didn't have the engineering capabilities," Haley said, "so I went up to both my friends, who are brilliant engineers from a cell and molecular biology background, and I posed a quick question: Do you think we could take a 3D filament printer and turn it into a robotic spider to mimic what naturally happens in the intestines?" Her friends and now co-founders—Preston Vanderpan (chief operations officer) and Avery Williamson (chief technical officer)—proceeded to build this very idea, which would become Ariadne 1.0, a device that 3D-prints artificial tissue which simulates spider silk. Their company, 3D Organic Polymer Silk (3D-OPS), was formed.
Biologically friendly and mechanically strong, spider silk is an adhesive that can be used to repair severe tissue injuries that would usually require invasive surgeries. That means reducing bone instability, inflammation, or misalignment typically caused by using current commercially available medical adhesives. For the 33 million people in the U.S. who report musculoskeletal injuries each year—50% involving tendon and ligament injuries—this is a game-changer.
Support from Qualcomm to jumpstart experimentation.
"There's a lot of room for innovation in medicine," Haley told us. "We want to improve patient outcomes as well as the surgeon's experience in an operating room." Since its founding in 2019, the 3D-OPS team has completed both stages of the E-Team Program—Pioneer (Summer 2022) and Propel (Winter 2023)—and showcased their innovation at OPENminds, which took place during the OPEN 2023 annual conference. They were also selected for the 2023 Innovator Stipend Program sponsored by Qualcomm, which provided E-Team Program grantees with an additional $2,500 to support the advancement of their innovation.
For Haley, testing their product (pictured below right) was a big reason to apply for the stipend. "We're in the healthcare space, and it's expensive," she explained. "The stipend was incredibly helpful for us in terms of developing our technology and finding those inflection points. For us, if you're making something like a surgical glue, biocompatibility is really important. You want to make sure that it's not going to kill cells, but instead will help them grow."
"The funding also allowed us to jump-start experiments and really get these massive validations that are incredibly important, not only for our next round of funding, but also for providing legitimacy to the company."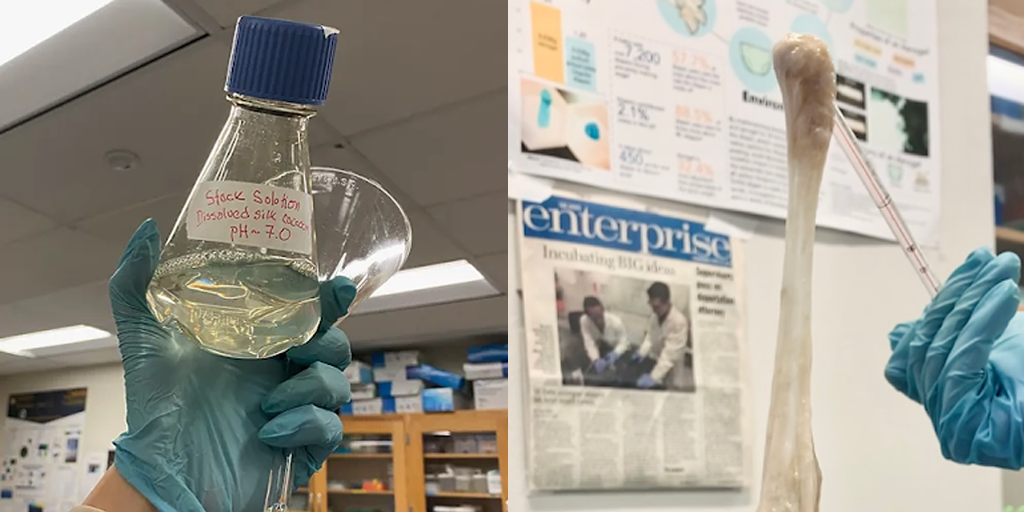 How to leverage funding—and what to do when money runs out.
The team has consistently leveraged their support, setting them on the path to commercializing their product. At UC Davis' 2022 Plasma Demo Day, 3D-OPS won both second place and the People's Choice Award, and they were among just five teams chosen to pitch in front of the Dean's Executive Committee. They also made the Final Four companies selected to advance at the Sacramento Kings Capitalize Competition, following their winning presentation to a panel of judges. In addition, the company was named a finalist for Innovator of the Year at the 2023 UC Davis Innovation Awards. "We are so appreciative of everyone who has helped us to get this far, and we look forward to building on our momentum," Haley said.
Haley recommended that early-stage innovators approach this part of the process thoughtfully. "One of the most important things to remember is each time you get funding, money runs out," she said, adding to keep the following key points in mind: What is the most value you can get from your funding? Will it help in establishing key partnerships? Can it go toward spreading the word about your innovation? How can you use it to establish your legitimacy as a company? There are many ways to leverage funding—including non-dilutive funding, which is often overlooked as an important opportunity for early-stage innovators looking to advance their ventures.
"The funding also allowed us to jump-start experiments and really get these massive validations that are incredibly important, not only for our next round of funding, but also for providing legitimacy to the company."
"The thing that's not teachable is passion. And if you have passion, you can do anything you set your mind to," she told us. "I think that that's the most important lesson that I've learned through VentureWell, and through starting a company and growing as this company has grown."
Hear more from Haley as she discusses her journey as a woman in entrepreneurship and how participating in our E-Team Program accelerated the growth of her startup:
Expanding Participation Through the Qualcomm Innovator Stipend Program
In partnership with Qualcomm, we offered the Innovator Stipend Program in 2022 and again in 2023 to reduce financial challenges for student entrepreneurs, giving them the breathing room they need to develop their products while simultaneously juggling the fiscal responsibilities of school and life—with the aim of further narrowing the patent diversity gap. Recipients were awarded stipends ranging from $1,500 to $4,000 to offset the cost of participation in our E-Team Program as well as for living expenses, materials and physical prototyping, equipment, or expenses associated with patent filing, incorporation, or attorney fees.
About the E-Team Program
Through the E-Team Program, VentureWell has trained over 500 student teams and more than 1,500 student innovators. The teams have raised over $600 million in follow-on funding and have launched more than 300 ventures since taking part in our program.
Learn more about VentureWell's E-Team Program, which supports student-led science- and engineering-based teams from across the nation in bringing their high-impact innovations out of the lab and into the market.