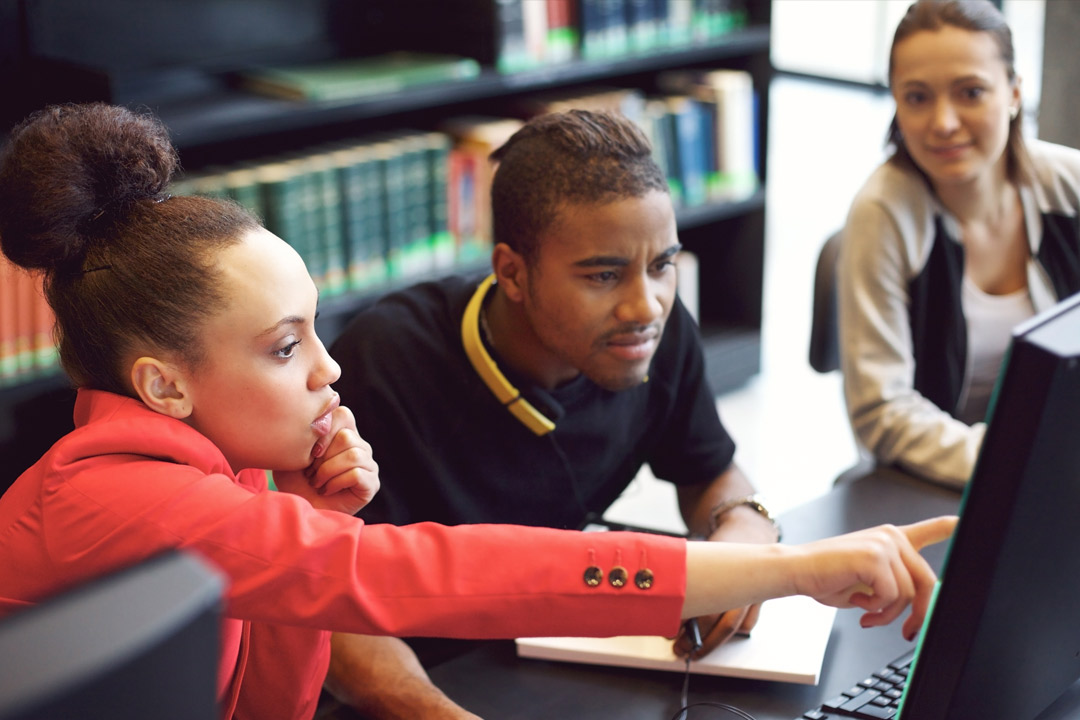 There are so many funding opportunities for early-stage innovators. How do you know which ones to pursue when you're just starting out? The right funding can support achieving key technical milestones, building company credibility, and progressing toward commercialization. So what is it about non-dilutive funding that's so critical at this step in the journey for early-stage startups?
As a Senior Program Officer at VentureWell, I've worked with many up-and-coming innovators to hone their big ideas and prepare them to raise money. Being a former student innovator, I recall the grind and persistence of seeking out funding. From submitting to campus-wide innovation and business plan competitions to writing proposals for business accelerators to pursuing scholarships, it was always a challenge figuring out what grants I could even pursue at that very early stage in development.
The innovators and startups we work with here at VentureWell are frequently hardware-oriented. For example, the climatetech teams require large amounts of capital for their work developing renewable energy and battery innovations, solar innovations, sustainable materials, sustainable farming solutions, upcycling and material lifecycle solutions, and water management innovations. In order to prove out the technology, achieve key milestones, and de-risk the opportunity, startups such as these can really benefit from non-dilutive funding—they just don't always know it!
Overview
First, what is non-dilutive funding? When a startup receives non-dilutive funding, it does not give away any ownership of the company. However, it's not necessarily "free money," as there may be reporting requirements and/or limitations for the use of funds. Securing non-dilutive funding early is critical for an emerging innovator or startup to make key progress to get to the next level of venture development.
On the flip side, dilutive funding is funding in which you trade cash for ownership (equity) in your company. Examples include equity financing from angel investors, venture capitalists, or institutional investors. With equity financing, investors take preferred shares in the company and participate in value generation and often share in some decision-making. While this dilutes your ownership, the idea is for there to be a mutual upside, and the capital is paid back much later upon a liquidity event.
But let's focus on the non-dilutive options for now. There are several types of non-dilutive funding, so I put together this list of common terms and definitions to help early-stage innovators navigate these opportunities. Pro tip: For ways to write a successful funding application, check out our guide with nine recommendations.
Key Terms, Definitions, and Examples
Term: Prizes and Challenges
Definition: While there are different types, these opportunities offer cash prizes and in-kind incentives for work already completed. The goal is to increase the number of problem-solvers addressing key issues (as opposed to grants and contracts, which are typically awarded based on proposals for future work). When you apply for a prize, read through the rules and criteria carefully to make sure you are eligible and answer all the questions asked. Share your traction and evidence of validation, as prizes frequently evaluate based on progress completed to date.
Typically, applications are judged by a panel of subject matter experts who review and score to narrow down to a shortlist of finalists and winners. There will only be a select few winners. (See prize award process in the chart below.) Prizes can go directly to individuals, teams, or entities, and, except in limited situations, there are no restrictions on how the prize award is used. Pro tip: Beware the tax implications of award money tied to an individual with personal income.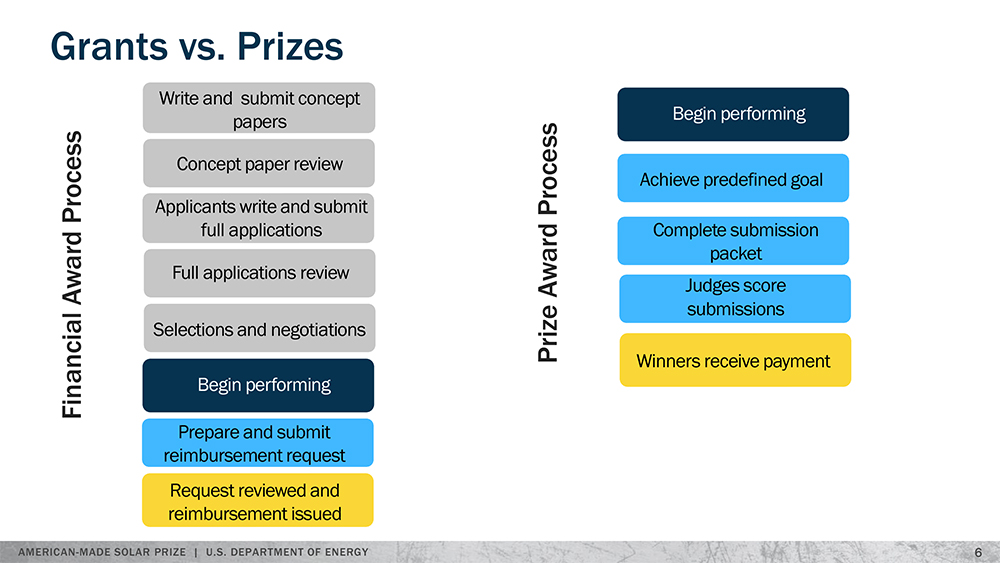 Example: Through the US Department of Energy (DOE) and the National Renewable Energy Lab (NREL), the American-Made Solar Prize is a multi-million dollar competition that encourages teams of creative individuals and entrepreneurs to pursue the non-dilutive prize funding and in-kind resources to energize the field with solar solutions that have potential commercial applications. VentureWell E-Teams have pursued these prizes, including AeroShield (Solar Prize Round 4 winner) and GismoPower (Solar Prize Round 5 finalist).
Term: Business Plan Competitions
Definition: Business plan competitions, while also offering cash prizes and other incentives, are an opportunity for startups or teams of entrepreneurs to submit a business plan concept and to pitch that idea to a panel of judges. The pitch is usually judged on problem-solution fit, business model validation, feasibility and execution, traction and scalability, the team behind it, and additional custom criteria based on the thematic focus of the competition. Innovators can receive valuable feedback and support during the preparation leading up to the pitch event and often create lasting relationships with peers and mentors. Read our article on how to prepare for a pitch competition.
Example: There are a number of local, regional, and national business plan competitions that have specific criteria. Examples include the Rice University Business Plan Competition (E-Team MITO Innovation, 2017 runner up); Arizona State University Innovation Open (E-Team InfernoGuard, 2022 Climate Change Grand Prize winner); Heartland Challenge Startup Competition (E-Team Klaw Industries, 2022 overall winner); and Swim with the Sharks Pitch Competition (E-Team TRIC Robotics, 2020 winner).
Term: Stipend Programs or Fellowships
Definition: A stipend is a nominal amount of money to support individuals to help cover costs while they pursue training or education. In the case of stipend programs for innovators, we often see that they are designed to support specific costs for the individual while they pursue customer discovery and research and development activities. This may include living expenses, rent, and travel expenses—depending on the specific funder. Fellowship programs are short-term funding opportunities to support teams and innovators that may be research- or sector-specific.
Example: VentureWell partners with organizations that are supporting student innovators with living stipends, including Qualcomm's Innovator Stipend Program, designed to remove financial barriers that otherwise prevent students from participating in the innovation ecosystem, and the Verizon Forward for Good Challenge, which supports innovators with summer living stipends so they can focus on advancing their solutions. Examples of climatetech fellowship programs include Activate Fellows, Breakthrough Energy Fellows program, and the DOE's Lab Embedded Entrepreneurship Fellowship program.
Term: Grants
Definition: When I think of grants, I typically think of government funding that supports innovators and their ideas that address innovative research, provide public services, and can stimulate the economy. While grants don't exclusively come from government sources, they are quite different from prizes and competitions, and they are generally governed by an agreement based on budgets and a scope of future work. The financial process for the contract award is much more nuanced, with a pre- and post-award phase. Sometimes funding is milestone-based, reimbursement-based, or paid upfront, requiring a reporting mechanism as part of the contract (See grants vs. prizes chart above.) Most grant funding is strategic funding and can help startups in supporting specific technical or business development milestones—not just for covering general operational expenses.
Example: Government grants that many of our E-Teams pursue include the Small Business Innovation Research (SBIR) and Small Business Technology Transfer (STTR) programs such as those funded by the National Science Foundation, the National Institutes of Health, the Environmental Protection Agency, and the Department of Defense, to name a few. Teams in the VentureWell network have been awarded over $100 million in SBIR funding (startups include ClearFlame Engines, Hazel Technologies, and Transfoam). Additionally, an example of government funding to support America's path to a net-zero emissions economy by 2050 was the 2021 funding from the DOEBioEnergy Technology office that supported projects focused on product cost-effective, low-carbon biofuels (E-Team Lignolix was a 2021 awardee).
Checklist
It's important to choose the type of funding that's right for you, your innovation, and your business model. We encourage our innovators and startups to pursue opportunities that directly align with their customers and industry. Seek out meaningful funding and avoid pursuing opportunities for vanity metrics only. AeroShield co-founder Elise Strobach, Ph.D., recently won the American-Made Solar Prize Round 4 along with her teammates, and the prize really helped realize their potential on their path to commercialization.
Below is a checklist of things to consider on your funding journey:
☐ How much capital do I need to get started or grow to the next level? Do my milestones require an investor/funder at this stage?
☐ Is the funder aligned with my goals? Have I chosen a funding option that gets me closer to my ultimate customer?
☐ Do I understand the funders' goals and criteria for the funding opportunity? Have I read the rules and criteria?
☐ Have I done my due diligence and talked to other innovators and entrepreneurs who have been funded by the specific funder I am pursuing?
☐ Have I ensured the value proposition for my customer is not the same as the value proposition for funders/investors?
If you are considering dilutive funding options, make sure you find the right funding partners. Check out our Three Tips for Finding the Right Financial Partner for guidance.
Tricia Compas-Markman implements and supports VentureWell's early-stage entrepreneur programs, providing training for innovators on topics ranging from customer discovery to investment-readiness. Previously, Tricia founded and led DayOne Response, a science and technology startup providing clean drinking water solutions to vulnerable communities. During her tenure, she built a company with international reach, developed key partnerships, invented and scaled water technologies, and secured financing, which resulted in reaching 35+ countries and saving lives. She also authored a case study detailing her journey as an innovator in this space.
The American-Made Solar Prize recently launched the sixth round of competition, offering a total of $4.1 million to teams of creative individuals and entrepreneurs who are ready to advance conceptual solar solutions toward product realities. Through three contests, participants compete for progressively larger cash and voucher prizes, including an optional justice, equity, diversity, and inclusion–focused prize. Sign up for Office Hours with Tricia Compas-Markman to learn one-on-one about the Ready! contest, which involves a prize of $50K.
Are you part of an energy or mobility startup in Michigan that is looking to validate its business model while preparing for funding in the next phase of your business? We invite you to apply to the Ascend Energy & Mobility Accelerator, powered by VentureWell, TechTown Detroit, and DOE's EPIC Prize! Learn more.