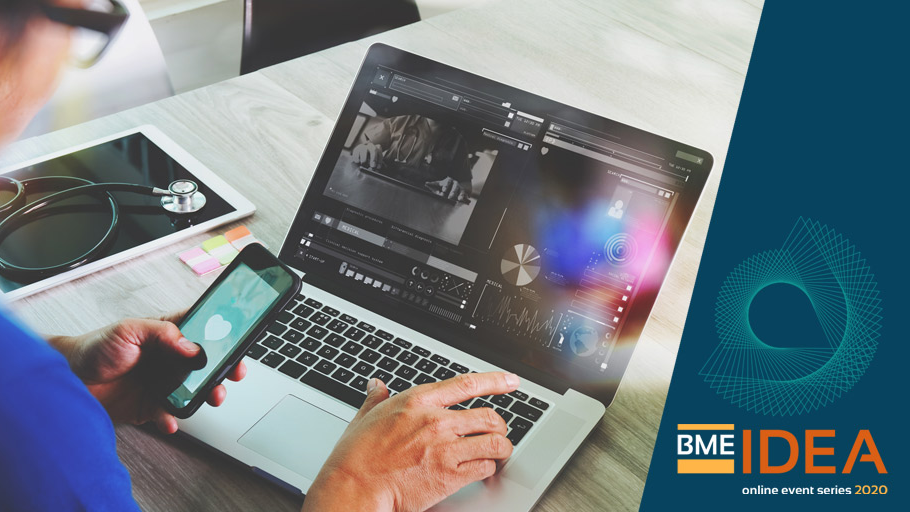 Carnegie Mellon senior Alyssa Brown had been looking forward to her biomedical engineering (BME) capstone design project since the day she applied to the university. But with COVID-19 disrupting in-person work at her school and nationwide, that anticipation has now turned to anxiety. "I began to realize all the things that I might not get the chance to experience before graduation," she explains. How, for example, would she be able to do clinical immersion and prototyping? "I can't help but wonder if my senior design class will ever be comparable with the awe-inspiring stories I heard as an incoming first-year engineering student."
BME faculty share Alyssa's concerns. As the sudden upheaval of the spring semester has become the new normal of the fall, instructors now have a clearer picture of what aspects of experiential design programs translate to remote learning, and where challenges remain. Convening virtually in August at the BME-IDEA workshop Teaching Capstone Design in a Remote Model*, they shared what they have learned over the past six months, offering best practices and hard-won insights, with many noting that as difficult as the transition to remote learning has been, it has also brought a few unexpected opportunities. Here are six strategies to keep in mind when teaching capstone design remotely.
1. help students build great teams
"Students are experiencing stress and trauma in a way that we haven't really seen before," noted Marty Jacobson of Georgia Tech, and that atmosphere has added to the challenge of remote collaboration.
Supporting teams through a deliberate process is all the more important, he said, and software can help. He uses CATME Team-Maker, which lets faculty create balanced teams based on specified criteria, such as a student's schedule or skills. To encourage engagement online, he recommends the video discussion tool FlipGrid, which allows students to pre-record and post video submissions.
To help students develop their interpersonal communication skills, Jacobson facilitates a series of three discussions over the course of the project, modeled on industry debriefings. The goal is to help the teams identify what they could do better as a team, and how they might have caused each other stress. The goal is not just to get students talking but to help them "make a mutual commitment to improving communication." By emphasizing that, he says, "any team can become a great team. It doesn't happen by accident."
2. for clinical immersion, get creative with video
With COVID preventing many students from observing practitioners in hospital settings, clinical immersion has become one of the more challenging processes to replicate virtually, faculty said. As a substitute, they have turned to online medical videos on sites such as WebSurg and MEDTube, or on AccessSurgery (a subscription service from McGraw Hill), and while nothing can replace in-person observations, noted 

Kelsey Kubelick from Georgia Tech, these online resources do offer some advantages.
Students, for example, can watch recorded procedures from a variety of different universities, featuring a variety of clinicians and patient populations. This helps them avoid "the nightmare of realizing halfway into a semester that they are working on one specific problem that's only experienced by one physician," she said.
Youseph Yazdi at Johns Hopkins agreed, noting that his clinical mentors provide students with a curated list of videos, and then students prepare questions and interview the clinicians on Zoom. "You don't get the full vibe of being where the problem is," he noted, "but it is like 80 percent of the experience in terms of the content." Outside clinicians can also be brought in to join the group viewing, and the videos can be stopped if students have questions. "There are some advantages having a different surgeon, not the one in the video, watching and saying, this is what he is doing, and this is why."
Even good quality surgical videos, however, will often be missing aspects of interest to students, cautioned Yazdi, because they do not show the various procedures leading up to surgery and what happens afterward. "We want that broader look, in order to find opportunities for innovation," he said. "And none of that is recorded."
Other medical recordings can also provide insights, such as videos of grand rounds, or of meetings where clinician teams discuss patient cases. Yazdi found that watching videos of a cancer team's meetings was "better than observation, because they are going through the details of each case, and discussing the challenges."
3. for discovering unmet needs, look beyond the hospital walls
Students hoping to conduct interviews to help them understand the needs of their customers also have challenges in a remote learning world, noted Eldin Rostom of Perth BioDesign. It's harder to read body language and pick up other subtle cues in a video meeting, for example. On the plus side, he said, the pandemic has made some medical professionals more available to students, such as orthopedic surgeons and primary care providers (although frontline workers were harder to interview).
One tactic used by Rostom that made the process more efficient was inviting groups of representatives from the medical community—procurement specialists, executives, clinicians, payers—for 10-minute, online "speed dating" group interviews. For actual in-person interviews, he recommends thinking outside the four walls of the hospital. He sent students to psych wards, primary care practitioners, rural facilities, and other sites out of the COVID spotlight, "and those areas turned out to be gold mines for unmet needs."
"If there is anything we've learned from this pandemic, it's that healthcare is a lot more than just the four walls of the hospital," he said. "We've seen supply chains collapse, we've seen in-person collaboration-tool startups collapse. There are a lot of gaps everywhere."
4. with prototyping, keep it simple
Trying to create a prototype without access to campus workspaces and facilities introduces new complexity to a process that is challenging for students even in the best circumstances. Stanford bioengineering professor Ross Vanook offered an insight that his students found motivating: "Med tech has a rich history of prototypes that were made on a kitchen table, and many of the students were working on a kitchen table, so they connected with that."
To help manage student expectations, Vanook suggests lowering the bar on what makes a prototype successful, so students understand that they may not have something that's fully functional at the end of the quarter. At the same time, he recommends raising the bar on what a simple prototype can do for a project. "We did a lot of reframing," he explained. "How can we make progress in a simple manner?"
One process he emphasizes is the concept sketch. "Just draw it out, right now in Zoom, pull out a piece of paper and do it." That helps students communicate with their teammates and mentors and sets up the next step, the block diagram, a tool from electrical engineering that identifies the functions of a device in flowchart form. "The block diagram was really helpful to give the students permission to say, Hey, we're going to work on this and these other things we're not going to work on right now."
Though project concepts were limited last spring, Vanook says the prototypes students produced were as good or better than in years past. "They were more aligned with the project risks," he explained, "Fewer students were going off and building something that really had no purpose or wasn't going to contribute to the project." However, he added, students did say they missed the in-person prototyping experience, and "that's a challenge we all face."
5. be flexible (and safe!) with testing
As with prototyping, testing devices was hampered by the lack of access to campus facilities. "We suggested you could use a basement, or a workshop, or space in your garage, but with the caveat that it's got to be safe," said Jay Goldberg, of Marquette University and the Medical College of Wisconsin. "If you are generating fumes or there's a potential fire hazard or risk of injury, don't do it." Goldberg's student teams developed lists of test procedures that they needed for design verification, and two-thirds were able to get some actual data. The rest had to rely on simulations or analytical modeling, and many teams did not complete their testing.
This year, his design course does not require testing until the spring semester, so Goldberg is using the time to develop a plan for loaning equipment for off-campus testing. "We're going to try to do this proactively and have a formal program set up," he said, "so when the need arises, we're ready."
He emphasized that the situation calls for flexibility. "We can't expect students to do testing if it's not possible," he noted. "This [pandemic] was a learning experience for our students, too. It was a real-world, real-time experience in contingency planning and risk management."
6. consider a new way of grading
To assess collaborative projects in a remote learning environment, Ann Saterbak and her Duke University colleagues adopted some innovation themselves. Rather than the traditional numerical grades for projects, they adopted a criterion-based grading system that uses a three-level scale: high pass, pass, and no pass, with the latter grade requiring that students try again.
"It forces the teams that are not meeting the standard to go back in and redo things," Saterbak explained. "It worked particularly well when we went online in the spring because of the many problems—Zoom connections that weren't great, documentation that was messy. But you basically ask the question, is this good enough?"
Faculty do use a rubric for assessment, so students receive detailed feedback on their work, and the grades are eventually converted to numerical grades for transcripts. But the larger benefit of criterion-based grading is how it can change a student's perspective, she said. "It shifts the focus away from getting the grade into developing skills and developing expertise," she said. "It's a different way of teaching and learning, where the goal is to actually do it well."
That kind of creative flexibility—whether applied to assessment or to helping students interview clinicians, develop prototypes, or test their innovations—remains one key tool faculty have as they try to maintain the real-world experiential nature of BME capstone programs. For students such as Alyssa Brown, that may be welcome reassurance for the school year ahead.
*The session hosts for Teaching Capstone Design in a Remote Model were: James Rains, Georgia Tech; John DesJardins, Clemson University; Matt Oldakowski, Perth Biodesign; Eric Ledet, RPI; Joseph Tranquillo, Bucknell University; Jason Zara, George Washington University
Looking for more remote learning ideas? Check out these resources.
faculty online learning series
5 virtual classroom exercises to keep students engaged
online education: tips and resources for innovation and entrepreneurship educators