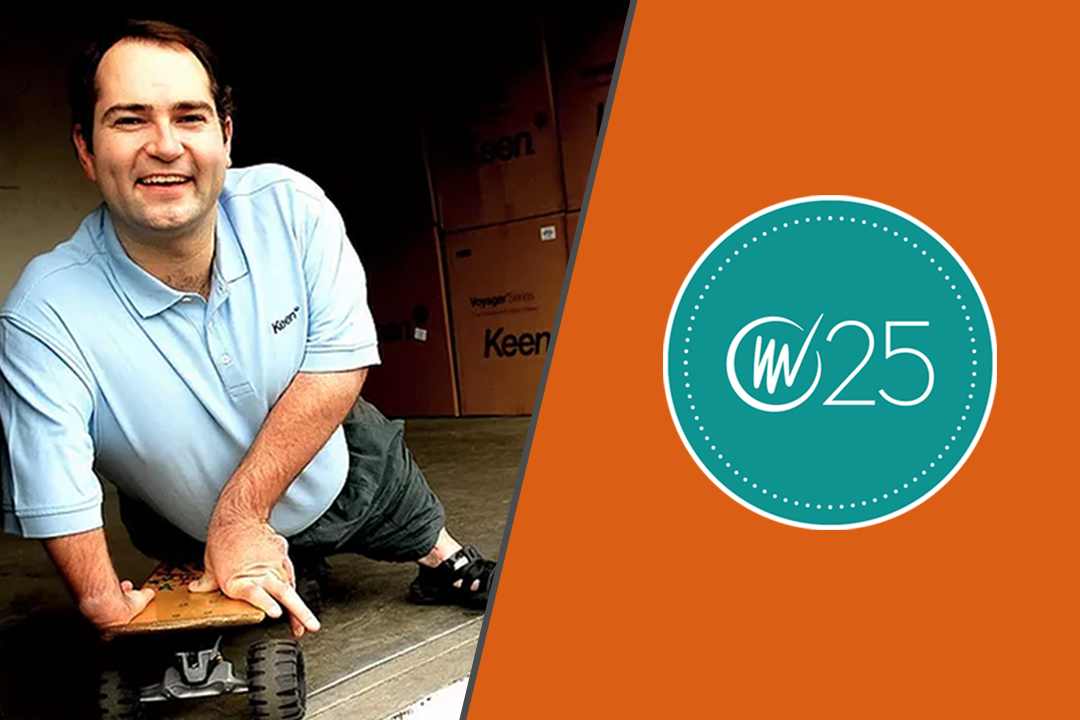 Born with no legs and malformed arms, Vail Horton, founder of the medical supply company Keen Healthcare, has a license plate that reads HANDICRAP. The pun, he is quick to acknowledge, was the work of his mother, who after adopting him at birth and being told he would never walk, encouraged his self-reliance with physical therapy and a no-excuses parenting style. "When I would ask her for her help to get down the milk, or get down the cereal box," he explains, "she'd say, 'Oh, that's handicrap.'"
Today, after an entrepreneurial career marked by awards and accolades, including being publicly honored by President George W. Bush, Horton is a philanthropist, motivational speaker, and self-described "tough-love life coach," using his personal story to demonstrate how we can challenge our limiting self-beliefs. "People around you have way more potential than they themselves know," he explains in a video talk on his website, addressing the audience from his customary skateboard seat. "The key is to unlock it, through grit and opportunity versus sadness and guilt, and be able to overcome your handicraps and accomplish as much as possible in this limited time we have here on earth."
Now living in Beaverton, Oregon, with his wife and four children, Horton credits his success in marriage, parenting, and business to that fiercely resilient philosophy. "I'm really not a complainer," he explains. "And I had every reason to complain."
a solution to a personal need
When Horton was a senior at the University of Portland, majoring in business, he found himself in constant pain from the crutches he used with his prosthetic legs. Rather than rely on a wheelchair, he dreamed up the idea of shock-absorbing crutches, then asked the school's engineering department to help him build them. Horton recruited his roommate, Jerry Carleton, to join the team, and launched a startup to commercialize the idea. They named the company Keen Mobility after Horton's grandfather (it later became Keen Healthcare as the product lines grew), and by 2002 the venture was winning state and national entrepreneurship competitions. Looking for backing to develop and patent the prototype, the team turned to the National Collegiate Inventors and Innovators Alliance (NCIIA), now VentureWell, and received $10,000 in Advanced E-Team funding.
Horton says that grant, and the subsequent relationship with VentureWell, changed the trajectory of his professional life in three important ways. As it happens, the money itself had the least impact. More important, he says, were the networking opportunities that came with the grant, a benefit cited frequently by other E-Team grantees in a recent VentureWell assessment of the program. "Those relationships," he notes, "introduced me to the Jaycees (the U.S. Junior Chamber) and the Economic Forum," which honored him in 2007 as one of Ten Outstanding Young Americans and in 2013 as a Young Global Leader.
But the grant's greatest significance, Horton says, was the validation that came with being recognized by a group founded by engineer Jerome Lemelson, a personal hero to young Vail. "That was cool," he recalls. "I'm a kid who sees his story, and I'm like, I want to be like him someday."
the business takes off
With backing and the inspiration of his role model, Horton would realize his dream over the next two decades. While the shock-absorbing Keen Krutches were not the success the team had hoped, Horton soon came across a new material called memory foam, just developed by NASA. He realized the material could have a host of applications as a pressure-relieving cushion for wheelchairs, mattresses, padded shoes, and other assistive equipment. Keen Mobility began developing new devices, became one of the fastest growing companies in the U.S., and saw revenues skyrocket, peaking at $24 million in 2016. "We were at the right time, at the right place, with the right technology," says Horton.
That changed in 2016. With the advent of the Affordable Care Act and increased competition from new players entering the market, Keen saw its revenues drop to $6 million by 2018, Horton says. Today the company is still the top supplier of pressure-relieving devices in the long-term care market, with $8 million in annual revenues.
sharing his message
After stepping out of the day-to-day operation of the company in 2016, Horton has been looking back on his career with a new perspective. He is writing two books, a memoir titled Live Happy (also the name of his podcast and web video series, available at livehappyshow.org), and a critique of the U.S. healthcare system and its many vested interests called Too Many Elephants.
And he continues to promote personal independence, using words rather than devices. In addition to hosting his web series, he gives as many as 20 motivational speeches a year, as well as sales and management trainings, and talks on diversity, equity, and inclusion. "If there's any niche within my speeches, it's that everyone has more potential," he says, "and threaded throughout any discussion or consulting is how to help people unlock their potential."
That's also the mission of his Incight Foundation, which he co-founded in 2004 and now chairs. The nonprofit offers grants, training, scholarships, networking, and other resources to help students, job-seekers, and entrepreneurs overcome the barriers holding them back—lack of education, mobility, poverty—"whatever is preventing them from being an independent individual."
The former grant recipient now pays it forward, an arc anticipated by President George W. Bush at a rally in Horton's hometown, just two years after Keen Mobility received VentureWell's backing. "I don't have any legs and these arms don't work well," Horton told Bush, but "we want to take the elderly community and the disabled community and give them safety, mobility, and comfort, so they can give more to society."
The President was clearly moved. "One thing you do have is a heart and a soul and desire to improve yourself," he said. "This guy is going to make it. There is no doubt in my mind."
Learn more about innovators we've supported over the last 25 years:
HandHero: life after a startup
AeroShield Materials: building a greener window
Sensatek: a childhood dream, turbo charged
The E-Team program supports dedicated science- and engineering-based student teams from across the nation in bringing their high-impact innovation out of the lab and into the market.