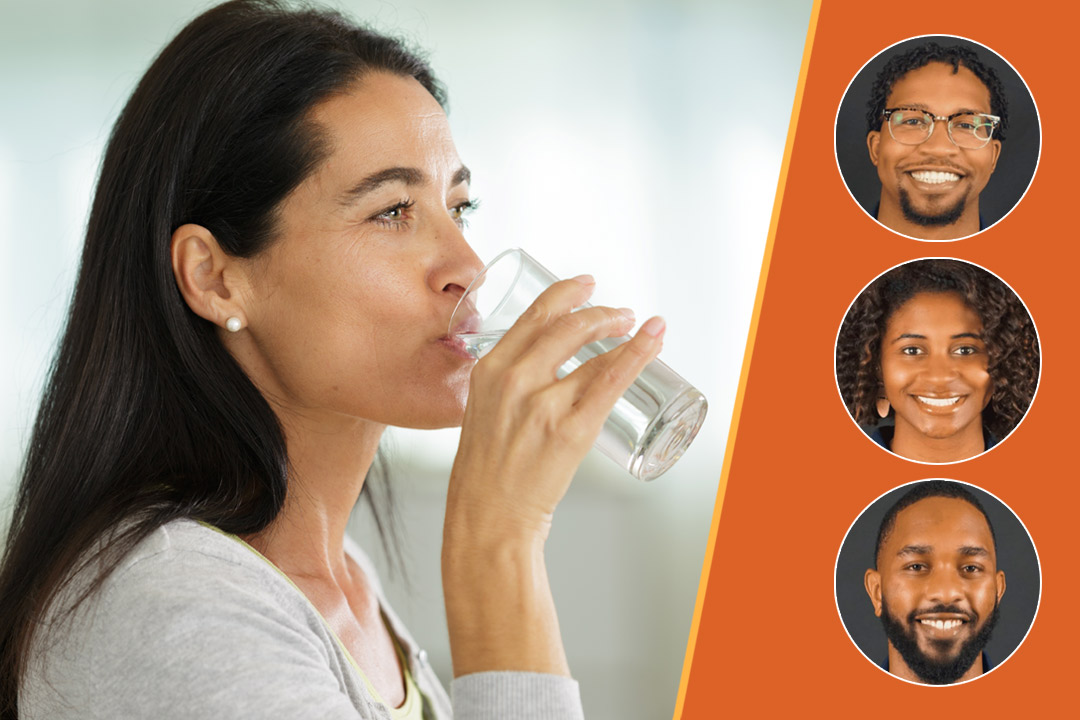 Water scarcity is a growing crisis in the United States; a study from the U.S. Forest Service found that access to water is dwindling, and that in the next 50 years, much of the United States could see water resources diminish by a third. This will severely impact those living in regions with already stretched water systems: according to another study from the U.S. Water Alliance, more than 2 million Americans do not have basic, consistent access to potable water. Water scarcity is also highly compounded by racial disparities — that same study found that African-American and Latinx households are nearly twice as likely to lack access to full plumbing as white households, and Native American households are 19 times more likely to lack complete plumbing.
To address the growing issue of water scarcity, VentureWell E-Team, Hydronomy has developed a solar-powered device that generates water from air for use in homes; it is adaptable to existing household infrastructure and produces no carbon emissions. Their current model, Hydronomy 2.0, can produce 10.7 liters of water per day and the water quality exceeds the EPA Safe Drinking Water Standards.
The three Hydronomy co-founders —Brittany Kendrick, Xavier Henderson, and Korey Salter — believe their product can help mitigate the water scarcity crisis in predominantly Black cities like Flint, Michigan and Jackson, Mississippi. In honor of Earth Day, we spoke to Korey Salter about the team's mission—and the impact the innovation and entrepreneurship ecosystem has had on making the team's vision a reality.
designing solutions for those most impacted by water scarcity
Hydronomy's journey began when Kendrick traveled to Peru as a graduate student to conduct research on water scarcity and access. When she returned to the United States, she realized that the same water security issues existed in underresourced communities domestically. There was also a national spotlight on Flint, Michigan where lead and other contaminants were found in the running water of nearly 100,000 city resident's, the majority of whom were Black. Kendrick, who is a Black woman, was inspired to create sustainable solutions that would address the water scarcity crisis and focus on those most impacted.
As she pursued a Master's of Civil Engineering at NYU, Kendrick began to work on an atmospheric water generator project, and that concept grew into Hydronomy when long-time friends Kendrick and Salter met for a brainstorming session in 2018. Salter, who is currently pursuing an MBA at American University, was instantly impressed by Kendrick's idea. "There are still communities that don't have access to clean drinking water. They rely on old utility lines pumping water with unbalanced pH levels into their homes that is coming out of the faucet brown," Salter said. "We want to help people access clean drinking water by creating a decentralized water source that can mitigate the issues of modern-day water infrastructure."
After about six months of research, Salter and Kendrick realized they needed another perspective, and invited Henderson, who had a background in aerospace engineering, to join the team. The trio began a comprehensive research campaign on water quality in the U.S. and conducted water testing in the cities they lived in: Kendrick is based in New York City, Henderson is in Orlando, and Salter is in Washington, D.C. At the same time, they were hard at work designing the prototypes of the Hydronomy water generator, and developing their business model.
Throughout their journey, the team designed every part of Hydronomy's model to meet the needs of communities that don't have access to strong water infrastructure systems, particularly communities of color. The entire system is powered by solar panels, which makes it an option even in rural regions or other areas where power and electric resources are scarce or unreliable.
"We are three Black co-founders, so we're really working for communities of color because we're from those communities. We may not have been a part of the communities that are truly suffering from water scarcity, but it's a story that resonates with us because we've been in these underserved communities, whether it be water scarcity or not having access to education resources," Salter said.
how the innovation and entrepreneurship ecosystem provided support
As is the case for most E-Teams and early-stage innovators, a strong ecosystem is crucial; to bring their vision to life, the Hydronomy team built a robust support system with university, organizational, and peer partners. The co-founders made sure to tap into university resources and develop relationships with mentors to access outside opportunities. As an undergraduate student at the University of Central Florida, Henderson met Dr. Sean Moore, the Hydronomy faculty P.I. while working in his Biomedical Science laboratory, and Dr. Moore remains a mentor to Henderson and the team today. Hydronomy also joined the innovation program at American University, where Salter is currently a graduate student, and has received invaluable support from the faculty there.
"We have professors that we connect with on the regular that help us get ready for SBIR rounds of funding. We're also interested in partnering with the Defense Advanced Research Projects Agency (DARPA) and there's another professor at American University who has submitted multiple proposals to DARPA," Salter said. "So, when we're filling out grant applications, we can go to these folks and say, 'Hey, are we on the right track?' because they have been a part of the process before and they've seen teams go through the process of submitting a proposal and receiving funding."
In addition, they've joined incubators like Communitas America, a Bronx-based accelerator program which supports entrepreneurs creating social change, and For Climate Tech's innovation program. Kendrick is also a member of Black Women Talk Tech, which hosts the Roadmap to Billions conference for Black women founders. These connections and communities have provided opportunities for peer support and have created pathways to future partnerships with other ventures working in sustainability and water infrastructure.
Hydronomy was a part of the Winter 2021 cohort of VentureWell's E-Team Grant program, and they were also recently featured at the OPENminds Showcase at VentureWell's annual OPEN conference. VentureWell's support — particularly the E-Team program — was crucial to scaling out Hydronomy's business and customer development plans.
"VentureWell really kicked us off this year. The Pioneer program really helped us establish our value chain and our flowchart, " Salter said. "They also helped us establish our competitive analysis. We were always aware of the different competitors in the market but in the VentureWell program, we really had a deep dive on what the difference was between our product and their products."
Hydronomy's journey illustrates a key takeaway described in our report, The Multidimensional Impact of Entrepreneurial Support Programs: that the community, technical support, and resources of the innovation ecosystem are absolutely essential to growing an early-stage venture. The entrepreneurial ecosystem is vast and there are resources available for social impact ventures of all kinds to develop their innovations and their business models hand-in-hand, and launch solutions that could have world-changing impact.
In an era of climate change and increasing water scarcity, reliable access to potable water is one of the most urgent issues of our time. Hydronomy is meeting that challenge with a mission to support the most impacted communities and a vision to reliably provide millions of people across the country with clean water.
Learn more about navigating the obstacles and opportunities faced by water hardware startups here.
The E-Team program supports dedicated science- and engineering-based student teams from across the nation in bringing their high-impact innovation out of the lab and into the market.