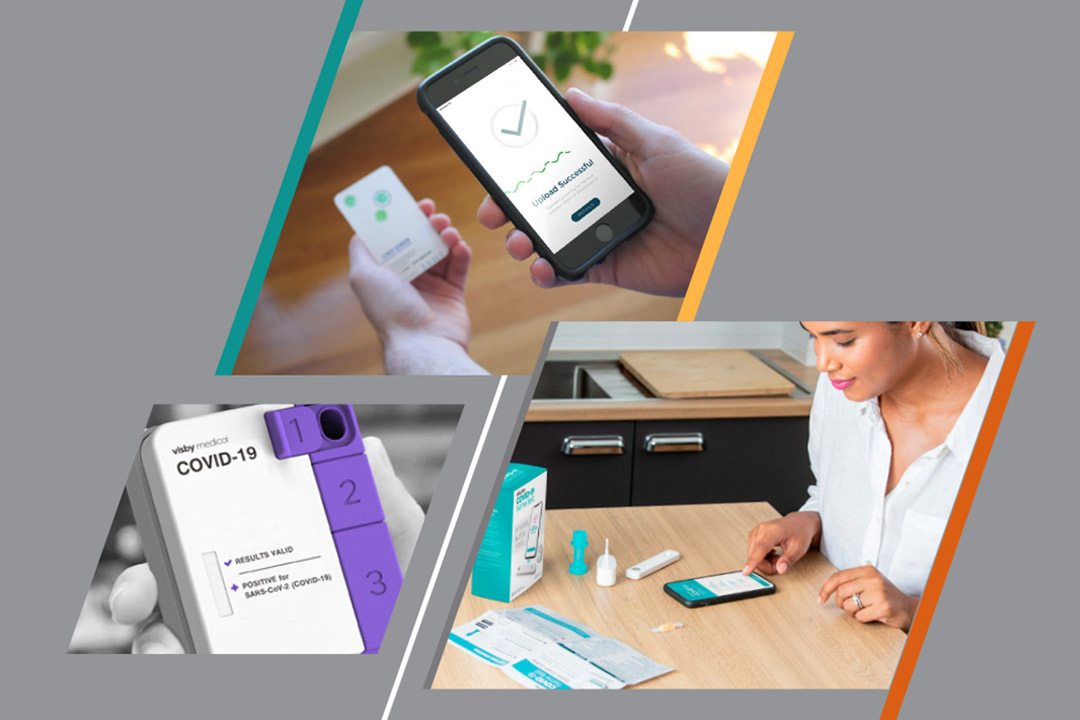 Scientific innovation has proven to be vital in the global effort to save lives during the COVID-19 pandemic. COVID-19 testing, once extremely limited, has been expanded to over 2 million tests per day in the U.S. through central laboratory testing, point-of-care testing, and at-home testing. Through the collective efforts of researchers, scientists, and innovators across the world, millions have been fully vaccinated against the virus so far, and in the U.S., an estimated 1.3 million doses are being administered every day. Though the breakthrough vaccines brought hope for an end to the pandemic, there is still an urgent need for accessible and accurate testing technologies, particularly for those most vulnerable to and/or disproportionately impacted by COVID-19.
VentureWell has long supported medtech innovators creating new solutions to health challenges across the world. Last spring, the National Institutes of Health (NIH) partnered with VentureWell to establish the Rapid Acceleration of Diagnostics (RADx®) initiative, which supports scientists and organizations working to increase the nation-wide COVID-19 testing capacity. The VentureWell mission is grounded in the principle that entrepreneurial support models that identify and meet the needs of STEM entrepreneurs can help launch groundbreaking technologies from the lab into the world, as we recently described in our 2021 Big Ideas article. NIH has awarded 27 companies contracts, providing scientific innovators with the funding and technical support necessary to develop and scale direly-needed diagnostic innovations. 
In celebration of National Inventors' Day (February 11), we are highlighting three RADx-funded teams who are making a difference in ending the COVID-19 pandemic.
Ellume USA: bringing COVID-19 testing to at-home settings
Ellume USA is a biotechnology company that uses novel fluorescent immunoassay technology to create innovative digital diagnostics products that provide faster, more reliable, and more accurate results. Ellume CEO Dr. Sean Parsons founded the company after he recognized the need for better rapid tests while working as an ER physician during the 2009 swine flu pandemic. In October of last year, Ellume received $30 million in the third RADx announcement to accelerate the clinical testing and manufacturing of three COVID-19 antigen tests.
"We are working intensely to expand access to fast, accurate, and affordable testing for use in communities across the USA, and this funding enables significant acceleration of our efforts," said Dr. Parsons in an announcement about the RADx award.
In December, Ellume was the first company in the country to receive emergency use authorization from the U.S. Food and Drug Administration (FDA) for an over-the-counter COVID-19 antigen test. The test, which uses Bluetooth technology in conjunction with a smartphone app to analyze results, does not require a prescription, can easily be used at home, and returns results to users in 15 minutes with a 96% accuracy rate. In an interview with CNBC, Dr. Parsons said he expects the tests to be available as soon as February in major drug stores across the country.
Over the course of the year, Ellume plans to rapidly scale up production and distribute millions of tests per month; they recently announced a $231.8 million deal with the U.S. federal government to provide the U.S. with 100,000 tests per month. They will also launch ellume·lab, a digital diagnostics platform, which will enable healthcare professionals to quickly and efficiently run COVID-19 tests in high-volume locations like airports and stadiums.
Mammoth Biosciences: utilizing CRISPR to accelerate COVID-19 testing
Mammoth Biosciences is a biotech company that discovers new applications for CRISPR gene-editing systems. Last summer, they received funding through the RADx program to scale up a COVID-19 testing method that uses CRISPR to identify the virus in patient samples. Their technology, the SARS-CoV-2 DETECTRTM, can enable one machine to automatically process 1,500 tests in just 8 hours without significant technician support, a significantly faster rate than the PCR system. In October, MammothBiosciences partnered with MilliporeSigma and Hamilton Company to manufacture the high-throughput systems.
"CRISPR has the potential to help curb the COVID-19 pandemic and relieve the testing shortage," said Trevor Martin, Ph.D., co-founder and CEO of Mammoth Biosciences in a statement last July after receiving the NIH award. "We are honored to receive this support for our CRISPR-based platform to bring high-throughput, accurate testing to more people, at a time when it's needed most."
This year, Mammoth Biosciences intends to scale testing capacity to over 100,000 per day. The company also recently announced that they've received funding to create adaptable CRISPR-based diagnostics systems for the U.S. Department of Defense, including a handheld device capable of detecting multiple pathogens simultaneously, and a clinical platform that can scan for over 1,000 pathogen targets at once.
Visby Medical: creating portable COVID-19 tests with 30 minute results
Based in Silicon Valley, Visby Medical is a medical technology company that designs portable diagnostics products focusing on sexual health. They received $19 million dollars through the Antimicrobial Resistance (AMR) Diagnostic Challenge prize from the NIH and Biomedical Advanced Research and Development Authority (BARDA) for their portable, palm-sized PCR device that can detect gonorrhea and identify potential treatments in under 30 minutes. Last year, Visby pivoted the technology to test for COVID-19, developing a portable device that provides rapid and accurate results without the need of further lab analysis. In September, they received emergency use authorization from the FDA, and in October, the NIH awarded an additional $10 million to Visby to help them expand production of their tests to 10,000 a month.
"The COVID-19 crisis has shown that we don't just need more testing; what we really need are accurate results delivered quickly. If you care about accuracy, PCR is the right way to test for COVID." said Dr. Adam de la Zerda, founder and CEO of Visby Medical in a statement. "We are excited that Visby Medical's Personal PCR device will now provide rapid and accurate testing to lab personnel fighting the pandemic at the frontlines."
In early February, Visby announced that it had received an additional $12.3 million award from BARDA to accelerate the development of their combined Flu-COVID PCR tests. The test will be able to detect Influenza A, Influenza B, and COVID-19, all in one device, with the same speed and portability as their other portable testing devices.

During the COVID-19 pandemic, groundbreaking scientific innovations were launched at a scale and speed never before seen. These inventions were made possible by the robust support provided by ecosystem programs like the RADx® initiative across the country and world. Providing early-stage science innovators with expansive funding and technical support channels can make a material difference in the challenges we face ahead. 
To learn more about how to build and fortify entrepreneurial support programs, consider attending our OPEN conference in March.