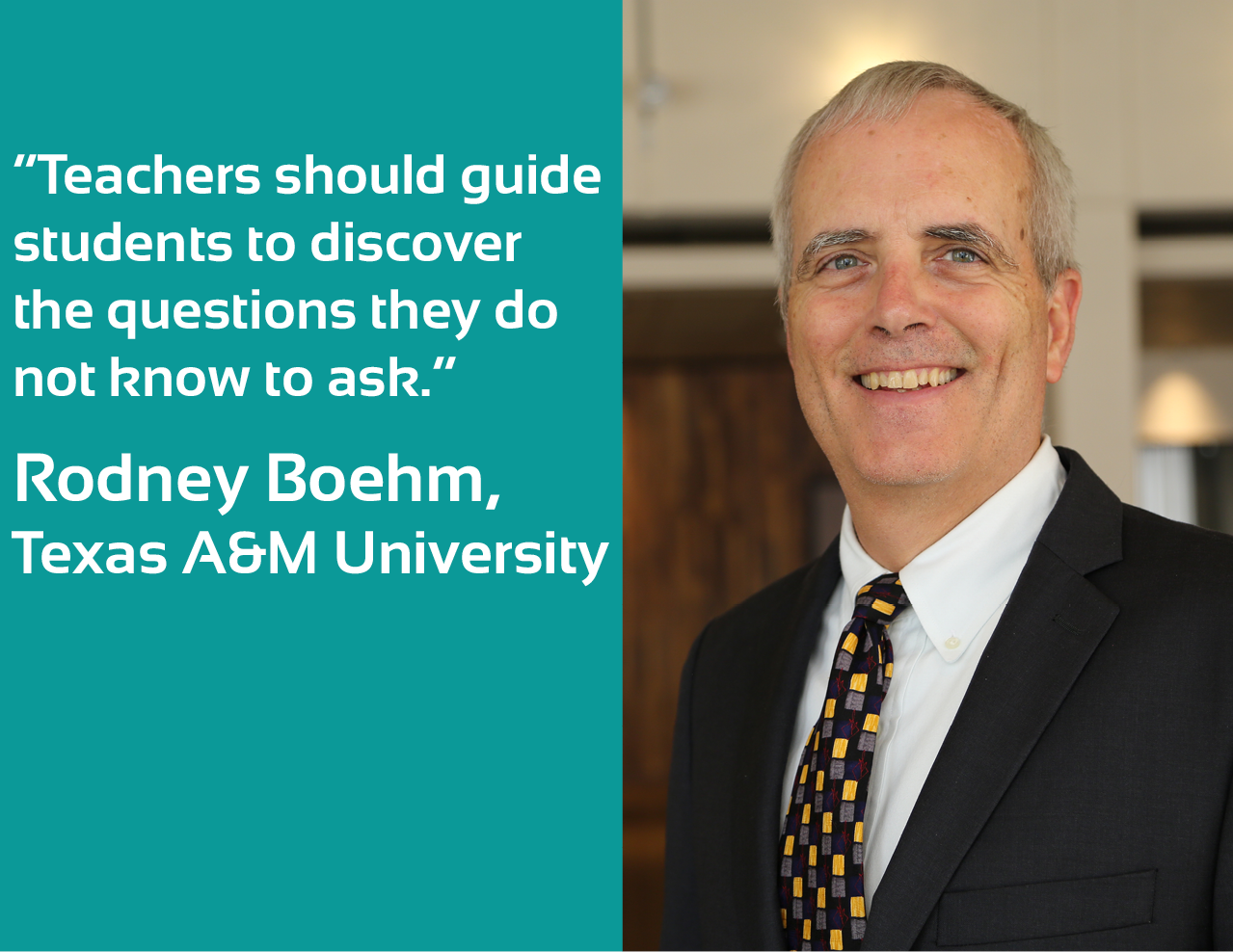 This week we continue our series highlighting educators within the VentureWell network that are doing good work—faculty members that are challenging norms in higher education and inspiring students to impact the world through invention.
This month's faculty spotlight is Rodney Boehm, Director of Engineering Entrepreneurship and an Associate Professor of Practice in the Texas A&M University College of Engineering. He uses his technical and business experience to develop and run innovation and entrepreneurship (I&E) programs for the Engineering Innovation Center. Boehm received a VentureWell Faculty Grant to help launch a post-program component to Aggies Invent that supports student teams working to commercialize their products.
How did you get interested in teaching entrepreneurship?
I was involved in the technology industry for 35 years before becoming a faculty member at Texas A&M University. Much of my time was spent in a large corporation, but I also helped lead a startup for some time. I saw the value of being entrepreneurial in both environments. Having a laser focus on creating customer value is critical whether you are part of a large multinational company or a single-person office. I wanted to help others avoid the same mistakes that I made along the way.
What is your favorite thing about teaching?
Seeing students light up when their idea comes to life. Nothing can replace the feeling of empowerment when a student has an opportunity to see their idea become a reality. They realize that they have the power to create, and that realization inspires them to continue. I have seen students transform themselves from lacking self-confidence to taking control of a room with the power of their idea. They come out of their shell and blossom before your eyes. Seeing that transformation is what teaching is all about.
Where would you like to see the field of entrepreneurship in five years?
While being an entrepreneur is now in style, many students don't fully understand what entrepreneurship really means – or what it takes to be a successful entrepreneur. It is critical for educators to provide students with the skills to understand value creation, recognize opportunities, and identify solutions to problems.
What traits make for great teachers, advisors, and mentors?
Teachers, advisors, and mentors should guide students to discover the questions they do not know to ask. We must provide the curricular training in subjects that they did not know they needed. We must challenge them with direct questions in order to discover their ability and understand why their solution would make a difference to their customer. Students learn the most from direct questions because we are not providing them with the answers; they are discovering the techniques to solve problems on their own.
What books on entrepreneurship and innovation have you been reading lately?
Now You See It: How Technology and Brain Science Will Transform Schools and Business for the 21st Century by Cathy Davis. Her book explores the science behind how perceptions shape the way we see the world. I am always trying to identify my blind spots – a common culprit of misinterpretations. Discovering blind spots improves our ability to perceive problems and solutions more accurately. As Davis points out, it helps to have someone else show us what we are missing. To me, this is what entrepreneurial education is all about – looking for opportunities that others don't see.
What's your most useful classroom activity or assignment?
Getting students out of the building. Nothing shapes a student's perception about their idea or market better than talking with a customer. Most students are uncomfortable when they start a conversation with a potential customer. Once they are comfortable with the skill, it transforms them and their way of thinking.