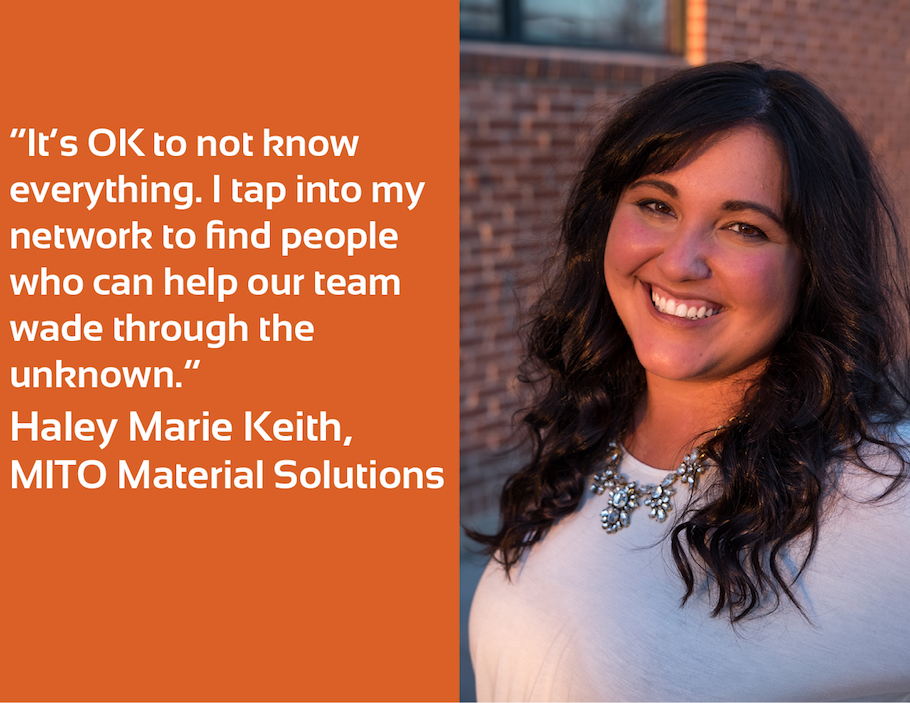 An innovator's journey from idea to market can be challenging and complicated – but also rewarding. Our Innovator Spotlight series explores how inventor-entrepreneurs in our network have evolved since their early beginnings. Our goal is to share key learnings and best practices with early-stage science and technology inventors embarking on a path of innovation and entrepreneurship.

Our third Innovator Spotlight is Haley Marie Keith, President of Business Development of MITO Material Solutions. Keith is an E-Team grantee and ASPIRE participant. MITO Material Solutions developed a revolutionary nano-filler additive that can toughen fiber-reinforced composites by 100%, preventing the material from fracturing under stress and causing severe mechanical failures during a machine's lifetime. The company was recently awarded a National Science Foundation (NSF) Small Business Innovation Research (SBIR) grant for nearly $225k to conduct research and development on their innovation. MITO Material Solutions expects to launch its first commercial product in late 2018.
What was the inspiration behind your innovation?
Oklahoma State University material science professor, Dr. Ranji Vaidyanathan was investigating a way to toughen composite materials with various types of nano-additives, which are microscopic particles that catalyze chemical reactions in materials. However, he struggled to optimize the formula that would increase durability without sacrificing other important mechanical properties in the composite.
During a NASA EPSCoR grant, a team of students – advised by Dr. Vaidyanathan at the Helmerich Research Center – combined different nano-additives together. The result was a cost-effective, efficient way to deliver nano-additives into composites that increased toughness of the material. About a year later, I was introduced to the research through a class as part of my MBA. I immediately became inspired by the potential this innovation could have to positively impact industries by making composites lighter, tougher, and more available than ever before.
How has your mission evolved?
Our mission has always been to solve material-related industry challenges with nano-sized solutions. During our customer discovery interviews, professionals in several industries quickly realized the value of our technology. Their feedback prompted us to elevate our mission from solving industry problems to ushering in a new era of manufacturing. Customers throughout the value chain were excited about toughening composites because it will vastly prolong the life of a machine part. Subsequently, we discovered that our additive will allow manufacturers to use less material so they can lighten composites. By utilizing less fiberglass and carbon fiber material, our customers will reduce costs and landfill waste, and improve the environment by reducing greenhouse emissions. Therefore, our broader mission is to create additives that enhance the durability and longevity of composite materials, thereby creating a cleaner manufacturing environment and less environmental harm over a component's lifetime.
Knowing what you know now, what would you have done differently?
We definitely would have prepared more in our down time. After attending the VentureWell ASPIRE program, we were given a list of things that investors want to see in a startup and administrative things we should have for good practice and measure. I called it my "Never Not Be Working" list. We checked off a few things from the list after the program, but several months later we hit a very rough patch involving a licensing obstacle. That derailed a lot of progress we had made. Fortunately, we overcame that hurdle, but we often feel like we are playing catch up, both on the business development side and on the technology side.
Throughout your journey, what's been your most valuable skill?
As a team, I think our ability to effectively communicate with one another and with stakeholders has been a vital skill. I am the only non-technical founder on my team, and I am proud of that because my background allows me to communicate our technology effectively to almost any audience. However, I absolutely would not be able to do this unless my team could clearly explain the technical jargon to me. Together, we work as a cohesive unit to explain and deliver the value of our technology to stakeholders. I think this skill was instrumental in helping us take home awards from three national business plan competitions, which allowed us to self-fund our venture until we were able to raise our first round of investment capital.
What advice do you have for other student inventors?
I believe the key to being a successful student entrepreneur is a mix of these three things:
Be Confident

Stay Coachable

Seize every opportunity
First, know your strengths and the value you bring to your company and your innovation. No one knows your invention better than you because no one has thought about it more than you. That confidence will come in handy as you find yourself discovering what you do not know.
Second, it's OK to not know everything. It took some time to realize that. Now I tap into my network to find people who can help our team wade through the unknown. Not only is it important to ask for help, but it is imperative that you remain coachable throughout your entire entrepreneurial journey. Whether you're talking to a mentor, advisor, judge, customer, or team member, every critique is valuable to your success.
Lastly, student inventors and entrepreneurs have more opportunities to find success than ever before. Students have access to multiple environments where it is OK to learn, fail, and try again. Therefore, my advice is to seize every opportunity to network, apply for every business plan competition and grant, attend educational events that foster professional growth, and practice pitching to anyone who will listen. This will help you become an effective communicator, an adaptable inventor, a strong leader, and a successful entrepreneur.
What's next for you?
In addition to receiving our NSF SBIR Phase 1 Award, we are closing our first round of investor funding soon. In the next few months, we plan to scale the technology and work hard on the commercialization of our product.