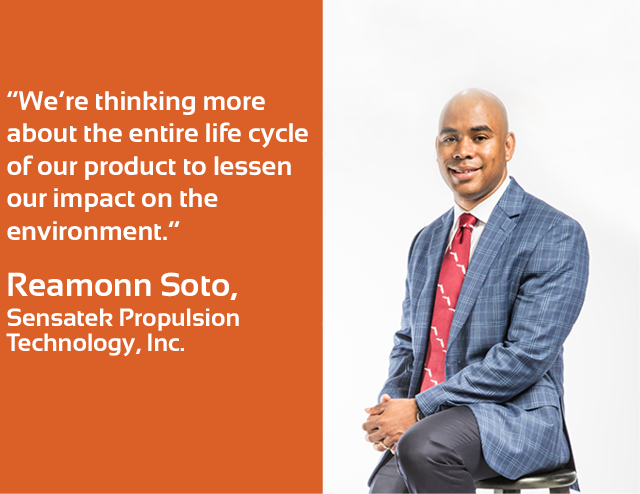 An innovator's journey from idea to market can be challenging and complicated – but also rewarding. Our Innovator Spotlight series explores how inventor-entrepreneurs in our network have evolved since they started their journey. Our goal is to share key learnings and best practices with early-stage science and technology inventors embarking on a path of innovation and entrepreneurship.
Our fifth Innovator Spotlight is Reamonn Soto, President of Sensatek Propulsion Technology, Inc. Soto is an E-Team grantee and participated in the ASPIRE and I-Corps programs. Sensatek is developing a wireless monitoring system that can withstand engines' high combustion temperatures, providing near-real-time, accurate, and actionable data that can increase efficiencies and the life of engine parts.
What was the inspiration behind your innovation?
The turbine engine used to power my neighborhood had overheated and failed. It cost $3 million to repair. The city also lost power generation revenue for 10 days and had to buy back power off of the energy grid. Around the same time, while in graduate school at Embry-Riddle Aeronautical University, I learned that parts on a pulse detonation engine failed at high temperatures. I also discovered that high-temperature wireless sensors comprised of polymer-derived ceramics could withstand high temperatures. My personal experience, and those discoveries in grad school, led to the formation of Sensatek.
How has your mission evolved?
The E-Team program helped us incorporate sustainable design principles into our product development. We're thinking more about the entire life cycle of our product to lessen our impact on the environment. We've already identified ways to use recycled turbo-machinery, which would otherwise end up in landfills.
Knowing what you know now, what would you have done differently?
Initially, we focused a lot on value propositions and customer discovery. In hindsight, we should have also focused on how to work with partners, identify resources, and define cost structures. We learned many of those critical business aspects as we formed the venture, which was time consuming.
Throughout your journey, what's been your most valuable skill?
Humility. Entrepreneurs receive constant criticism and feedback from customers and stakeholders. It takes a great deal of humility to get through the critical information-gathering process.
What advice do you have for other student inventors?
Some athletes would say that the more you sweat in the gym, the better you will perform on the field. Learn as much as you can during the initial business development phase. Once real money is involved, customers, investors, and stakeholders may not be as forgiving when avoidable mistakes occur.
What's next for you?
Sensatek will continue to work with Power Generation and Aerospace OEMs in becoming the choice for monitoring temperatures in engines. We also plan to conduct pilot tests on gas turbine turbo-machinery and full-scale instrumented rigs. We're currently raising $1.5 million to deliver three units, and applying for NSF SBIR Phase 2 and NASA SBIR Phase 2 Awards.
Watch Sensatek Discuss the Benefits of the E-Team Program
Read Other Installments from the Innovator Spotlight Series
Katya Cherukumilli, Global Water Labs 
Haley Marie Keith, MITO Material Solutions
Aidan Mouat, Hazel Technologies