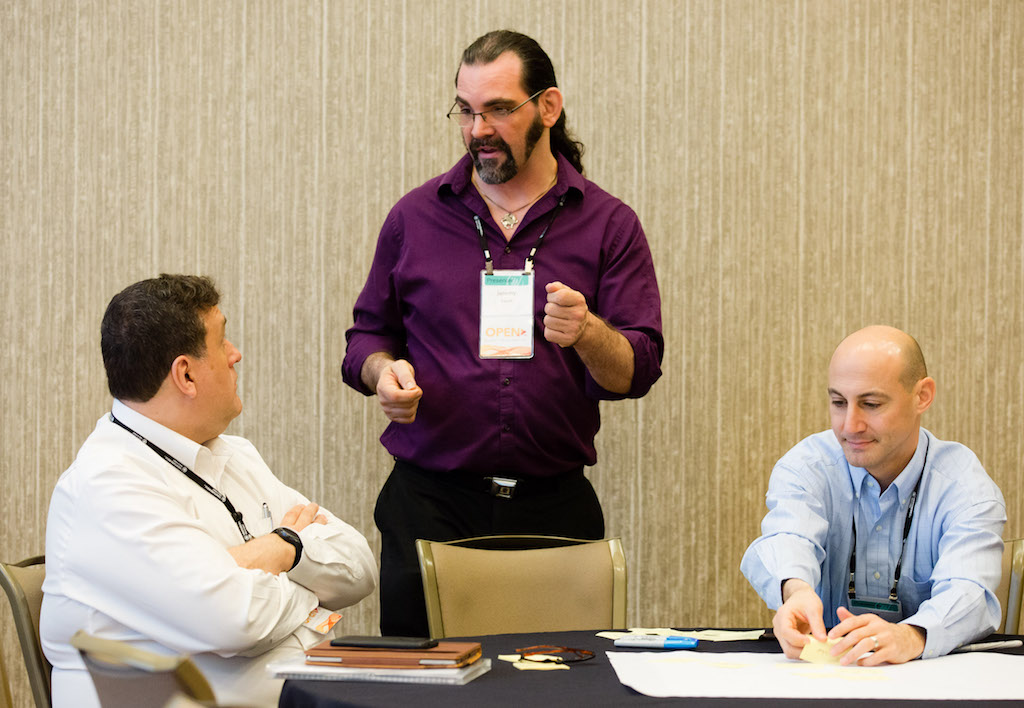 We updated this article to include several new content ideas to integrate into courses. The article was published originally on August 28, 2018.
Engineering professor, Dr. Adeeba Raheem from The University of Texas at El Paso, is facing a complicated challenge: how to incorporate sustainable design principles into existing STEM coursework. "It's difficult to naturally weave sustainability into an engineering course with rigid requirements," she said.
She's not alone. Raheem is part of our cohort of 2018 Faculty Grants recipients working to create or improve courses and programs that support students to invent green. During a recent workshop to help our grantees incorporate sustainability principles into the classroom, all of the participants echoed Raheem's concerns. One grantee noted, "In addition to having very little wiggle room to add new content, we don't have the luxury of creating a new elective course on sustainable design." Others indicated that the steep learning curve of sustainability is a heavy lift to add to their already packed schedules.
In response to the growing need for models of sustainability-related coursework, we're providing resources – in addition to grants and training – to make it easier to adopt inventing green principles into I&E curriculum. We recently provided support to sustainable design strategist Jeremy Faludi to create the Tools for Design and Sustainability, an online guide to help student inventors understand and apply sustainable design methods into their work.
The resource includes a section outlining how the content can easily be incorporated into curriculum. Below is a highlight of content from the Tools for Design and Sustainability that can be integrated into existing courses on engineering and physics, industrial and product design, and business.
Teaching Green: Engineering and Physics Courses
The Accreditation Board for Engineering and Technology (ABET) requires engineering programs to include environmental and social sustainability as real-world design constraints in curriculum. The Tools for Design and Sustainability offers several easy drop-in options to address these requirements.
Teaching Friction
For introductory physics classes that cover friction, the Energy Effectiveness section offers a short video called Reduce Friction Energy Losses In Design. Use the video to start a discussion on the topic, or ask students to watch it on their own and present solutions to problems they're working on in the course.
Power vs. Energy
To help physics students understand the difference between power and energy, assign the Energy Effectiveness Exercise, Calculating Energy Priorities, to show that in an everyday microwave oven, the amount of energy it uses sitting idle may actually be greater than the energy it uses cooking.
Reduce Material Use
If you're teaching a mechanical engineering class on statics, all of the content from the Lightweighting section is useful. Use the Lightweighting exercise to help students brainstorm ways to reduce material use in a product.
Measuring Sustainability
There are many ways to show students how to measure environmental and social costs and benefits of their invention. The Measuring Sustainability section highlights different systems to help students understand the impacts of their design choices. Consider asking students to list the advantages and disadvantages of each system to determine the best one to use.
Teaching Green: Industrial and Product Design Courses
Historically, sustainability was an afterthought in design courses. All of the Tools for Design and Sustainability content can be easily incorporated into industrial and product design courses, making the concept a core curricular focus.
Studio Classes
Replacing high-environmental-impact materials with greener options is a key activity in sustainable design. Use the Swapping in Greener Materials exercise to help your students brainstorm material substitutions to make their product more environmentally-friendly.
Conceptual Design Classes
For user experience coursework, the Changing Lifestyles exercise can encourage your students to integrate persuasive design that changes user behavior towards more sustainable lifestyles.
Whole System Mapping
Systems mapping can help designers understand how elements of their product are interrelated, allowing them to identify opportunities to make their invention more sustainable. The Whole System Mapping section outlines a four-step design method that illustrates how to map the components and life-cycle of your product
Teaching Green: Business Courses
Sustainability principles aren't just good for the environment; they can help a business stand out in a crowded market as well as positively impact the bottom line. Several components of the Tools for Design and Sustainability can help weave sustainable thinking into core business curriculum.
Supply Chain Management
The Finding Greener Materials exercise is a practical addition to supply chain management classes, teaching students how to source materials that optimize the sustainability of the whole system.
Energy Economics
Energy use becomes a problem when it drains resources and pollutes. Use the Energy Effectiveness exercise and example to help your students understand how to reduce energy impacts.
Design for Lifetime and Sharing
Designing for product lifetime can mean designing for:
– a long life,
– an environmentally responsible afterlife (disassembly and recycling),
– repair and upgrade.
Use the Design for Lifetime and Sharing content and exercise to help students brainstorm business models that will help them design a product with a longer life cycle.
There are many ways to integrate sustainability into I&E coursework. The Tools for Design and Sustainability offers a useful guide to help you easily embed green concepts into a wide variety of courses. Access the guide here to start incorporating sustainable design thinking into your courses.
Watch a Recording of the Teaching Green Webinar
Jeremy Fauldi's webinar, Teaching Green: Integrating Sustainability into Your Curriculum, highlights ways to weave sustainability into existing courses on engineering and physics, industrial and product design, and business.
Visit this page for resources and information to help you integrate environmentally responsible principles into science and engineering curriculum.
VentureWell Course and Program Grants provide up to $30,000 to faculty or staff with innovative ideas to help students hone the skills needed to create novel STEM-based inventions and bring their ideas to market.