In today's university libraries, you may no longer find librarians shushing groups of huddled students. In fact, university libraries are increasingly becoming where the noise happens—housing makerspaces and co-working labs, hosting events and workshops, and providing a central hub for students to collaborate and innovate.
It's no wonder, then, that innovation and entrepreneurship programs are collaborating with their university libraries, using their terabytes of information and resources to help students launch the next big thing. We asked three thought leaders—librarians and innovation and entrepreneurship faculty members—about how the libraries on their campuses are supporting entrepreneurship education programs, and what they see as the future of university libraries.
Kent State University
When it came time for Kent State University (KSU) to develop LaunchNet, a new cross-campus program that promotes students' entrepreneurial ventures, Julie Messing says it was essential to have librarians at the table. LaunchNet is housed on the second floor of KSU's main library, which now dedicates only 25 percent of its space to holding books.
"Our missions aligned very well, because LaunchNet is all about collaborative innovation and instilling an entrepreneurial mindset," Messing says, who is the executive director of Entrepreneurship Initiatives at Kent State and a VentureWell Faculty Grants recipient. "We wanted to transform our library from a place where students go for quiet study and reading to having it be a sandbox to foster innovation."
Messing says the library has been evolving over the last 10 years to become that sandbox. KSU's library directs a multipurpose makerspace called the Spark Innovation Studio and houses presentation practice rooms, a multimedia studio, a co-working space called The Fridge, and six Media:scape pods where students can share content from their laptops. All of these resources, Messing says, allows innovation and entrepreneurship students to take their ideas and ventures to the next level.
Johnson C. Smith University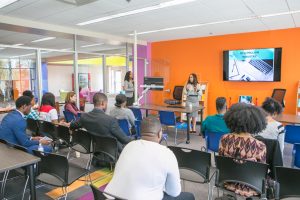 Last year, librarian Rosalind Moore applied for a grant to establish a Library Entrepreneurial Research Hub (LERH) at JCSU's James B. Duke Memorial Library. She succeeded, and the library now has a dedicated space to support the growing entrepreneurship initiatives on campus.
Moore had long been watching the trend in university libraries to embed entrepreneurship into their offerings, and she thought it was vital for JCSU to do the same. LERH offers entrepreneurial research and community business workshops—like a Customer Discovery Research Lab for prototyping and testing ideas—research guides for business and entrepreneurial research, and new computers, a presentation TV screen, and whiteboards for collaboration.
"University libraries are always working to remain relevant. Becoming a space where students can play and innovate does that," Moore said. She also started Consultation Tuesdays, which allows students to pick the brains of local entrepreneurs and business owners. To create this programming for students at LEHR, Moore has collaborated with JCSU's director of STEM and a faculty member in the entrepreneurship program.
University of Michigan
Students at University of Michigan don't call the Duderstadt Center the "library"—they call it "the Dude." That's because it's now a hip central hub for student activity and innovation, a transformation that's been underway for the last decade.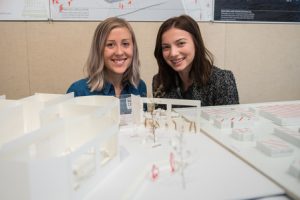 "Our library has been very progressive about realizing that, in today's world, stacks of books is not really a hub of learning and innovation," said Jonathan Fay, the Dixon and Carol Doll Executive Director of the Center for Entrepreneurship. Fay is also a co-principal investigator with the I-Corps Midwest Node. 
The building now provides a "nexus for creative and technological innovation across disciplines." The Center houses a self-service media lab called GroundWorks, design labs, and a makerspace called WorkBench, and several music and video studios. 
The offices for the Center for Entrepreneurship are also on the third floor of the Center, which Fay says was purposeful. He and other faculty members are training their innovation and entrepreneurship and business students—and themselves—to mine the library for its resources, and to consult with expert librarians.
"We're really making the students aware that librarians are this secret weapon that nobody knows about, but are absolutely amazing at digging up information," he said.
Leveraging Library's Resources
While schools are embracing innovation on campus, libraries, too, are realizing they need to innovate to stay relevant. At the same time, faculty and students in innovation and entrepreneurship are learning how and when to best engage their libraries to maximize their resources.
"Even those that teach entrepreneurship—we're not that educated on how librarians can help us find information," Fay said. "We have to integrate that directly into the classes so students know the library is a resource. I think working with the library faculty to educate the educators on what the libraries can do, and then have that trickle down to the students."
Moore at JCSU suggests that entrepreneurship programs invite librarians to collaborate at the beginning of a project or program. "Oftentimes, the librarians are invited after something is built," she said. "We're an essential resource for anything being developed on campus. When we're at the table, then we can start creating new resources or new ideas that can support any program or accelerator. And a lot of times departments are paying for something that the library already has in house."
No longer places for quiet, solo research and study, university libraries are increasingly serving as hubs of action and intense creativity, boosted by their unique position as campus-wide spaces used and owned by everyone. Messing believes the synergy between libraries and innovation and entrepreneurship programs is just the beginning. "I think it's going to lead to a deeper level of engagement, and hopefully build more bridges across the university," she said.
Featured Image: Student teams participate in the Kent State University Mini Maker Faire 2018 at LaunchNet. Image credit: Kent State University