Course & Program grantee Taryn Mead offers advice for faculty seeking ways to integrate waste stream innovation into their courses.
In natural ecosystems, there is no waste. A material cast off by one organism (fallen leaves from a plant, say) is a resource for others (food for insects, fungi, and microbes). It's a pattern that educator and biomimicry expert Taryn Mead believes should also be the goal in human economies. With support from a VentureWell Course & Program Grant, she developed an entrepreneurship and design course for her students at Western Colorado University (WCU) that's aptly named "Waste=Food: Innovation for the Circular Economy in Rural Communities."
The course was both theoretical and experiential. Students first studied concepts such as biomimicry, which employs design solutions inspired by nature and the methodologies of sustainable design and innovation. Then they turned their attention to the local waste stream of the state's Gunnison Valley region, forming teams to devise a product—and develop a business—from what others in the rural community had discarded.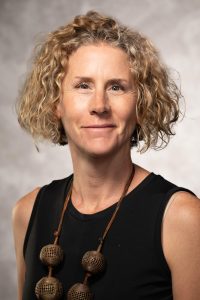 One team designed a dog bed stuffed with unwanted clothing. Another worked with a material thrown away all too frequently in the region's mountain towns: old, deflated whitewater rafts. "Two of the people in the class were boaters, and they looked at how to make a satchel," Mead reports. "They called it the Sunny Gunny Satchel." That team won the end-of-class pitch competition, earning a chance to develop the idea at Gunnison County's business incubator, the ICELab.
Mead, at the time a professor in WCU's School of Business and School of Environment and Sustainability, was herself an undergraduate biology major at WCU before earning her doctorate in management from the University of Exeter. After teaching her course in fall 2020, she left WCU for the University of Arkansas, where she's now assistant professor of Product Design, Innovation, and Management at the Sam M. Walton College of Business.
She offered the following tips and advice for other educators interested in developing a course similar to "Waste=Food."
Know your local waste stream and what opportunities it might present.
The more waste options for students, the better their chances of finding something with upcycling potential. Years before she taught her class, Mead started a spreadsheet of non-recycled materials she had come across in the Gunnison Valley region. For another class, she had students add their discoveries to the sheet. Having that list proved helpful for her "Waste=Food" students, allowing them to consider materials they might not have known about. "Skis—there's no recycling stream for skis. Number 5 plastic. Nobody can recycle that. Beetle-kill trees in the forest. There were hundreds of things," she recalls.
Balance lectures with field trips, class speakers, and workshops.
For the first half of "Waste=Food," Mead presented units on key sustainability concepts such as "nature-inspired innovation" and "systems of design, production, and consumption." The second half of the course was project-focused, with in-class activities—customer discovery exercises, whole systems mapping, and pitch-deck development—to assist the teams in developing their final project. "The goal was to develop a business model canvas and utilize that as a framework to re-assimilate waste and create value," she explains.
As an inspiring real-world complement to the academic work, Mead scheduled in-class visits from local upcycling entrepreneurs and representatives from the state's circular-economy incubator, and also arranged a field trip to upcycling businesses in Denver. Students would normally prototype their ideas in the WCU makerspace, but that was closed due to the pandemic. As part of her Course & Program Grant, Mead received funding for supplies so her students could make low-fidelity prototypes elsewhere.
Strive to encourage a mix of skills and disciplines for each student team.
Mead allowed her students to self-select their teams, which led to some imbalances in skill sets. "If I were to do it again, I would be more strategic about incorporating art students or engineering students," she notes. Mead instructed students to make sure there were at least two different majors on each team. She would now take that further, requiring that each team "had someone who was in a more hands-on discipline."
"I really think that business has an important role to play in solving environmental problems," Mead says.
Similarly, Mead felt that her class benefited from academic diversity. "I had it cross-listed between biology, environment and sustainability, business, and honors," she says. "That enabled me to offer upper-division course credit across different majors." One caveat: The course may not be appropriate for younger students. Mead allowed sophomores to sign up, "and they weren't quite there yet," she said. Students should be able "to assimilate a lot of disciplines in order to get their heads around a project," which proved a challenge for her lower-division students.
Mead's experience teaching in both the School of Business and the School of Environment and Sustainability helped her draw students from both. "I really think that business has an important role to play in solving environmental problems."
Share and return to a set of class values.
Mead developed a set of class values, such as "Embrace ambiguity" and "Always act with integrity," which she shared and revisited often with the class. These proved helpful when students were struggling with their projects. "Many people had never tried to do anything like this before. So aligning around the intention of the class, and the spirit that we wanted to have with it, was really valuable for them," she explains.
Help the teams manage their time.
Mead's teams had trouble finishing their projects in one 16-week semester. While she did have students create a timeline of their projects, she suggests having them focus even more on creating a product roadmap. "I think they need more structure to be able to think about solving the problem and to actually get something built."
To provide feedback along the way, Mead held review sessions with the teams and had teams review each other in shared sessions.
Consider taking a break from the classroom.
To help remind students of the larger principles informing her class, Mead led an overnight camping trip to a nearby wilderness area. There, she presented a biomimicry workshop similar to what she has offered as a consultant, teaching her students how to observe nature's solutions to design problems. Being in a new and inspiring environment and learning from natural systems proved an effective way "to hit the reset button," she reports. "I wanted them to be able to understand the principles of observing nature through a biomimicry lens, to be able to think differently about the problem space and think differently about the potential solution space."
That approach—and the idea that waste can indeed equal food—can leave a powerful impression, Mead reports. "A student recently emailed me and said: 'That course changed the way that I thought about my career. I am trying to reframe these problems: Let's not talk about them as just burdens on the public system. Let's talk about these materials as if they have value.'"
Check out the fruits of their labor!
As part of their class with Mead, student teams developed pitch videos to promote their projects—and to show off their sustainable design prowess. Take a look at their innovations:
Scrappy Renewables
Recycling grocery store food waste through green technology companies
Dag Beds
Upcycling textile waste into dog beds
---
Learn more about our programs supporting faculty and staff integrating sustainability into their I&E courses, like our Course & Program Grants and Engineering for One Planet (EOP).