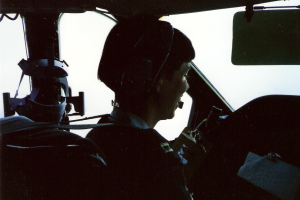 Carlee Bishop loves being an engineer at a liberal arts college. "I'm teaching students who, in general, don't have a background in computer science or engineering," she told us. "But they're interested in data science—they want to learn these kinds of things."
Currently the director of the Center for Teaching, Learning, and Professional Development and a professor of physics, Bishop teaches both undergraduate and graduate courses at Agnes Scott College. At the start of every semester, the first thing she does is ask her students if any of them are feeling anxious or afraid about the class. "I usually see a bunch of hands go up. Then I tell them: 'Your job is to come in here and break stuff.'" Being given permission to explore has always been an integral part of her teaching method—and she's no stranger to exploration.
Starting her career at the U.S. Air Force Academy, Bishop dedicated over 20 years of service to the Air Force, eventually retiring as a lieutenant colonel and command pilot before transitioning to academia. She then became the executive director of the Professional Masters in Applied Systems Engineering (PMASE) program at the Georgia Institute of Technology, where, even then, she was considering her work through a sustainability lens. Bishop helped support a capstone project in which graduate students were tasked with finding ways to conserve energy associated with operations at the Georgia Aquarium. "I loved what I was doing there," she said. "I was helping build curricula at Georgia Tech and teaching professionals about systems engineering."
Leveraging her experience collaborating with engineers and researchers, she joined Agnes Scott, where she met former colleague Laquita Blockson, who at the time was faculty director of the master of arts degree program in social innovation. Laquita was the one who recommended applying for a VentureWell Course & Program Grant to enhance their existing graduate-level course, human-centered design and implementation. "The VentureWell grant really changed the direction of what we were focused on," Bishop told us. With this funding, the two were able to expand the curriculum to include sustainability and climate change as core themes. Students were given opportunities to learn about prototyping, access to campus and community organization partners, and streamlined hybrid learning.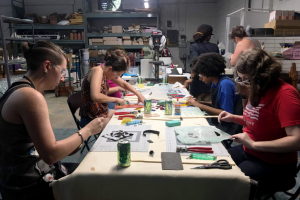 "We always use the analogy of riding a bike while building it. That was the challenge: How could we get students started on this process?" Her solution was to spend the first two weeks of the course assigning the students a mini-design challenge. "We walked them through the phases of design thinking and human-centered design, and that helped tremendously."
Bishop also purchased for her students prototyping kits with a specific focus on sustainable water usage. "They were focused on sustainable water usage, and we got these smart irrigation kits that they could build out," she said. "It was a way of introducing them to this idea of design thinking to actually prototype out." They partnered with the Center for Sustainability at Agnes Scott and Decatur Makers, a local makerspace, to make it all happen. It would be the impetus for a similar program on campus—one where students could continue to collaborate, develop, and build their ideas.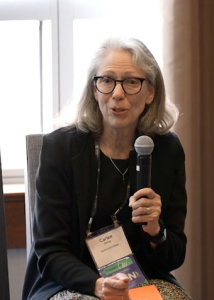 Professor of Art Nell Ruby, also at Agnes Scott, approached Bishop with the makerspace idea. Using the existing 3D studio on the ground floor of the Dana Fine Arts Building, the college's first makerspace was born. "We are really just setting up the framework so that we can use that makerspace more effectively across campus," explained Bishop, who has been lending her expertise in the sciences to help build out the design thinking modules. "We want to help more students, and also collaborate with faculty who are interested in this."
While Agnes Scott doesn't have specific courses in innovation and entrepreneurship, Bishop says the makerspace is critical in setting the stage for students to explore their creative problem-solving skills, better understand the creative problem-solving process, and learn how to make ethical decisions. "If they don't have that ethical framework, I think they can go down paths that are going to be very dangerous, especially as AI is coming on strong," she said. "That's going to be our biggest impact: setting our students up to look at things through an ethical lens."
Bishop's work extends beyond the Agnes Scott campus. At the VentureWell OPEN 2023 conference in Alexandria, Virginia, she joined colleague Ruby on a panel of faculty from the University of Northern Colorado and Wichita State to share insights into how they partnered with interdisciplinary colleagues in order to center sustainability in their courses. "OPEN sessions are great because we get this interchange, but it's the time outside of that where we get a chance to network," she told us. "I'm so thankful that OPEN has set time up to network with other people who have the same interests as you. It's such a network that we can now tap into."
Looking to the future, Bishop and her colleagues recently received a National Endowment for the Humanities Connections grant for "Exploring the Ethics of the Digital Transformation." With this funding, faculty across philosophy, mathematics, and physics will convene to develop an interdisciplinary minor incorporating philosophy and data science to promote the ethical use of data.
Hear more from Bishop about how she leveraged our Course & Program Grant to expand and strengthen her institution's STEM innovation and entrepreneurship ecosystem:
About Our Course & Program Grants
VentureWell Course & Program Grants offer U.S. higher education institutions up to $30,000 to expand and strengthen STEM innovation and entrepreneurship ecosystems with the end goal of accelerating sustainable and inclusive innovation. In addition to funding, grantees receive professional development and peer networking opportunities to support their work.
VentureWell is proud to support initiatives that promote cross-disciplinary collaboration between faculty and advisors, and to consciously include groups traditionally underrepresented in invention, innovation, and entrepreneurship, including women and minorities. Since 1996, we have awarded $19.7M in funding through our faculty initiatives, $14.6M of which was through Course & Program Grants. In the past three years, faculty have reported using Course & Program Grants funding to create or improve over 770 courses and/or programs which served 26,000+ students. 265+ institutions have received Course & Program Grant funds.
---
Curious to know more about our Course & Program Grants, which offer up to $30,000 in funding to faculty and staff? Applications will be accepted September 7-November 8, 2023. Learn more and sign up for an upcoming info session!