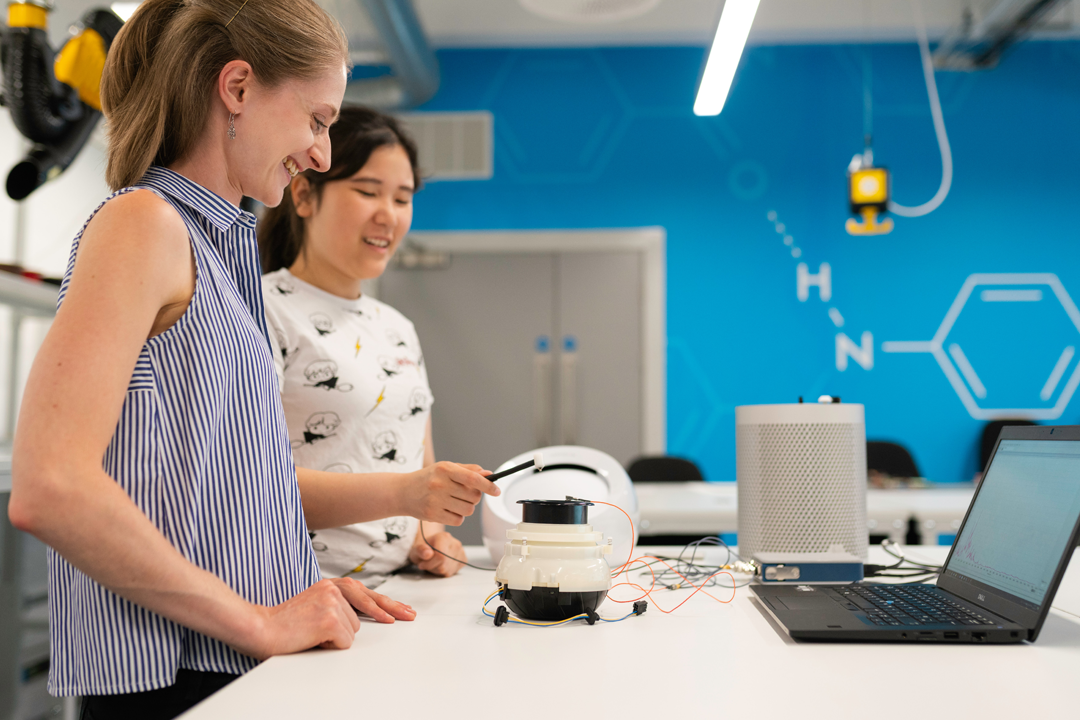 For National Space Day, we're spotlighting Dr. Olukemi Sawyerr and her Faculty Grant-supported work spearheading the launch of the experiential learning program, NASA-LEAP (NASA Licensing and Entrepreneurship Accelerator Program) at California State Polytechnic University, Pomona. 
Cal Poly Pomona's NASA LEAP program enabled students from a variety of disciplines to collaborate deeply by teaching each other and themselves, utilize cutting-edge NASA technologies, and create real-world impact. NASA LEAP began in 2014 as an undergraduate course that tasked multidisciplinary student teams with investigating how innovative NASA technologies could be commercialized. These commercialization plans weren't just hypothetical — thanks to the NASA CPP Business Startup program, which was founded by Dr. Erkan Ozkaya, an associate professor in the International Business and Marketing department and director of the Center for Entrepreneurship and Innovation. The program incentivizes innovators to use NASA technologies by delaying the patent fee process, the student teams had the opportunity to launch real businesses out of the course. 
We spoke to Dr. Sawyerr about the NASA LEAP program, the value of multidisciplinary and experiential learning, and takeaways she has for faculty seeking to build partnerships with government agencies.
providing experiential learning opportunities for early-stage STEM innovators
When Dr. Sawyerr joined the faculty of the California State Polytechnic University, Pomona business department, she saw a gap in experiential learning opportunities available for business students. She began to envision how Cal Poly Pomona (whose motto is 'Learn By Doing') could create more spaces where business students could apply and deepen their skills with real-world technologies.
In 2009, she partnered with Dr. Winny Dong, a professor in the chemical materials department, to create a program that would pair students from the business and engineering departments to work on commercializing innovations coming out of the engineering labs. A VentureWell Faculty Grant helped expand that concept into the Entrepreneurship in Science, Technology, Engineering, Arts, and Mathematics program (ESTEAM), a year-long course in which students identify and solve problems by developing new products or services from conception to launch.
ESTEAM was an enormous success and caught the attention of NASA's Armstrong Flight Research Center (AFRC) (then called the Darden Flight Research Center), who reached out to see if there was an opportunity to collaborate. In 2014, the NASA Technology Assessment Program, the first iteration of the NASA LEAP program, was launched. Students and faculty at CalPoly University were able to access NASA's portfolio of technologies and brainstorm potential applications. The following year, Dr. Sawyerr began to brainstorm how to further develop the NASA Technology Assessment Program with Laura Fobel, the then-director of the AFRC Technology Transfer Office. The resulting idea was NASA LEAP, which received an additional VentureWell Faculty Grant, and an Outstanding Partnership Award from the Federal Laboratory Consortium for Technology Transfer's Far West Region.
"In the startup ecosystem, nascent entrepreneurs face the related challenges of gaining access to intellectual property and to funding. NASA produces a tremendous amount of intellectual property that they want to share with innovators to help commercialize their technologies," Dr. Sawyerr said. "We thought it was really important that our students take advantage of the opportunity NASA was offering them in order to turn some of this intellectual property into products that could benefit humanity."
developing holistic skill sets through collaborative, multidisciplinary teams
Once the NASA LEAP team received the NASA technology portfolios, they began to recruit students based on the expertise needed for each specific technology. Students were brought in from a number of academic disciplines, including biological sciences, marketing studies, mechanical engineering, and even psychology. The year-long course was divided into three parts: understanding the technologies with the help of expert faculty and the inventor, understanding the market through customer discovery and building a viable business plan using the lean startup methodology, and finally, developing prototypes of the product in the Cal Poly labs.
As they designed real-world applications for the NASA technologies and created business plans, the students were able to develop business acumen, technical science skills, and other discipline-specific knowledge by relying on each other to bridge information gaps across their fields of study.
"We train students in silos and part of my battle is helping overcome silos and build bridges. If an engineering student never learns market fundamentals and if a business student never learns engineering basics, then they're at a disadvantage," Dr. Sawyerr said. "This program allowed students to overcome that; they learned how to speak to team members from other disciplines, and they realized that they're all bringing something valuable to the team."
Fantom, one of the teams in the NASA CPP Business Startup program, received a VentureWell E-Team Grant in 2017 for their innovative use of a NASA wing technology to improve the efficacy of HVAC systems, wind turbines, industrial fans, aircraft propellers, and marine propellers. Another team, Bioscope, won the $10,000 Bronco Startup Challenge for their portable microscope device based on a NASA technology that pairs with a smartphone and can be used in low-income schools. The impact of the experiential learning opportunities the program provided goes beyond just skill development — by engaging in social impact entrepreneurship, NASA LEAP students are realizing the scope of their potential.
"Through the program, these students gain agency and realize they can change the world," said Dr. Sawyerr. "They work with technologies that have huge potential, and they turn these technologies into products that have enormous impact on the environment or on education."
ways to fortify entrepreneurial education through government-academic partnerships
Dr. Sawyerr's journey highlights the importance of building a network of partners and resources to sustain comprehensive innovation and entrepreneurial ecosystems in higher-education. She credits a number of partners for the success of the NASA LEAP program, including the institutional support of Cal Poly Pomona's administration, the guidance and expertise of other faculty members, the close collaboration of the NASA AFRC Technology Transfer Office, and the structural support of VentureWell.
One of the challenges Dr. Sawyerr faced is the liability of newness — the ESTEAM program was the first of its kind at Cal Poly Pomona, and Dr. Sawyerr noted that having institutional support throughout the development of all of Cal Poly Pomona's innovation and entrepreneurial programs was vital. In particular, she recommended faculty members develop relationships with the technology transfer and research departments at their universities as early as possible; these departments can provide crucial support to students as they undergo the notoriously convoluted IP patenting process.
Dr. Sawyerr's partnership with the AFRC Technology Transfer Office provided invaluable support to the program and the student teams. The technologies that the student teams were assessing were complicated; they often needed guidance navigating the intellectual property process. Funding from AFRC enabled NASA LEAP to hire CalPoly faculty members from a variety of disciplines who had the technical expertise the students needed. The students themselves were also hired through the program as NASA interns, and the AFRC Technology Transfer Office arranged in-person meetings and monthly phone calls between the student teams and the NASA engineers who invented the technologies.
"We received an incredibly high level of engagement on NASA's part because my partner, Laura Fobel, was the chief for their Technology Transfer Office. It's important to have a partner inside the government agency that you want to work with who is there every step of the way. NASA LEAP was co-developed by NASA because we wanted to make sure that they were collecting the information that they needed to evaluate the licensing potential of their technology," Dr. Sawyerr explained. "There has to be something in it for both of you; it can't just be NASA helping you accomplish your goals. It has to be you helping the federal agency also accomplish their goals."
VentureWell's support was also an important part of NASA LEAP's success. The ESTEAM program, which was the focus of Dr. Sawyerr's first Faculty Grant, helped seed the initial collaboration with NASA AFRC and propelled the innovation ecosystem at CalPoly University. As we found in our Faculty Grants Program Retrospective Assessment, Faculty Grant-funded courses often become the foundational offerings to expanded entrepreneurial programs at universities. Dr. Sawyerr served as the inaugural director of CalPoly University's Student Innovation Idea Lab, which helps foster creativity innovation and entrepreneurship at Cal Poly Pomona, and now serves as the associate vice president of the Office of Academic Innovation.
Dr. Sawyerr's commitment to creating opportunities for business students to 'learn by doing' through scientific innovation has fostered a robust culture of entrepreneurial innovation and support at California State Polytechnic University, Pomona. Her close partnership with the NASA AFRC Technology Transfer Office and the support from VentureWell enabled Dr. Sawyerr to continually expand the scope and reach of these programs. NASA LEAP exemplifies successful government-university collaboration, providing students with the resources and experiential learning they need to develop entrepreneurial mindsets and scientific innovations that can change the world.
Fostering vast networks and partnerships beyond the university can help expand and strengthen innovation ecosystems. Read more about industry-university collaboration:
the real-world value of industry-university partnerships
4 ways faculty can make and keep strong industry partnerships
industry-university collaboration: how partnership drives innovation