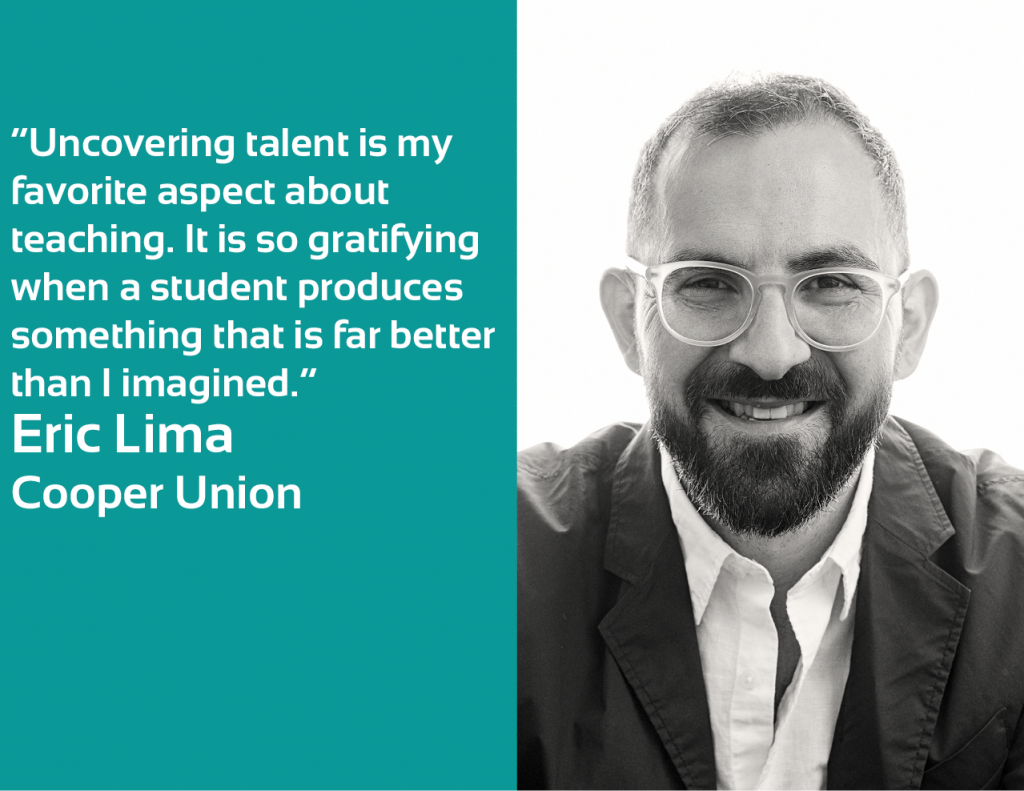 This week we continue our series highlighting educators within the VentureWell network who are doing good work—faculty members who are challenging norms in higher education and inspiring students to impact the world through invention.
This month's faculty spotlight is Eric Lima, Associate Professor of Mechanical Engineering at The Cooper Union for the Advancement of Science and Art and Co-Director of Invention Factory. Lima teaches basic design classes that utilize milling machines, welders, lathes, and other large equipment. Students then combine these mechanical instruments with electrical components and computer programs to prototype their ideas. Lima is an active member of VentureWell's community, participating in Pathways in Innovation programs, and serving as a Principal Investigator for a Faculty Grant.
How did you get interested in teaching entrepreneurship?
I teach and live in New York City. It's such a dynamic and exciting startup environment. There are countless events happening everyday – meetups, lectures, hackathons, competitions, and more. Yet, my engineering students seemed blind to it all. They plod through their curriculum, shouldering a huge load of traditional classes, while the city swirls all around them. I feel that I owe it to my students to try and breach the thin walls separating them from their city. Entrepreneurship is one part of that.
What is your favorite thing about teaching?
Uncovering talent is my favorite aspect about teaching. It is so gratifying when a student produces something that is far better than I imagined. It's also exciting to see students surpass their own expectations. The right project switches them on. You can see how it drives them to push their abilities and blow past their previously defined limits.
Where would you like to see the field of entrepreneurship in five years?
I would like to see stronger ties between companies doing intrapreneurship and the academic community. I would also like to see more support for non-traditional entrepreneurs – especially to encourage risk taking. For me, I believe too many student ideas are small, sometimes even gimmicky. I would like to develop tools to expand their frame-of-reference. I want their entire education system to be designed around exposure to the world – its problems, current trends, prior art, emerging technology, and the companies that are moving us forward.
What traits make for great teachers, advisors, and mentors?
One of my mentors and coworkers is Dr. Alan Wolf, the chair of physics at Cooper Union and co-director of Invention Factory, our summer accelerator. He is a GREAT teacher and mentor. It's not just one thing that puts him over the top. He's so committed. It's not uncommon for him to mentor and tutor on weekends. He tries new things such as incorporating video lectures or in-class clickers into the teaching mix. He also holds students to very high standards. Passing his class is challenging. If I look back on my best professors, they all seem to share the same qualities that make Dr. Wolf stand out.
What books on entrepreneurship and innovation have you been reading lately?
For me, podcasts are the way to go. My favorites are How I Built This and a16z.  How I Built This is very inspirational. I learn so much about the people who created some of the most influential companies. Listening sometimes feels like time travel. For example, stories of how Lonely Planet or Whole Foods started remind me of how different our world is today. The podcast also features amazing stories of current companies such as Rent the Runway or DryBar; whereas the podcast a16z is a bit more cerebral. It's a high-level discussion of interesting topics such as artificial intelligence or Block Chain and the opportunities they represent.
What's your most useful classroom activity or assignment?
For last semester's freshman design class, I ran both a Design Thinking module and a "Future Casting" module before I eased into a Lean Launchpad module. The Design Thinking module helped connect students with real people facing real challenges while the Future Casting module positioned the student's design process in the stream of current events.
The design thinking module was based on the IDEO approach of interviewing the people you are trying to serve to build empathy with them and uncover the underlying (non-obvious) challenges they experience. This process leads to insights that redefine the scope of the project, which improves the overall design of the deliverable.
I then moved into what I called "Future Casting" in which I asked students to make formal predictions on trends in their area of interest based off of extensive research that I helped structure. The students had to find dozens of examples of innovations in their space, or in parallel spaces, from a broad array of sources – competing products and services, podcasts, videos, or venture capital reports. They compiled formal briefs that mirrored professional consulting research briefs. I even brought in the head of research of a consulting company to run the module.
Overall, student work was noticeably better than the work produced in previous iterations of my class (in which I didn't run these modules). Some of the projects even found some momentum outside of the classroom. There were meetings with the development office for one initiative. Another student initiative actually became a class, and a third initiative became a club.