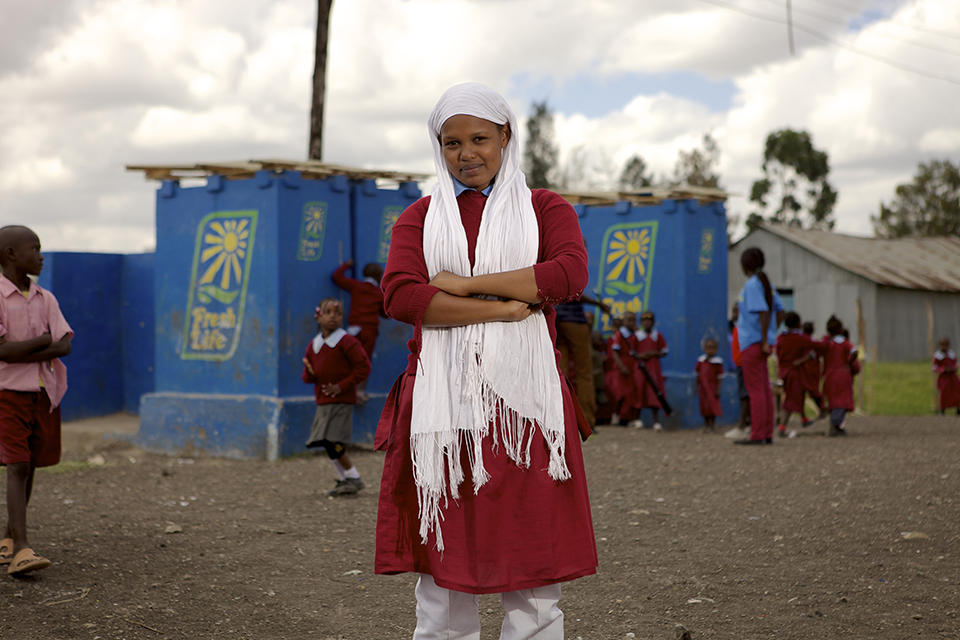 In this third installment of our Inventing Green series, we follow up on an earlier article about Sanergy with an in-depth look at the company's sustainable approach to addressing the global sanitation crisis. Read previous Inventing Green profiles of Helix Steel and Drinkwell.
Worldwide, 4.1 billion people lack access to hygienic sanitation. One billion of those people live in urban slums, and that number is poised to double to two billion in fifteen years, putting further strain on crowded cities. This "sanitation crisis," which contaminates waterways, food supplies, and local roads, can lead to life-threatening infections.
David Auerbach and two classmates studying at MIT Sloan saw the problem, but they also identified an opportunity in the global sanitation crisis. In 2011, they founded Sanergy to improve lives and health outcomes in slums with a viable, sustainable franchise model that gives residents access to clean, high-quality Fresh Life toilets.  
"We decided to provide a non-sewered approach to solve the sanitation challenge, and provide equivalent services to sewers," Auerbach says. "We safely contain, transport, and then treat the waste, and finally convert it into valuable end products."
Auerbach said VentureWell's E-Team financial support was crucial at that early juncture. "There are very few supporters out there willing to help university students make new things," he said. E-Team coursework also helped guide them through key startup challenges: How do you attract entrepreneurs? How do you generate demand?
Sanergy embarked on a test pilot in Nairobi, Kenya, which has eight million slum residents. Many residents use unsanitary options such as "flying toilets" (defecating into plastic bags that are then tossed onto the streets) and pit latrines that release untreated human waste into the environment.  
As a differentiator from other local toilet operators, Sanergy collects waste on a regular basis. Staff members are trained to remove and replace filled waste cartridges. Because many informal settlements are only accessible via narrow, unpaved roads, employees use wheelbarrows or handcarts to service communities that are often overlooked.
The company now has a network of over 1,100 toilets within two large slums, serving 50,000 people every day with safe sanitation, and employing 250 people. What's more, Sanergy's entire life-cycle is sustainable, from manufacturing toilets with domestic materials to converting waste to fertilizer—all while local operators share in the profit.
Sanergy's website says: "It is insufficient to simply provide clean toilets; where the waste goes after is just as important. We are committed to cleaning up informal settlements through professional, hygienic waste collection services, and then ensuring that waste is treated properly."
A Truly Green Business
"Our whole business is very green," Auerbach says. Sanergy converts about 5,000 tons of waste every year to organic fertilizer and insect-based animal feed.
At a centralized facility, Sanergy employees co-compost the waste with sawdust, other carbon sources and pathogen-eliminating micro-organisms. After the compost matures, it becomes fertilizer that the company tests by third party to meet World Health Organization standards.
"Basically, it's similar to how you might compost in your backyard, but at an industrial scale," Auerbach says.
Sanergy sells the fertilizer to about 700 farmers, who report a 30 percent increase in crop yields. Farmers typically must purchase expensive, imported, synthetic fertilizers that risk leaching chemicals into their fields and food.
"Our organic fertilizer is safe and nutrient-rich, which helps address food security challenges," Auerbach says. "It's also a domestically produced fertilizer, which is also really important for reducing dependence on imports and the associated transport, and tariff costs that come with that."
To make the animal feed, Sanergy raises a colony of Black Soldier Flies, whose larvae or maggots eat organic matter before they're boiled and sun-dried. The end product is 50% protein, and provides a sustainable alternative to Omena, the leading, low-quality animal-based protein used in East Africa. Omena is made from fish harvested from Lake Victoria, and contains other fillers like sand and shells, putting the biodiversity of the lake at risk and resulting in poor animal growth.
Auerbach says it was important for the company to create an integrated sanitation value chain. "There was no one guaranteeing that the waste was being collected, or that the waste was then going to be treated," he says. "We recognized that if we were able to integrate it, that would be the only way that we could guarantee that we were solving the sanitation challenge."
The Franchise Model
Sanergy targeted a franchise model to quickly scale their business, launching with a commercial model. Commercial entrepreneurs signed franchise agreements to operate Fresh Life toilets near their businesses, schools, and offices. Yet, commercial toilets were limited by certain hours and by distance.
Auerbach says his team soon realized they wanted to move deeper into communities, establishing Fresh Life toilets where people live. Slum residents often have to walk long distances to access a pit latrine, often incurring safety risks to use the bathroom at night. Studies such as Amnesty International's reveal that women in Nairobi risk sexual assault or rape to reach a bathroom that is more than 100 meters away.
Three years ago, Sanergy developed a residential franchise model. "That was a big change for us," he says. "It meant we were really meeting the demand of what residents of urban slums are looking for, which is a toilet that was as close as possible to where they were living and that they were getting 24/7 access to."
Fresh Life operators pay to join Sanergy's network, which provides them with the toilets, daily collection services, and community branding efforts. In return, operators commit to keeping toilets safe, clean, open, and well stocked with toilet paper, soap, and sawdust. There are currently 500 Fresh Life Operators. Nearly half of the operators run the toilets as commercial entities, earning about $1,000 a year per toilet. Kenya's GDP per capita is $1,376.
"People are gaining access to clean, safe sanitation for the first time and that's really been quite transformative for the community," Auerbach says.
Looking to the Future, Staying Humble
In Nairobi, Sanergy is running test pilots to clean up and convert existing pit latrines into Fresh Life toilets, working closely with latrine operators to establish a mutually profitable model. Worldwide, Sanergy is eyeing other cities and countries around the world—and they're hoping to entice governments to partner with them.
"There's about 1,000 cities in Sub Saharan Africa, Southeast Asia, and Latin America that are facing the same challenges of heavily crowded urban informal settlements and governments that are straining to invest in the traditional solutions," Auerbach says. "What we're working on now is how do we get governments and municipalities to pay for our non-sewered solutions? We see that as a way to scale."
Auerbach says starting small in just one city was key, and he urges other innovators to do the same. "We often hear about students who are trying to do a pilot in five different countries or even five different cities in the same country," he says. "It's just so hard to get just one working pilot off the ground."
Sustainable innovators inherently face two large hurdles: changing the world for the better and generating a profit. Auerbach has sage advice about remaining humble and keeping an open mind.
"[Innovators] are solving big, intractable social problems," he says. "The notion that you alone have the answer, I think, is overly ambitious. Make sure you're listening to the community that you serve. If you don't treat them like customers and you become so sure that your product or service is correct in the way that it is, I think you're often setting yourself up for an unhappy ending."
Learn more about Sanergy
Watch a short video about the company's story and mission.