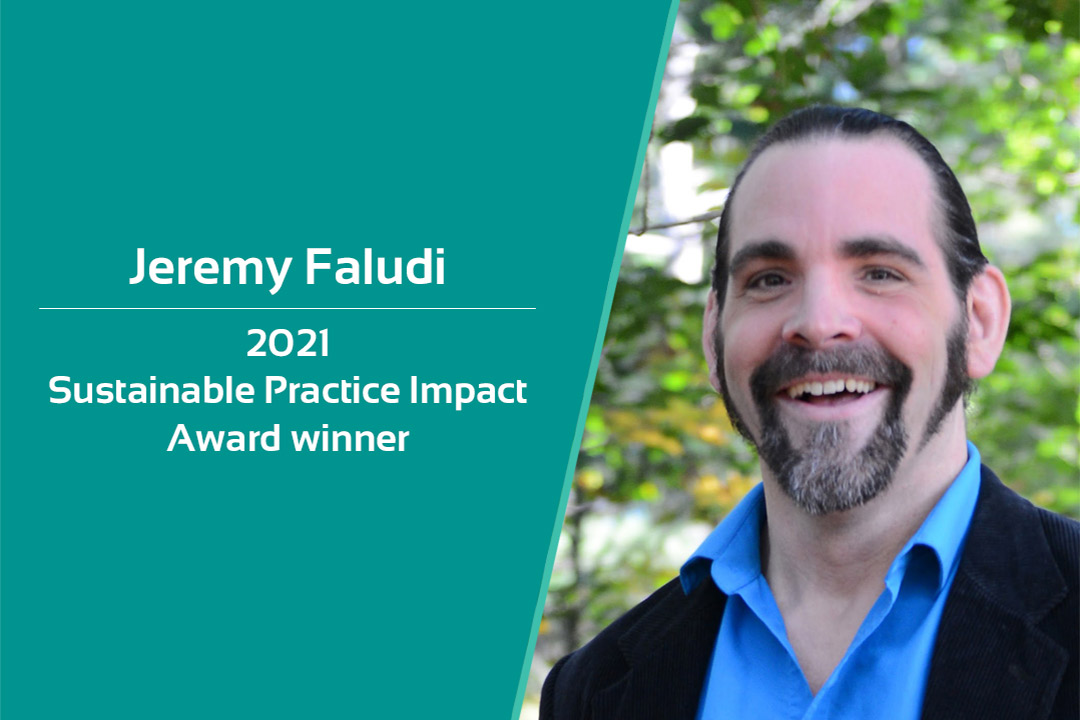 Sustainable design strategist, professor, and author Dr. Jeremy Faludi was announced as the recipient of the 2021 Sustainable Practice Impact Award at this year's OPEN conference. This award honors individuals, companies, or institutions that develop clean technologies, implement sustainable practices, or provide exceptional educational opportunities to university students.
"I'm really honored by this award. I got into sustainable design because I want to make the world a better place, not by fighting the existing system but by creating new things that show what's possible." Dr. Faludi said at OPEN 2021.
Dr. Faludi was honored for his notable work expanding and amplifying the tenets of sustainable design through his own design work, VentureWell collaborations, and academic research and teaching. Dr. Faludi has taught at Stanford University, Dartmouth College, and MCAD, and currently serves as assistant professor of industrial design engineering at Delft University of Technology (TU Delft) in the Netherlands. He has created and disseminated a plethora of sustainable design resources for faculty and students, and has contributed to a number of publications and books.
"This recognition is well deserved, not only because of his direct impacts on his students' design processes but for his unflagging commitment to training industry professionals and faculty from around the world to ensure that they are equipped with sustainable design tools and frameworks to make positive change," said Cindy Gilbert, Director of Faculty and Sustainability Initiatives at VentureWell.
Advancing the Core Principles of Sustainable Design in Higher Education
In a time of urgent climate threat, it is critical that student inventors learn how to measure and address environmental impact in the invention design process. Sustainable design is a set of principles that helps innovators integrate and prioritize sustainability in the development of their inventions. The tools, resources, and exercises that Dr. Faludi developed have been vital to strengthening the field of sustainable design. He authored VentureWell's Tools for Design and Sustainability toolbox, providing learning content, practical exercises, and real-world examples on eight distinct elements of inventing within the lens of sustainability. In addition, Dr. Faludi co-wrote the Autodesk Sustainability Workshop, and he has contributed to six books on sustainable design, including Worldchanging: A User's Guide for the 21st Century by Alex Steffen, Packaging Sustainability by Wendy Jedlicka, and Eco-labels: Concerns and Experiences by Asha B. Joshi. We spoke with Dr. Faludi about his work, takeaways for faculty, and why sustainable design matters.
"I want to help people turn grand global visions into concrete measurable action where they are," Dr. Faludi said. "I do this by connecting global sustainability priorities with design tools and methods that engineers, designers, and business leaders can integrate into their daily practice for their specific products."
Dr. Faludi works to equip the next generation of innovators with the methodologies, tools, and mindsets they need to spark a system-wide shift towards sustainable design. "Students need to know that sustainability applies to every product in every business in every industry. We basically need to reinvent all of modern material culture, which means tons of opportunities for innovation," he said.
Creating Tangible Impact in Sustainability Through Student-Industry Collaboration 
In his courses, Dr. Faludi creates numerous opportunities for experiential learning, so that students can utilize sustainable design principles in their work as early as possible. A core element of his curriculum is mutually beneficial student-industry collaborative projects. By connecting student innovators to industry partners, Dr. Faludi enables students to do hands-on projects with real-world impact.
"[These collaborations] are not just for student pedagogical value, it's also because we have less than ten years to not only stop but reverse climate change, and habitat destruction is arguably an even more clear and present danger," he said. "We don't have time for our students to graduate, get jobs, and work their way up to the level where they make decisions. It feels great to both be educating students and to have those students making some impact in industry before they've even graduated."
Designing Resources and Workshops To Help Faculty Increase Student Engagement
Dr. Faludi believes faculty have a key role in furthering the principles of sustainability in entrepreneurial work, and he has expanded access to curriculum resources to help guide faculty into this branch of work. Dr. Faludi co-authored a report for the Lemelson Foundation specifically tailored for faculty looking to integrate sustainable design into their courses. A crucial component for faculty is adapting teaching approaches; Dr. Faludi recommends faculty incorporate "project-based learning, interdisciplinary teams (both teaching teams and student teams), having studio or hands-on work, and partnering with companies, government, nonprofits, and/or local communities" into their courses and teaching style.
Dr. Faludi's journey with VentureWell has also included leading workshops on teaching sustainable design for faculty grantees. At OPEN 2018, he led Inventing Green: A Tool for Integrating Green Invention in Design and Engineering Curriculum workshop, and in 2019, he led VentureWell's first Green Launchpad Educators Workshop at the UMASS Lowell Innovation Hub.
"Most college laboratory experiences do not provide opportunities for students to have real-world sustainable design experiences. Learnings from this workshop will allow me to strengthen our students for innovation ideation as they move into careers and academia post-baccalaureate." said Nancy Ruzycki, senior lecturer and director of undergraduate laboratories at the University of Florida, one of the workshop participants.
Preparing faculty is a crucial element of furthering sustainable design. We are proud to have expanded access to VentureWell platforms, networks, and resources to Dr. Faludi to achieve this. "VentureWell has the best train-the-trainer workshop that I'm aware of for engineering and design faculty (actually any STEM or business faculty) to learn sustainability tools and methods," Dr. Faludi said. "What really sets it apart from other training is the community of practice for participants after the workshop, where they keep in contact to help each other throughout the whole following year. I think it made the lessons stick much more than an ordinary training session."
At VentureWell, we know that the principles of environmental responsibility and green design are vital tools to reversing the impacts of climate change and securing a sustainable future. We are committed to fortifying sustainable design education in higher-education, and proud to honor Dr. Faludi's remarkable contributions to the field of sustainable design.
"It's great to see that all this work is really having an impact in the world, empowering people to make their dreams of a better world into reality," Dr. Faludi said. "The more we support each other in building this new sustainable economy, the more people can spend living their values, creating a more beautiful, abundant, healthier, and happier world."
Watch Dr. Faludi Accept His Sustainable Practice Impact Award: