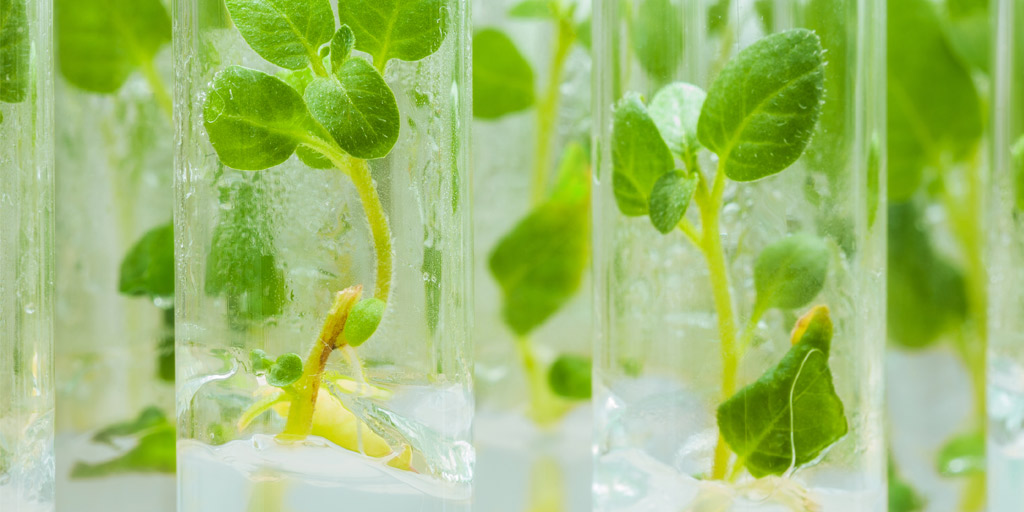 This week, we're celebrating World Food Day, a global call to action from the Food and Agricultural Organization of the United Nations to develop solutions for food system insecurity and the challenges it poses on under-resourced communities around the world. The impacts of climate change will severely disrupt global agricultural and food systems, shifting the dynamics of where, when, and what we can grow. The theme of this year's World Food Day is Grow, Nourish, Sustain. Together.
This theme speaks to the importance of fortifying food systems in a sustainable and unifying way. Across the VentureWell network, universities, faculty, and student entrepreneurs are devising innovative solutions to the complex and varied challenges we face now and ahead in the climate crisis, with a focus on carefully addressing the nuanced issues facing marginalized communities.
We spoke with two members of our community—Faculty Grants recipient, Dr. Kiruba Krishnaswamy from University of Missouri, and E-Team grantee, Katherine Sizov of Strella Biotechnology—about their work at the intersection of climate change and food insecurity.
an urgent need
Across the world, traditionally marginalized communities, including Black, Indigenous and Latinx communities, as well as rural and low-income communities, have less access to healthy, high-quality food, which can cause nutritional deficits and malnourishment. According to the USDA, an estimated 13.7 million households in the United States were food insecure in 2019, meaning they did not have consistent access to enough nutritious food.
Racial inequity and the COVID-19 pandemic are exacerbating food insecurity even further: according to new research, nearly 40% of Black and Latinx families faced food insecurity this year, which is nearly twice the rate as white households with children.
innovating food systems engineering
As we've seen throughout our 25 year history, social entrepreneurship can create tangible solutions that both expand access to resources for the under-served and increase job opportunities across a web of local, regional, national, and global systems. Dr. Krishnaswamy is an example of how faculty are a critical element of supporting emerging science and technology entrepreneurs in university settings. She founded FeastLab at the University of Missouri to spur innovation in food systems engineering and help students connect their work in the laboratory to the complex challenges of global food insecurity.
FeastLab, which stands for Food Engineering and Sustainable Technologies laboratory, brings together a transdisciplinary team of graduate and undergraduate researchers for experiential, collaborative projects, and courses. Dr. Krishnaswamy, who teaches Sustainable Food Engineering, is particularly focused on the issue of hidden hunger, which affects a third of the population, a total of 2 billion people worldwide.
---
"Whenever we talk about hunger, people always think of chronic hunger. The big challenge is hidden hunger, which is due to micronutrient deficiencies, like iron, iodine, zinc, and other vitamins and minerals. If people don't have enough of these micronutrients, it could lead to malnutrition and stunting, or on the opposite end, issues with obesity."

Dr. Kiruba Krishnaswamy, Founder of FeastLab and Assistant Professor at the University of Missouri
---
At FeastLab, Dr. Krishnaswamy and her team of student collaborators focus on three core issues: upcycling and zero-waste processing, the fortification of micronutrients, and the integration of micronutrients in new food products. According to the FAO, 1.3 billion tons of edible food goes to waste every year. FeastLab's mission is to develop food engineering technologies that can efficiently capture, fortify, and deliver the nutrients from wasted food products to close the gap of hidden hunger.
One of FeastLab's projects tackled the dual challenges of food waste and the need for nutritionally-fortified food products. For every cup of Greek yogurt, three cups of acid whey—a so-called waste product—is produced. The consumption of Greek yogurt has skyrocketed in the U.S. over the past ten years, leaving behind tons and tons of acid whey that has no use in mainstream yogurt production — in 2012, the Northeast produced 150 million gallons of acid whey. Acid whey cannot be dumped in waterways without causing devastating environmental effects on aquatic ecosystems, and at some point, companies were simply paying farmers to take it off their hands to use as cattle feed or to make fertilizer. Dr. Krishnasway and her team discovered that acid whey, which is full of vital, high-value nutrients, could be added to ancient grains to create healthy, fortified food for infants and new mothers.
"It's about having a different perspective. In nature, there is nothing called waste. Nature is a wonderful system in which everything has a purpose. Instead of seeing waste problems, how can we shift to see upcycling opportunities?" she explains.
ending the cycle of food waste
Student entrepreneurs across our network are launching science and technology startups that address and mitigate critical challenges intersecting food security, climate change, and social inequity. Around 40% of high-quality, edible produce is wasted annually in the United States, largely because by the time it reaches the supermarket, it's past its peak freshness and spoils soon after purchase. As a molecular biology student at the University of Pennsylvania, Katherine Sizov founded and launched Strella Biotechnology, which utilizes a novel biosensor technology to predict and communicate the ripeness of fruits across food chain stakeholders. By measuring the gas emissions of fruit, the platform helps packing companies in the produce supply chain make more informed decisions about which fruit to send to supermarkets first. Strella Biotechnology's platform ensures that produce reaches the consumer at its freshest, helping end food waste cycles across the produce pipeline.
---
"Food waste doesn't benefit anybody—it doesn't benefit the farmer, the people in the middle of the supply chain, the retailer, or the consumer. Solving that problem can not only help a struggling farmer make a better profit off of their crop, but it can also help from a social impact perspective. Wasted food sucks every single possible resource from the planet, and even though it just ends up in a landfill, somehow people are also hungry at the same time."

Katherine Sizov, Founder and CEO of Strella Biotechnology
---
The environmental impacts of food waste are equally enormous. Carbon emissions from wasted food are greater than all transportation emissions combined; 2% of the United States' energy goes to growing food that is later wasted, and around 24% of the global freshwater system is used on food that's never eaten by anyone.
Addressing these issues will require a whole-system approach; Strella Biotechnology's platform predicts food waste before it happens, which increases the efficiency of the entire produce supply chain and helps consumers enjoy more of their produce for longer. The company is well on its way to impact, planning an expansion into retail operations; in April, they closed a $3.3 million dollar funding round led by Yamaha Motor Ventures. They first sought funding opportunities while Sivoz was at college, raising $500K in equity-free capital through resources available to college students. Sivoz, who participated in our E-Team program in 2018 and 2019, took advantage of available entrepreneurial support structures at school to best position her startup for success post-university.
"I really utilized my college status, especially in mentorship, accelerators, and fundraising, so we participated in a ton of programs such as the VentureWell E-Team program and National Science Foundation's I-Corps program," Sivoz said. "Pitch competitions enabled us to test and develop our product without taking on equity and allowed us to understand what it is that we have to offer before we took that deep dive of venture capital funding or began working with an entire team full time."
World Food Day is a reminder of the vitality of healthy and dependable food systems, and an urgent call to protect, innovate, and bolster sustainable and equitable food systems. Climate change has already affected the dynamics of growing, harvesting, and delivering food to billions around the world. At VentureWell, we know that student entrepreneurs and the faculty that support them can play a huge role in turning the tide on food insecurity and food system collapse. We are committed to supporting these innovators, and our global network of science and research experts, funding partners, and entrepreneurial leaders. It will take all of our combined ingenuity to develop technological solutions to the environmental and social challenges on the near horizon.
Learn more about sustainable innovations being developed by members of the VentureWell community:
environmentally-responsible innovators: how E-Team grantees are inventing green
creating sustainable and durable women's health products: q&q with Greta Meyer from E-Team, Sequel
advancing agricultural sustainability with lab-grown meat: a q&a with Jordan Jones from E-Team, Leef Jerky
---
Our Faculty Grants provide up to $30,000 to support the development of programs and classes aimed at helping students hone the skills needed to create novel STEM-based inventions and bring their ideas to market.
---