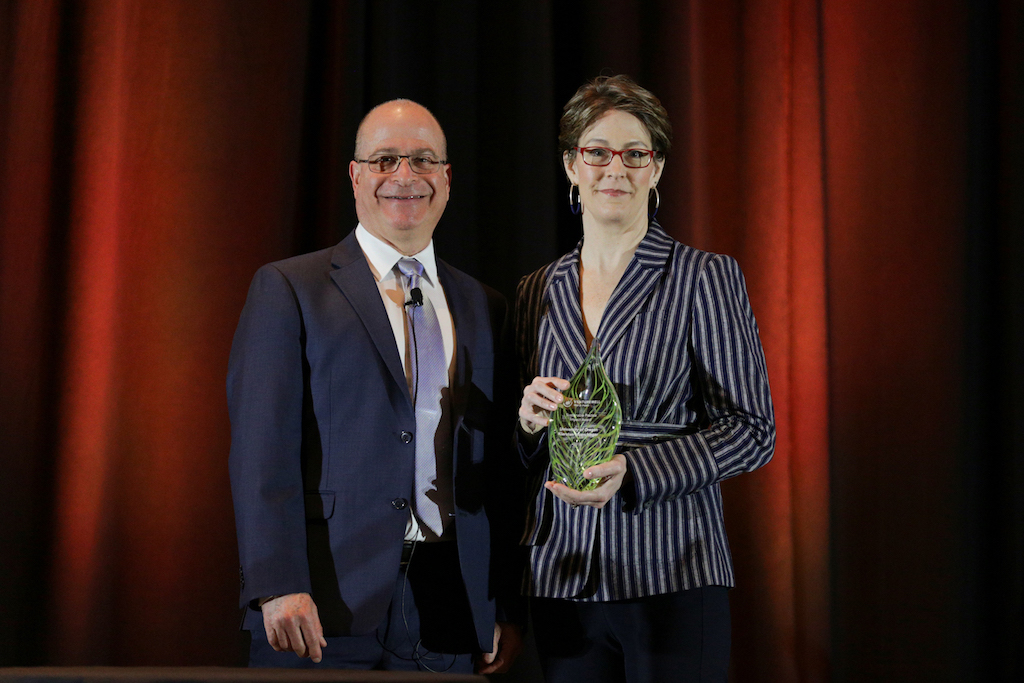 Oregon has a vibrant design-based business community. With companies like Adidas and Nike to dozens of tech companies that make up the Silicon Forest, there's an incredible demand for innovative product designers. Over a decade ago, several Oregon-based businesses lobbied colleges and universities around the state to develop dedicated product design programs. The reason? To build a pool of design talent in their backyard, which would help reduce recruitment and outsourcing costs.
The University of Oregon was willing and able to take on the challenge. According to Professor Kiersten Muenchinger, Associate Professor and Department Head of Product Design at the university, "we were able to build a product design program fairly easily with existing resources from our architecture, fine arts, digital arts, and interior architecture programs." But when developing the program, the university was conscious to make sustainable design thinking the foundation of the curriculum.
"While we don't have a stereotypical nexus like an engineering or medical school to drive innovation curriculum, we placed great emphasis on sustainable design in our program," said Muenchinger. "We did so not only to be environmentally and socially-responsible educators, but in response to industry demand to incorporate more sustainable practices into sound product development."
Today, the university's Product Design department offers innovative undergraduate and graduate programs that equip tomorrow's designers with the skills to solve everyday design challenges in an environmentally responsible way. In recognition of the university's achievements in sustainability education, Professor Muenchinger and her team at the University of Oregon received the 2018 Sustainable Practice Impact Award at the OPEN 2018 conference in Austin, TX.
We recently spoke with Muenchinger about her professional journey toward sustainable product design, the hard-earned success of the program, and what's on the horizon to increase the impact of sustainability education at the university.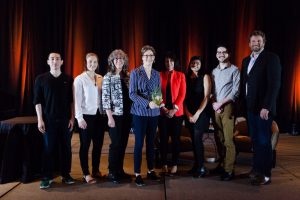 Engineering a Career in Sustainable Design
While attending Dartmouth College, Muenchinger considered herself a "good in math and science" person who wanted to save the world. She said, "In my first environmental engineering class, I was told by the professor that 'everything we do is in response to regulation.' I didn't want everything that I did to be in response to regulation. I wanted to be proactively saving the world."
She decided to switch her focus to mechanical engineering. That's when she was introduced to a professor working on design-based initiatives. "A light bulb went off. I found a way to blend engineering with my commitment to sustainability," said Muenchinger.
She later earned a graduate degree from Stanford University in product design, which led to extensive work experience as a design engineer with IDEO, Fitch, Sottsass Associatti, Walt Disney Imagineering, and the Long Now Foundation.
Designing a New Approach to Sustainability Education
When Muenchinger joined the University of Oregon as an associate professor in 2007, she was well-equipped with an impressive design engineering background. But nothing could fully prepare her for the daunting task of starting the Product Design program from scratch. "The program had no faculty, no students, and a boilerplate curriculum," said Muenchinger. She knew she had to be resourceful – and innovative. "Our fledgling department learned how to work collaboratively across the university," said Muenchinger. "We also utilized each other's skills and resources to find support."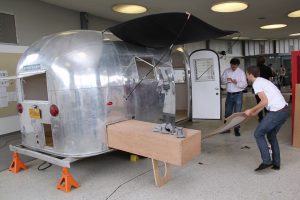 Despite significant obstacles, Muenchinger and her team developed and managed product design programming on two campuses, procured cutting-edge manufacturing capabilities, and built relationships with industry partners to secure corporate sponsors for the school's senior studio. Their efforts paid off. "Early graduation cohorts consisted of 20 students. It's since grown to 45 students," said Muenchinger.  
The team also continues to assess the impact the curriculum has on supporting students to tackle more complicated, real-world design challenges. "Since sustainability is interwoven into various curricula, many students consider the topic to be traditional college learning and not something that can potentially lead to a design breakthrough," said Muenchinger. "We experimented with the upcoming graduating cohort in Sustainable Invention Immersion Week by adjusting the initial project scope to highlight the need for sustainable solutions in the design challenge. Students pushed themselves to address more substantial challenges if the need and demand are emphasized up front."     
Student work is also competitive with output of their peers from well-established design schools. Muenchinger said, "we were invited to show our student work at a design exhibition in Italy. It's rare for any school to get invited to such a prestigious event, yet we were asked to attend only a few years into our program's existence." 
Formulating New Paths for Sustainability Education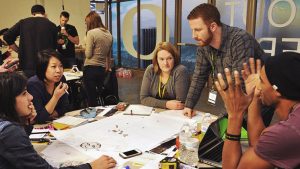 Future plans for the department include faculty continuing their groundbreaking research focused on addressing usability problems and finding sustainable material alternatives for designing everyday products. "Research will continue to be a critical activity in our department," said Muenchinger. "Our research provides students with the opportunity to work with talented faculty members on projects and gain skills and insights on all aspects of product design." 
There are also opportunities for the department's research findings to inform programming for the university's Phil and Penny Knight Campus for Accelerating Scientific Impact project. The goal of the ambitious $1 billion initiative is to fast-track scientific discoveries into innovations that improve quality of life for people around the world. "We are excited to offer support toward sustainable design-related programming for this impressive initiative," said Muenchinger.
From responding to industry demand to becoming leaders in sustainability education, the University of Oregon's Product Design department is a prime example of what can be achieved through strategic collaborations. They have managed to create a model, high-impact educational program with critical sustainable design and business principles at its core.
"Ten years ago, our department was just an idea. Today, we're providing future product designers with in-demand skills and knowledge that will not only give them an edge in their careers, but will provide them with the opportunity to improve how products are made," said Muenchinger. "We could not have achieved our success without the collaboration from university faculty and leadership as well as support from organizations like VentureWell."
Watch an excerpt of Professor Muenchinger's speech during the 2018 Sustainable Practice Impact Award ceremony.
VentureWell Faculty Grants provide up to $30k to help create new or transform existing courses and programs on campus. Learn more and apply here.
Photos of the Airstream and interdisciplinary teams courtesy of the University of Oregon ©2018.