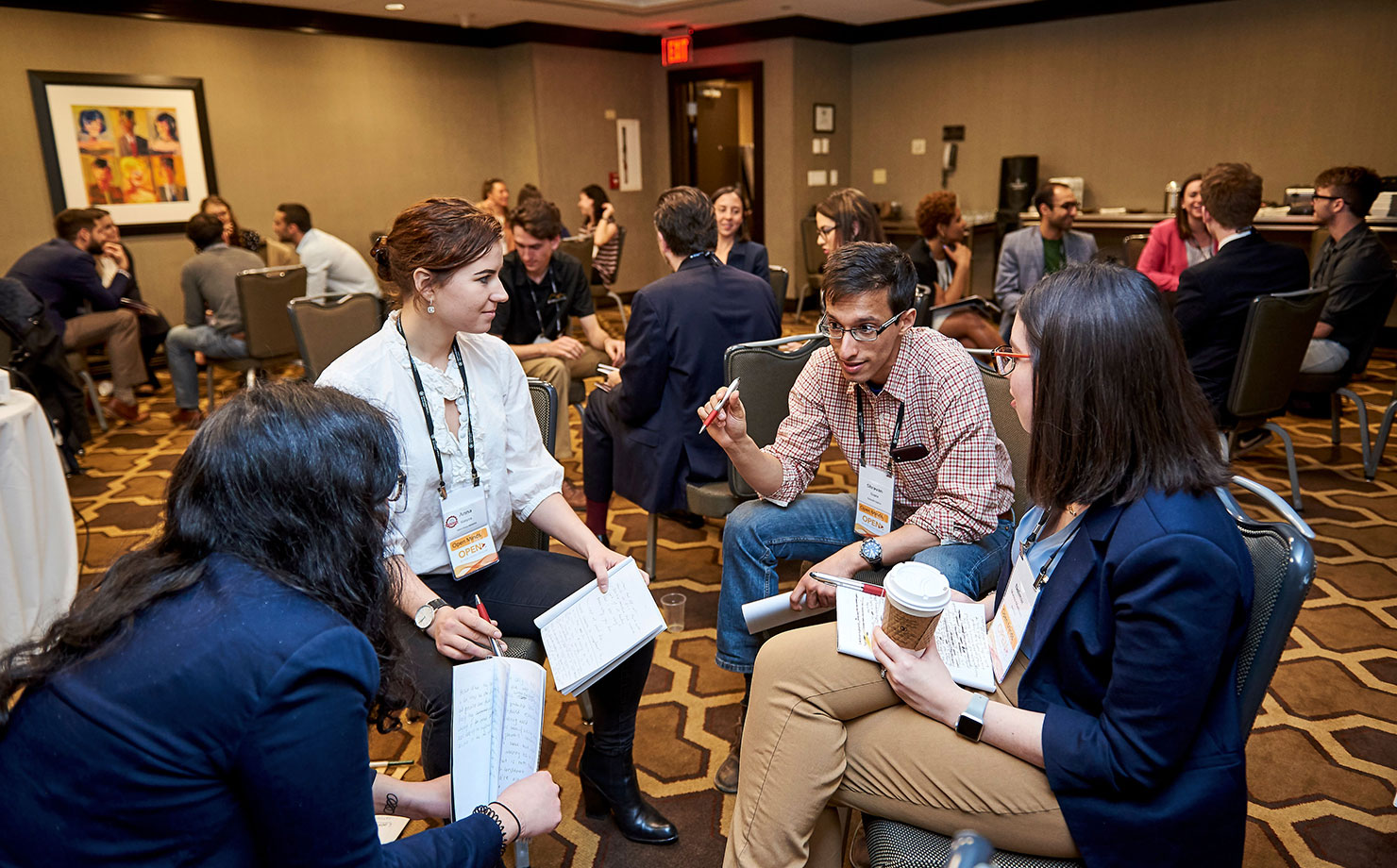 This article has been updated to include information about connecting students to the university entrepreneurship ecosystem. This article was originally published on August 22, 2017.
According to the National Chamber Foundation (NCF) The Millennial Generation Research Review, more than 2,100 US colleges and universities have added an entrepreneurship curriculum. However, according to this report, a large portion of students claimed that the coursework did not adequately prepare them to start a business. How can student innovators gain the necessary tools and knowledge to take their idea to market?
Successful early-stage innovators have access to a mix of hands-on coursework and training, coaching, and networks outside of the classroom. We've seen the impact of this formula firsthand. To date, more than 800 ventures have emerged from VentureWell programs. Even more impressive, these companies have raised close to $1 billion in funding. In this article, we explore the types of support early-stage innovators need most, and highlight tools to assess the impact of resources.
training
"VentureWell helped us get out of the tunnel vision of engineering and gain a broader vision of business and entrepreneurship."
– Abimelec Mercado, CEO of E-Team, Blu Horizon, University of Puerto Rico
Without proper preparation, it can be difficult for innovators to navigate complex business processes, such as product commercialization and investor due diligence. Through hands-on activities, early stage training provides tools – the terminology, processes, and common practices—that aspiring student entrepreneurs need to run a successful company. 
The most effective entrepreneurship training curriculum includes the customer discovery process. This methodology encourages entrepreneurs to "get-out-of the-building" and shift their focus 
from the invention to the user. By adopting a more holistic view of their product and its value proposition, rather than honing the technology, inventors can make a more useful product and find the right market for it.
Many training programs advocate for early-stage entrepreneurs to undertake the customer discovery process, where entrepreneurs are required to conduct interviews with key stakeholders, which includes listening to input from potential customers, talking with industry experts to better understand value chains, and consulting with legal experts on red tape and regulations.
They can then use that data to create a sustainable business model, develop a marketable "story" for their product, make any necessary pivots even while they are in the earlier stages of launching a venture. Taking time to find an appropriate product-market fit during the development stages allows startups to avoid potentially costly pivots down the road.
mentorship
"I always feel like I can reach out to someone at VentureWell with a question about intellectual property, incorporating, or any of the next steps we have to take. Having that support system has been amazing."
– Rosalie Sinclair, co-founder of E-Team, Plantea, Massachusetts Institute of Technology
Entrepreneurs have questions. With lots of enthusiasm and limited experience, startups need people to turn to when they don't have the answers. This includes mentors who can demystify business and explain the complex processes surrounding things like intellectual property, fundraising, exits, and other steps they'll have to take to grow their venture. Having a network of experienced professionals—industry experts, lawyers, professors, other entrepreneurs—willing to offer expertise, insights, and advice is crucial to early success.
Mentorship is often an underutilized resource, simply because it requires strong commitment from both parties, and can take a lot of effort. However, the end results—the lessons, connections, and opportunities that mentors provide—are invaluable. According to the 2016 Deloitte Millennial Survey, 94% of those with mentors felt that their advisors were giving them impactful advice.
network
"The biggest value of the VentureWell E-Team program was the network we created as a result of attending the workshop."
– Andy Dalman, co-founder of E-Team, Advanced Bone Technology, North Dakota State University
A strong network is a necessity for entrepreneurs. As a group with (typically) few resources, startups rely on a host of institutions, experts, mentors, and other entrepreneurs, who realize their value and are willing to offer support.
Startups can benefit from their network in countless ways. For instance, if you've identified a CEO you would like to speak with for your customer discovery interview, ask the mentor from your incubator for an introduction. If you want guidance on manufacturing regulations for medical devices overseas, have coffee with the manufacturing sales rep you met at a business plan competition. If you need a rockstar marketer to help develop your company's message, ask the seasoned entrepreneur from your training program to highlight what to look for in a branding consultant.
More importantly, staying connected with peers and mentors is critical when the going gets tough or you hit a roadblock. Whether it be financial concerns or difficulty finding suitable teammates, talking with people who have experienced your struggle can provide the motivation and support you need to get back on track.  
If you're looking to build your network, professional conferences, business competitions, and university entrepreneurship events are all great places to start. If you're an E-Team alumni, participating in annual gatherings like OPEN and OPEN Minds is a great way to reconnect with colleagues and meet new ones.
funding
"VentureWell E-Team grant funding really helped us get through the past year."
– Nathan Swift, COO of E-Team, Hedgemon, Case Western Reserve University
It can be expensive to start a business – especially for student entrepreneurs. Of course, all businesses are different, and can require different types of costs. Many startups don't generate income right away, and it can take years to make a profit. It's also important to remember that expenses are in flux at this early stage as the startup looks for a repeatable business model. It's important to plan for typical overhead costs such as compensation, rent, equipment, and supplies. Yet hidden startup costs including insurance, license, and permit fees, or legal and financial consultation can quickly drain the bank account.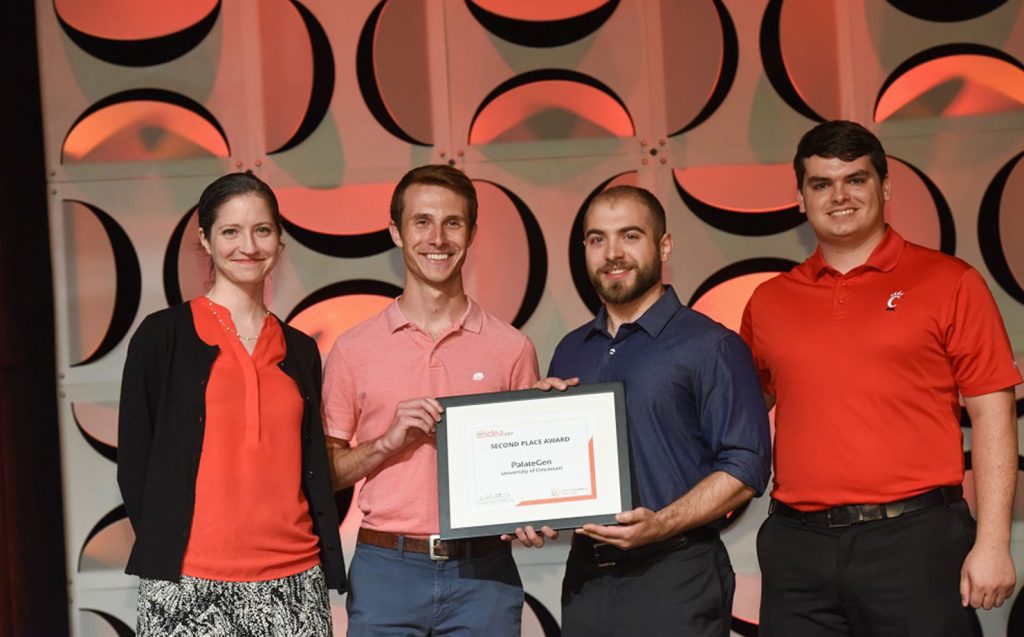 Since few people have the finances to bootstrap their venture, startups often seek outside funding sources. Unfortunately, investors are hesitant to fund early-stage startups for many reasons. That's why grant and training programs like the E-Team grant program, or competitions like BMEidea and others, provide student innovators with much needed injection of capital to keep the doors open, or to refine their prototype or technology.
And stability is something investors and funders look for in a startup. Just ask Tyler Wanke, CEO and co-founder of Innoblative. He said that winning the $10,000 first-place award at the 2014 BMEidea competition was critical to their early success: "The financing provided some stability and allowed us to function as a real company, which in turn made us more attractive to investors and strategic partners."
Ugwem Eneyo, CEO and co-founder of Solstice Energy Solutions, echoed Wanke's sentiments. "Winning the 2017 Berkeley Cleantech UP competition definitely helped kick-start our fundraising process. We were able to connect with investors and institutions that have proven to be valuable relationships."
Early-stage innovators need support from entrepreneurship ecosystems to grow and thrive during school—and when they graduate. Access to hands-on training, professional networks, and finances is vital to success, while coaching and mentorship help young entrepreneurs avoid costly mistakes. As the nurtured companies grow into small businesses, eventually creating jobs and attracting industry to their local area, they can help spur regional economic growth with lasting impacts.
connect to the university ecosystem
"We have professors that we connect with on the regular that help us get ready [to apply to] funding. So, when we're filling out grant applications, we can go to these folks and say, 'Hey, are we on the right track?' because they have been a part of the process before and they've seen teams go through the process of submitting a proposal."
– Korey Salter, co-founder of E-Team, Hydronomy, American University
Student innovators often have to balance a number of different priorities to succeed: developing their innovation, crafting and fine-tuning a business model, and working to gain access to the resources they need—on top of all of their other academic responsibilities. University-based innovation ecosystems can provide immeasurable support to student innovators but it can be difficult for students to discover and navigate these resources without help. A crucial way that faculty can support student innovators beyond the classroom is to guide them through the university system.
Faculty can act as key connectors to the university ecosystem for students embarking on entrepreneurial journeys. This can look like a resource and contact list of important departments or a special office hour dedicated to helping students identify resources that are available within a university. By introducing students to university ecosystem stakeholders like other faculty, students and alumni with needed expertise, special programs or funding opportunities hosted by the university, or tech transfer officers who can offer insight into the IP and patent process, faculty members can ensure that university resources are being utilized and that students know what support is available, if and when they need it. 
assess your programmatic impact
Entrepreneurship is a complex, non-linear journey. For those supporting early-stage science- and technology-based innovators, how do you assess a team's progress, or determine what resources they need—and when?

There are different tools to evaluate a startup's progression, including our own Venture Development Framework. For example, below is a sample assessment of a VentureWell E-Team to illustrate how a framework can be used to measure a venture's journey.


Knowing what milestones a team has achieved can also help those supporting entrepreneurs determine critical resources needed based on what stage they're in on their journey. Frameworks can be used to identify milestones and help inform the development, implementation, and evaluation of early-stage entrepreneurship programs.

When investigating frameworks to employ, the most useful ones are developed with real-life data and experience from support programs. For instance, our framework was created based on our experience developing, implementing, and assessing programs for early-stage science- and technology-based ventures.

Learn more about and download the Venture Development Framework.
VentureWell Course and Program Grants provide up to $30,000 to faculty or staff with innovative ideas to help students hone the skills needed to create novel STEM-based inventions and bring their ideas to market.