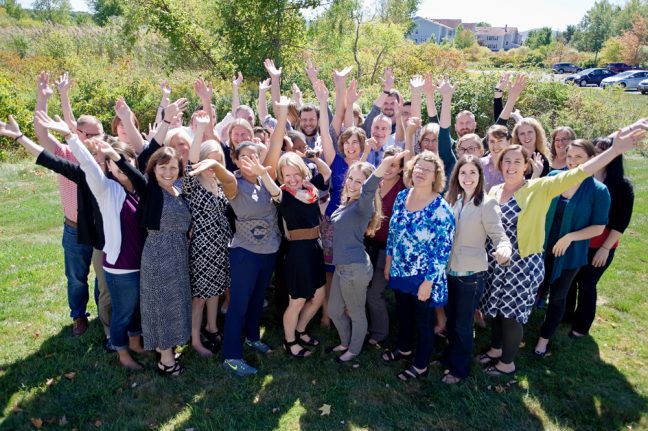 2016 was a banner year at VentureWell, and 2017 is shaping up to be even more exciting. In 2016 we continued to grow by leaps and bounds and expanded into entirely new areas of work, especially internationally. We're proud to have played a role in fostering innovation and entrepreneurship in the world and look forward to the impact our innovators and entrepreneurs will make!
Earlier this year we listed five trends we thought would shape entrepreneurship education in 2016: deeper integration of I&E in higher ed, more inclusion of underrepresented groups, makerspaces becoming the new normal, lean startup taking over the world, and progress on global issues. How did we help make those trends a reality in 2016? We:
–Engaged nearly 2,000 participants in our programs and events.
–Awarded nearly $1.1 million in grants—20 Faculty Grants to support university faculty founding new entrepreneurship courses and programs and 37 Stage 1 and 21 Stage 2 E-Team Program grants to support university teams that are inventing and commercializing new products. Take a look at our most recently funded student teams.
–Put on 10 workshops for our E-Team Program grantees, which trained all levels of E-Teams, from those just starting out to full-fledged companies looking for investment, on how best to get their products to market. In particular, new to our trainings was the Accelerating Startups' Partnership and Investment Readiness (ASPIRE) program, designed to prepare our most advanced teams for investment. We held four ASPIRE workshops:
–Trained over 250 I-Corps teams. The NSF I-Corps initiative offers training to help select participants from US academic laboratories learn how to commercialize their research using the lean startup method. I-Corps was recently highlighted by the White House as one of President Obama's top ten successful initiatives to accelerate American entrepreneurship.
–Expanded our global work significantly. We continued our Xcelerator training workshops for global health innovators and began working with the US Department of State to support their Global Innovation through Science & Technology (GIST) initiative. The Xcelerator team held two workshops:
In February,

11 teams attended the Maternal and Newborn Health Innovators workshop in Kigali, Rwanda

sponsored by USAID and the Bill & Melinda Gates Foundation. These innovators are working on technologies to save lives at birth.

In December,

five teams attended the Business Model Validation Xcelerator in Kathmandu, Nepal

sponsored by USAID and The Lemelson Foundation. The teams were there to validate and iterate the plans for their life-saving businesses.
–Supported delivery of the U.S. Department of State's Global Innovation through Science and Technology (GIST) initiative, which empowers young innovators through networking, skills building, mentoring, and access to financing. In 2016 we held workshops that trained 336 people in six countries:
Tunisia

South Africa

Senegal

Peru

Vietnam

Ukraine
–Developed and deployed a GIST Innovation Hubs pilot program, with seven Hubs serving hundreds of innovators, and facilitated four TechConnect virtual talks.
–Hosted the 20th annual VentureWell conference, Open 2016, in Portland, OR, with over 500 participants from 201 colleges and universities.
–Hosted the third annual National Innovation Network (NIN) meeting, which brought together 130 participants from the growing network of NSF I-Corps Nodes and Sites.
–Hosted the BME-IDEA meeting, which brought together 106 biomedical engineering faculty from across the country to discuss how best to continue integrating I&E into BME curricula.
–Awarded $37,500 to student biomedical innovators through our BMEidea and DEBUT competitions.
–Hosted two Lean LaunchPad workshops with 109 participants combined. Continuing the trend of spreading the Lean LaunchPad method far and wide, the workshops taught faculty how to teach the approach: the business model canvas, customer development and agile engineering.
–Ran a series of blog posts exploring a need we identified at the start of 2016: develop approaches to entrepreneurship that increase inclusion and diversity. We began with these two posts–look for more to come on this issue in 2017:
–Welcomed new staff to our team to support all this great work.
Lastly, we'd be remiss if we didn't mention just a few of the great successes our teams had in 2016:
Day One Response deployed over 1,000 waterbags in Haiti in response to Hurricane Matthew

SubQ Assist and PremieBreathe, two E-Teams, secured Savings Lives at Birth funding

Physiclo

is generally killing it, particularly through their social media presence
Whew! We hope you'll join us in 2017 as we take this work forward, either by following us on social media (Twitter, Facebook, LinkedIn) or our blog, or (even better) by participating in one of our programs. Happy holidays and have a wonderful new year!
–Everyone here at VentureWell